It has been almost two weeks since I have posted on the blog! Ever since I started the blog last September, it has been a big part of my regular routine. The way I cook for myself and my lover is worlds apart from the way I cook for the blog. Oh, did I just call him my lover? Well okay then, we will go with that! So yes, cooking for the blog involves getting inspired by something or someone to create a new recipe, researching and gathering the ingredients, taking about 100 photos to select the final 4, and then creating the blog post to glue it all together! Once I post a recipe on the blog, the real work begins – submitting the recipe to a bunch of sites and promoting the post on social media! While I do enjoy the whole process, it can get overwhelming at times.
| | |
| --- | --- |
| | |

So I decided to unplug myself for a bit and enjoy the "Dolce Far Niente"! I am sure all the Julia Roberts fans, mostly women, know what dolce far niente is. Just like all the fans of The Godfather, mostly men, know what "going to the mattresses" means! But for the uninitiated, here is a little explanation of dolce far niente – in the movie "Eat, Pray, Love", inspired by the namesake book, there is a scene in a barbershop in Italy. The American character played by Julia, feels guilty because all she has done for three weeks is "learn a few Italian words and eat". Her Italian friends tell her that she shouldn't be feeling guilty about not doing anything, and explain the lovely concept of Dolce Far Niente – the sweetness of doing nothing!
The western world has taught me to live a purpose-driven life. We celebrate our ever-on-the-go CEO types in the pop culture – be it the successful millionaires on "shark tank" or the business whiz on "the profit". Even our housewives are purpose-driven, meticulously planning their kids' birthday parties and flying out to Vegas to enjoy some "me-time" on shows like "The Real Housewives"! Our downtime or vacations involve checklists of things we need to do while on vacation! Celebrating the joy of doing nothing is a dying art and I had to force myself to rediscover it. I started by turning off the TV, computers, and social media. That last one was especially hard, and I did cheat a few times! I cooked some simple meals with Anup, and enjoyed a glass or two of wine in the middle of the day, which I don't get to do much! We took out some of our old pictures and talked about the years past. I went on strolls almost every evening and took some pictures of the cherry blossoms here in Vancouver. That was pretty much it! This little break has helped me remember how much I enjoy writing this blog and how much I love cooking! I have cooked a simple green soup to enjoy on this lazy Sunday afternoon!
| | |
| --- | --- |
| | |
I found wild nettles at the farmer's market. The farmer told me that he foraged them himself! Nettles grow as the cool weather gives way to the spring. Nettle has a spinach-like, nutty flavor. The leaves are covered with tiny hairs and they unleash a nasty sting, so wear gloves while handling raw nettle. Although nettle is poisonous and can not be eaten raw, boiling makes it edible. The leaves and stems of nettle have been used historically to treat arthritis and sore muscles. Nettle also supports the kidneys, is good for asthma sufferers, and drinking nettle tea can cure a common cold.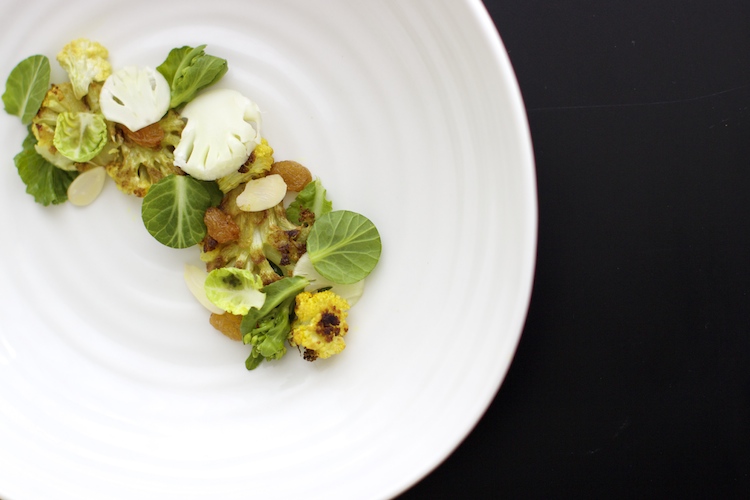 Nettle and Cauliflower Soup
Cook time:
Recipe:
Serves 4
1 lb stinging nettles
1/2 cup mint leaves
2 leeks – chopped
1 carrot – chopped
1 blub fennel – chopped
1 cup cauliflower florets – chopped
4 cloves of garlic – chopped
4 cup vegetable stock/water
2 tbsp olive oil/coconut oil
salt and pepper
Bring a large pot of salted water to boil. Add nettle and mint leaves and blanch for 2 minutes. (make sure to wear gloves while dealing with raw nettles) Drain and transfer to a blender. Make a smooth purée by adding 1/4 cup of cold water. Set aside.
Heat olive oil in a big pot. Add chopped leeks, carrot, fennel, and garlic. Sweat the vegetables very slowly on low heat until soft, about 15–20 minutes. Add 4 cups of vegetable stock and cauliflower florets, bring to boil. Simmer on low heat for 20 minutes. Remove from heat. Once the mixture is cool enough to handle, purée in a blender. Mix with nettle puree. Season with salt and pepper.
Arrange desired garnish in a bowl and pour warm soup gently. I have used roasted and raw cauliflower florets with sliced almonds and raisins.