I was on the eating-out-is-cheaper-and-more-fun-so-why-cook-at-home diet for a few years. I thought cooking was tedious, time-consuming, and often times more expensive than eating out. Once I discovered some simple cooking techniques, I was amazed at how convenient cooking at home can be. Slow roasting fish or meat is one of these simple techniques I often turn to in my daily cooking.
A whole fish generally costs about 20% cheaper than fillets or steaks. The bones in a whole fish make the dish more flavorful. Most stores will gut and scale the fish for free, which can be a messy process in a home kitchen! The rule of thumb in roasting a whole fish is to cook it slowly on a low temperature. This allows the heat to reach the whole fish without overcooking it on the surface. I also like to use a snug-fitting pan to roast the fish. This helps hold the juices coming out throughout the cooking process and keeps the fish moist.
| | |
| --- | --- |
| | |

Everyone on my side of the family is vegetarian. I didn't eat any meat or fish till I was in my mid-20s. Anup's mom, Florence, was my mentor when I started learning about cooking fish and meat. Florence is an amazing cook and she loves cooking fish! In Gujarat, the western state of India where Anup's parents live, fresh seafood is hard to find. There is a small fish market in the town where local fishermen sell their daily catch every morning. The fish are generally small, freshwater fish with not many varieties available. Florence still makes a mean Fish Curry with whatever fish she can find, and she taught me her recipe the last time I was in India!
Anup's parents visited us in Vancouver last summer. Florence was amazed at the seafood we can find here! Roasted whole fish was on the menu at least once a week. Their favorite was the roasted whole snapper I made for them, inspired by the Fish Curry recipe I had learned in India.
The spice paste I have used is bold in flavors but it doesn't overwhelm the fish. I generally like to stuff the cavity of the fish with herbs and citrus, but I decided not to use them here because of the bold spices I have already used for seasoning. I have paired the fish with creamy guacamole and roasted cherry tomatoes on the vine.
Oven roasting a whole tomato concentrates its sweetness and acidity even more. These tomatoes are little pockets of flavors that burst in your mouth, cleansing your palette! Acidity on the plate is a must with any fish dish, and these oven-roasted tomatoes have done the trick for me more than once! Snapper is a lean fish, so it goes well with fats from avocado. Be generous using lime juice in this guacamole! I have also drizzled some reduced pomegranate juice for color on the final plate.
| | |
| --- | --- |
| | |
Whole Roasted Snapper with Cherry Tomatoes and Guacamole
Cook time:
whole snapper cleaned (scaled and gutted)
Spice Paste
2 tablespoon cumin seeds
2 tablespoon chilli flakes
1 tablespoon black peppercorn
1 inch stick of cinnamon
5 green cardamom pods
5 cloves
4 garlic cloves
1 inch of ginger
juice of 2 lime
2 tablespoon olive oil
1 tablespoon salt
To make the spice paste, roast all the whole spices on medium heat in a frying pan for 1-2 minutes and then set aside. Once they are at room temperature, put them in a spice grinder and make a fine powder. Now put garlic, ginger, salt, lime juice and olive oil in the food processor and make a fine paste. Mix whole spice powder and ginger-garlic paste.
Using a sharp knife, make 3-4 parallel long slashes on each side of the snapper – slicing almost through to the bone. Fill the slashes with the spice paste and rub over the fish. Stuff any excess spice paste inside the belly. Set aside for 15 minutes.
Heat the oil in a large pan. Sear the fish for a minute on each side. Transfer the pan into an oven preheated at 350°F. Cook for 15-20 minutes. Remove from the oven, squeeze lime juice over the top and serve. You can also use a grill if you like cooking outdoors!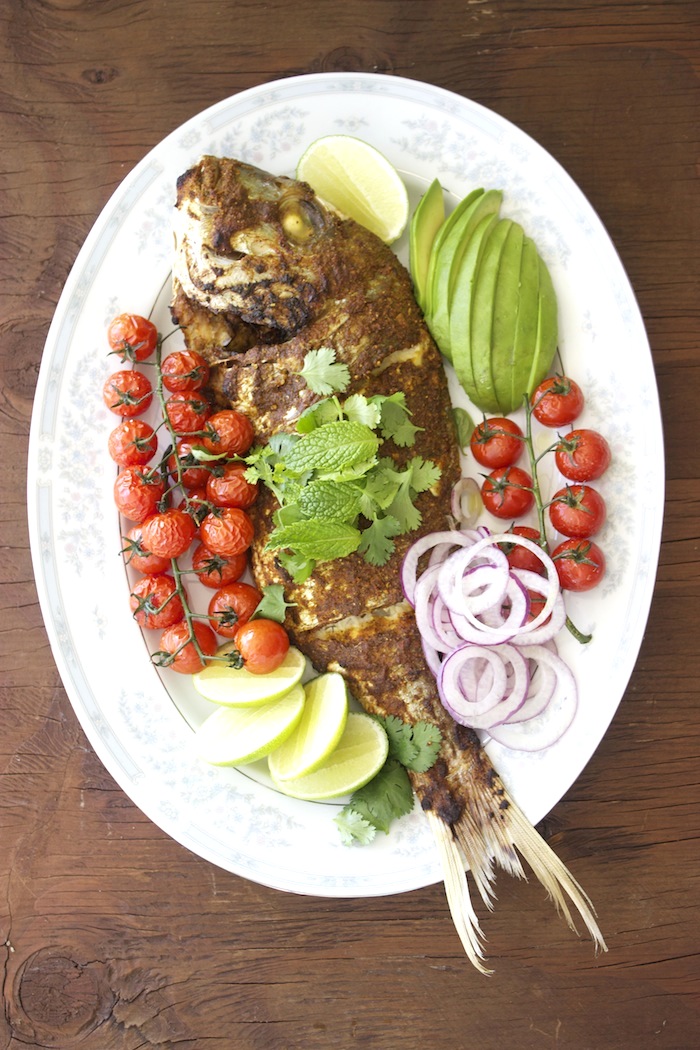 Guacamole:
2 avocados peeled and chopped
1/4 cup lime juice
1 tablespoon olive oil – optional
salt and pepper to taste
Put all the ingredients in a food processor, mix them until smooth.
Roasted Tomatoes on Vine:
Preheat oven 250°F. Place tomatoes in a roasting dish, drizzle with olive oil, salt and pepper. Transfer to the oven and roast for 30-45 minutes.