Even before I attended culinary school, I was an adventurous home cook. I read a lot of food magazines, watched every episode of top chef, and drooled over amazing pictures on my favorite food blogs. I like to think that everything I have read about food, every picture, and recipe I have come across has contributed to the cook I am today.
Nothing has changed me more as a cook than my training at the culinary school. If I had to describe my style of cooking before culinary school in one phrase, it would be "more is better". If I had to enhance a dish, I always looked to do more. More ingredients, more sauces, more spices – I thought these things made my dishes "more awesome".

My training at culinary school and working closely with some amazing chefs have changed my thinking about what makes a great dish great. Now I think of my cooking approach as "less is more". I saw chefs take a dish to a whole new level without adding any new ingredients. These chefs are like seasoned painters, who take the same blank canvas and the same basic colors that everyone uses, to create a painting that no one could visualize.
If you watch the food network, I am sure you have come across the term "Deconstructed". I interpret the deconstruction of a dish as "rearranging" of the ingredients used in the original dish. A deconstructed dish has the same tastes as the original dish, but puts a twist on the textures, aromas and/or presentation of the original dish. The idea is to create a new dining experience without introducing any new ingredients compared with the original dish.
It is pumpkins galore in Vancouver with the arrival of November. I received this beautiful pumpkin in my CSA (Community Supported Agriculture) box last week and I have been thinking about what I wanted to do with it ever since. I settled with the humble Pumpkin Soup.
A traditional pumpkin soup is a simple dish made with pumpkin, broth, spices and heavy cream. In the traditional recipe, all the spices and ingredients go in one pot.
In my deconstructed pumpkin soup, I have separated the warm spices from the mellow ones. Mellow spices like cardamom and nutmeg are used in the coconut panna cotta giving it a slightly sweeter taste. The coconut panna cotta also introduces a new textural element to the dish. Warm spices like coriander and chili flakes are used in pumpkin soup.
In the final dish, the warm soup is poured around the frozen panna cotta slowly melting it. The warm spices from the soup and the sweeter taste of the melting panna cotta complement each other. This deconstructed pumpkin soup is like a country boy all dressed up for his date at a fancy restaurant. Hope you enjoy it!
| | |
| --- | --- |
| | |
Pumpkin Soup with Coconut Milk Panna Cotta
Cook time:
Serves 6 to 8
2 lbs pumpkin chopped (*save fiber and seeds to make a flavorful vegetable broth)
2 tbsp coconut oil
1 yellow onion, chopped
1 carrot, chopped
1 celery rib, chopped
1 tsp freshly grated ginger
1 tsp coriander powder
1 tsp turmeric powder
1 tsp chilli flakes
1 juice of lime
Pumpkin Vegetable Broth:
pumpkin seeds and fibers*
1 onion, chopped
1 carrot, chopped
2 celery ribs, chopped
1 bay leaf
4 cups water
salt and pepper
Peel the pumpkin, cut in half. Save all seeds and fiber for vegetable broth. Chop pumpkin in small chunks and set aside.
Place all broth ingredients in a large pot including pumpkin seeds and fiber, bring to a boil. Reduce heat and simmer for about 45 mins. Strain out the vegetables and remove the bay leaf. Season with salt and pepper. The seeds and fiber from the flesh of the pumpkin will give your broth a bright orange color and an intense pumpkin flavor.
In a large heavy pot, heat the coconut oil. Add chopped onions, carrots, celery and ginger. Sauté on medium heat until vegetables are soft, about 8-10 minutes. Add coriander, turmeric and chilli flakes, cook for another minute to bring out their aromas.
Add pumpkin chunks and vegetable broth to the pot, bring to a boil over high heat. Reduce the heat and simmer until pumpkin is tender about 30 minutes. Set aside and let it cool for about 5 minutes.
Working in small batches, purée the soup in a blender. Put the pumpkin purée back in the pot and season with salt, pepper and lime juice.
Coconut Milk Panna Cotta
2 cups coconut milk
2 tsp agar-agar powder (Vegetarian gelatin substitute) or 2 tsp gelatin powder
1⁄4 cup honey
1 tsp cardamom powder
1 tsp nutmeg powder
1 tsp cinnamon powder
pinch of salt
Pour the coconut milk in a medium saucepan, add agar agar powder, honey, cardamom, nutmeg, cinnamon and salt. Simmer over medium heat and stir occasionally until the agar agar is dissolved completely. Let the mixture stand for 5 minutes at room temperature allowing the spices to set nicely with the coconut milk. Pour into ramekins or molds. Refrigerate until the panna cotta sets, about 3 hours.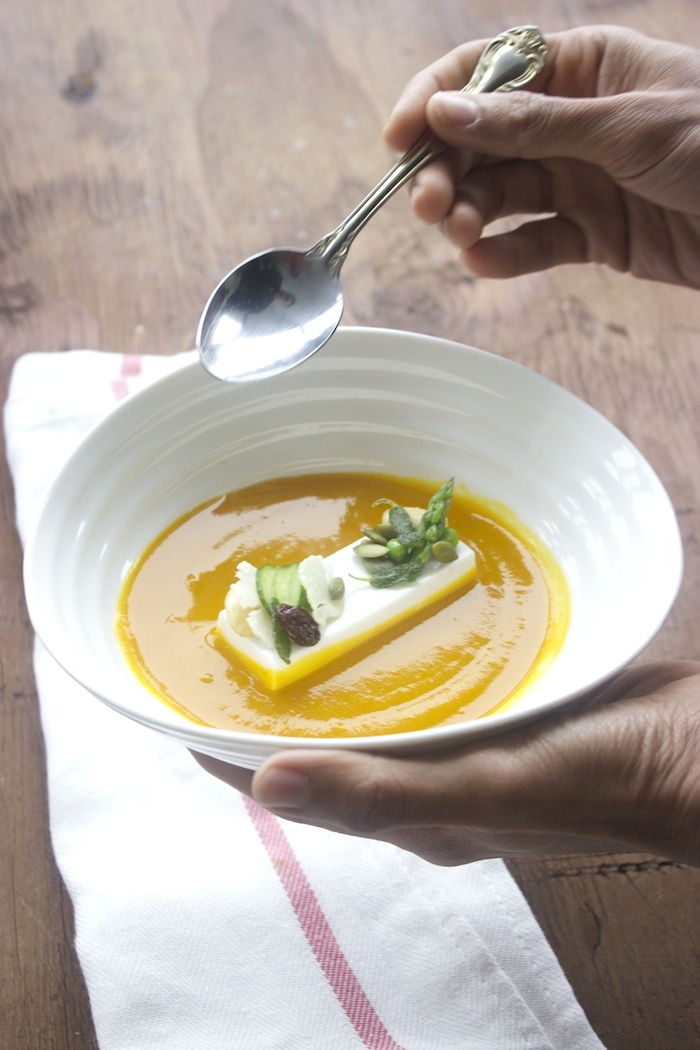 To serve, take out panna cotta from the mold and slide it into the soup bowl. Garnish it with your choice of nuts, herbs or crunchy vegetables. Pour warm pumpkin soup around the creamy coconut panna cotta.