Jugaad (Hindi: जुगाड़) – Jugaad is a term applied to a creative or innovative idea providing a quick, alternative way of solving or fixing a problem. Jugaad literally means an improvised arrangement or work-around, which has to be used because of lack of resources.
Jugaad sums up the lifestyle of millions of people in India. I saw my parents buy a dress for me, which got passed on to my little sister. When she outgrew the dress, it was turned into a pillow cover. When the cover started showing holes, it was turned into cloth to clean our bicycles with. Poor dress.
Jugaad is most visible if you are traveling in India by train. Four people might be sitting on a berth that's meant for two, and if a fifth person wants to sit, what do you do? Jugaad is what. Traveling together makes Indians a cohesive group. Relationships are formed in a spur of the moment – all elders are kaka (uncle) or masi (aunty). Young kids sit in the laps of perfect strangers enjoying the view from the window seats. Youngsters help elders with their luggage, snacks are shared with people around you and people narrate personal stories as if they have known everyone around them for years.
| | |
| --- | --- |
| | |

Indians carry with them centuries-old religious beliefs. Sun, rivers, mountains and oceans are considered sacred. When the train is on a bridge crossing a river, passengers remember to throw a rupee or two in the river and say a quick prayer. It's as if they are giving the river a share of their wealth. If the rivers are shallow, there are fishermen in small canoes waiting under these bridges to collect the coins tossed by the passengers. Beggars come by in train coaches, and clean the floors with their worn down brooms. Once they are done cleaning, passengers would give them whatever little money they want to give. Indians have developed an ecosystem where everyone can survive. Everything is so interconnected, it might feel like chaos to people who are used to having their "own space".
Anup used to live in a hostel in my town, about 200 kilometers away from home. He used to travel by train quite a bit to visit his parents back home. To save money, he would take the local train instead of the express service. The train ride would take him 15 hours and cost him 25 Rupees, about $0.40. There are vendors who make a living by selling their homemade snacks, a cup of tea and even used books on these trains.
One of Anup's favorite snacks during his train journeys was tareli dal – fried lentils mixed with cilantro, lime juice and onions. The roasted version tastes equally as good and roasting preserves all the nutrients in the lentils. This easy to make snack is nutritious, and the taste instantly takes me back to India. So put on a Bollywood song and get cooking! Also remember to serve it in a cone made out of an old newspaper, that's how it is served on the train!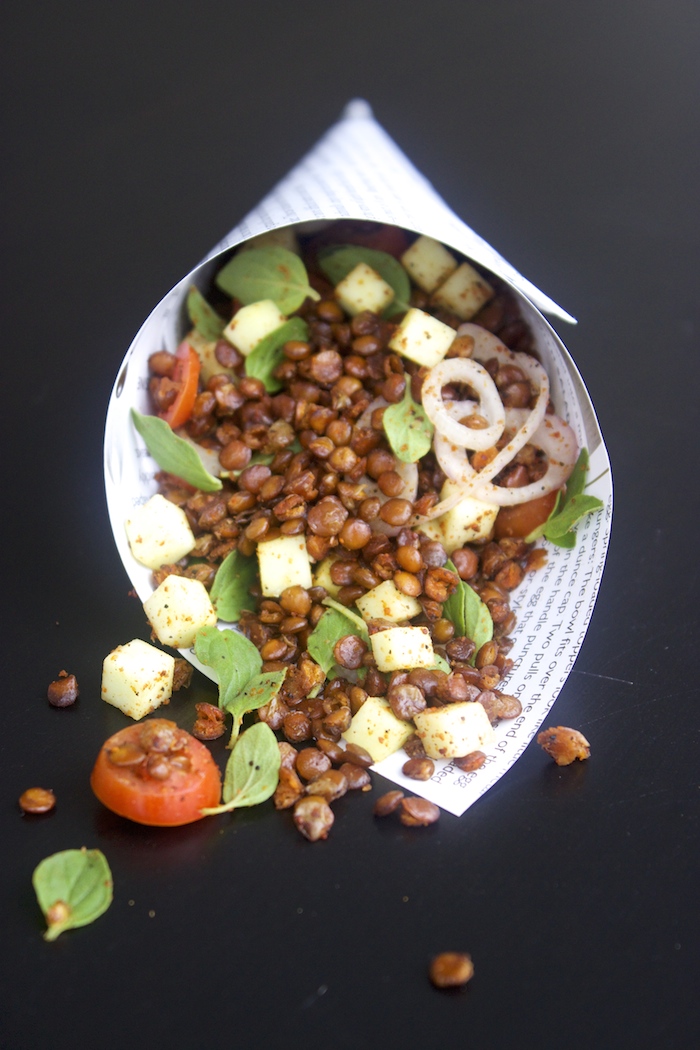 A Healthy Snack – Roasted Lentils
Cook time:
2 cups of uncooked lentils (Any- black, brown, french, red)
2 tbsp olive oil
1 tbsp salt
1 tbs pepper
1 tbs paprika powder
1 tbs cinnamon powder
Take 2 cups of uncooked lentils, sift through and rinse them thoroughly. Put the washed lentils in a saucepan with water, covering 2 inches above the lentils. Bring it to boil, lower the heat and let it simmer for 25 to 30 minutes. Stir the lentil occasionally. Overcooking the lentils will make them mushy, so cook them until they are soft from inside and still hold their shape.
Remove from the heat, rinse lentils with cold water and drain well. Spread Lentils on a clean kitchen towel or paper towel and let them dry for 15 mins.
Heat oven to 300°F degrees.
Put the cooked lentils in a big bowl, coat them with olive oil, salt, pepper, paprika and cinnamon powder. Line the baking sheet with parchment paper, spread the lentils and roast in the oven for 30-40 minutes until they are crunchy. Remember to give them a stir every 10 minutes during roasting.
Take the pan out of the oven and let the lentils cool. Taste for seasoning and store in air-tight container. Lentils can be stored for 10-15 days. These lentils can be used to garnish salads or soups and as a quick snack with green mango salsa.
Green Mango Salsa
1 small green mango diced
1/2 small red onion diced
1 small tomato diced
1/4 cup of cilantro/mint leaves
1 tsp freshly squeezed lemon juice
salt and pepper
In a bowl, mix diced mango, onion, tomatoes and cilantro with one cup of roasted lentils. Season with salt and pepper and sprinkle freshly squeezed lemon juice. Give it a good toss and enjoy!