I think all immigrants who come to the western world have their own funny stories related to English pronunciation and accents, and we are no exception. Over the 12 years or so that we have been here, we have picked up on slang and new ways of explaining ourselves, but it has certainly been a process.
When we lived in Dallas, we had to explain to our parents how they were pronouncing the city wrong – it was Da as in David, and Not Du as in Dull. "Da-llas" not "Dull-Ass". Then we were in Miami, and we had to fix their "Me-Amy".

Anup still defends himself when I bring up a funny incident that happened in Dallas. Anup's business partner had a four-year-old son, Cooper, we babysat one evening. It was our first experience babysitting a high-energy kid who was full of questions about everything. So after an evening of running around in the park, Anup sat down with Cooper to read him a book. The book had a bunch of pictures of different animals, so Anup decided to test Cooper on his knowledge of animals.
Anup: What does a dog say? Bhaw-bhaw.
Cooper: Lost for words. No. A dog says woof-woof.
Anup looked at me smiling. I knew what he was thinking – maybe an American dog says "woof-woof", our Indian stray dogs said bhaw-bhaw. A "woof" would be just too polite for an Indian street dog when they were running after you – their ultimate goal of taking a chunk out of your butt! No, a bhaw is more appropriate. In our schools in India, we were taught different animal sounds compared to the western schools.
Anup: What does a donkey say? Hoochiee-Hoochiee.
Cooper: Laughs. You are silly! A donkey says Heee-haw!
Anup: Hey, you want to play a game on my phone?
Another word our family struggles with is "Salad". For our families back home, it's not Sa as in Sam, but Su as in Sun. So whether you call it a "Salad" or a "Sulaad", here is one of my favorite Salad.
This salad is bold in flavor and can easily be your main meal. Whole wheat berry has a slightly sweet, nutty taste and the chewy texture is great for a salad. It retains shape and texture long after cooking, so you can cook it in bulk and refrigerate for later use. It can be used in most salads, soups, and stews to add some texture. Wheatberry is packed with protein, fiber, iron and vitamin B. Whole wheat berry is the most unprocessed form of wheat. As you process any ingredient, it loses more and more of its nutrients – wheat berry to whole wheat flour to refined white flour.
I have used fennel for crunch and butternut squash for creaminess. I made my own pomegranate molasses to dress the salad. Pomegranate is high in antioxidants and has a lot of medicinal properties. This is one dish that you can overeat and feel good about it! Hope you enjoy it!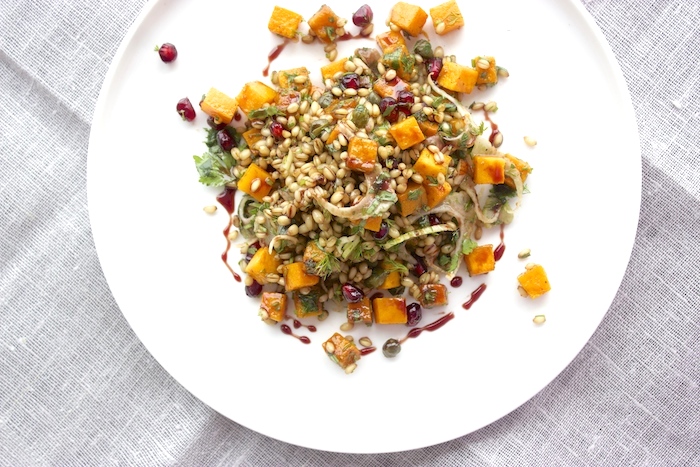 Wheat Berry and Butternut Squash Salad
Cook time:
Recipe:
serves 6
1 cup raw wheat berries
1 butternut squash – peeled, cubed
2 bulbs of fennel – sliced thin
2 tbsp pomegranate molasses
2 tbsp capers
1/4 cup fresh dill – chopped
1/4 cup fresh cilantro – chopped
1/4 cup fresh mint – chopped
1/4 cup pomegranate seeds
1/4 cup almonds – chopped
1 juice of lemon
1 tbsp olive oil
1 tsp paprika
1 tsp cumin
salt and pepper
Rinse wheat berries well. Measure 4 cups of water in a saucepan, add wheat berries. Add 1 tbsp salt, bring to boil. Reduce down and simmer until cooked, about an hour. Remove wheat berries from heat, drain and rinse under cool water. Alternatively, you can soak wheat berries overnight to reduce the cooking time by half.
Preheat the oven to 350°F.
Peel butternut squash and dice to small cubes. Mix diced squash with olive oil, paprika, cumin, salt and pepper. Spread them on a baking sheet and roast until lightly caramelized and soft but not mushy, about 10-15 minutes.
Combine wheat berries, butternut squash, fennel, dill, cilantro, mint ( or use herbs of your choice), capers, pomegranate seeds and almonds. Drizzle the pomegranate molasses, mix well. Serve warm or cold. Garnish with roughly chopped almonds.
Pomegranate Molasses
4 cups of pomegranate juice
1/4 cup of honey
pinch of salt
1 tbsp lemon juice
In a large saucepan, mix the pomegranate juice, honey, salt and lemon juice. Bring to boil and reduce down to very low simmer. Stir every 10-15 minutes. Simmer for about an hour until reduced to 1 cup and juice has a syrupy consistency. The molasses should coat the back of a spoon but you want to keep it on the runny side because cooling it down will thicken it up more. Pour the molasses into a jar, let it cool, and refrigerate.