"To avoid criticism say nothing, do nothing, be nothing." ― Aristotle
I envy the people who are not afraid of looking like a fool. Anup is one of those people. If he has a new thought or idea, the first thing he wants to do is share it with people. He can take rejection in a stride. It's not that he is just unafraid of rejection, it is as if he is not even aware that he is being rejected. That to me is a blissful state of mind. I have seen him celebrate his failures. "Remember that time I wanted to buy a yacht, hire doctors to work on it and market the service as a vacation at a hospital? Remember that?"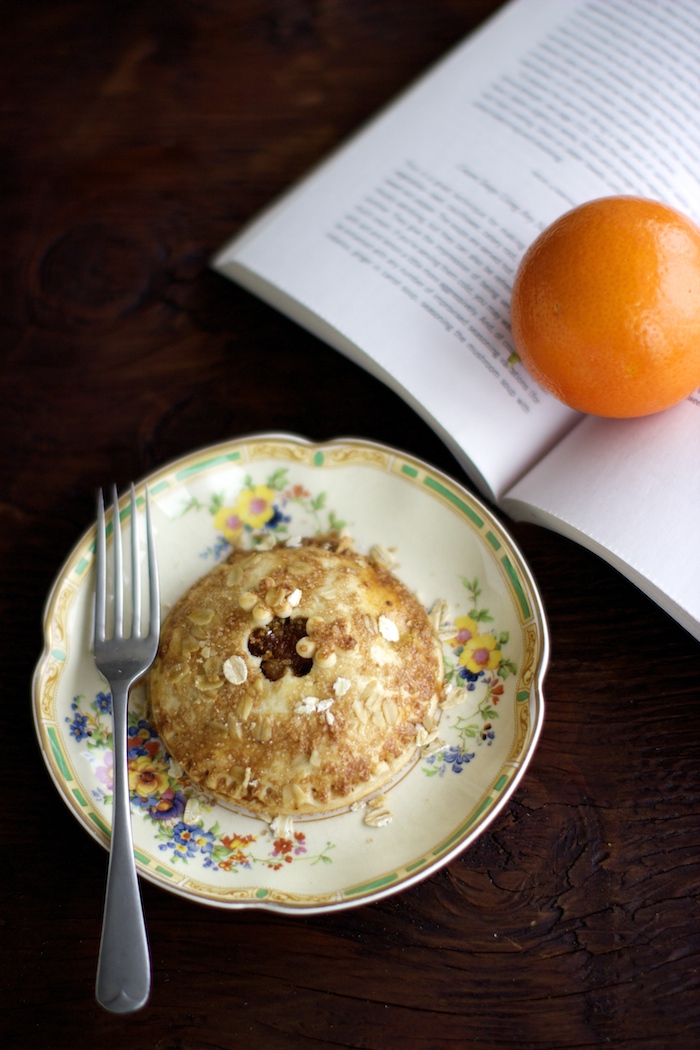 I, on the other hand, have struggled with fear of rejection for as long as I can remember. I have to evaluate, calibrate and fine tune every aspect of my new thought, and even then, I am afraid to put my thoughts out there for people to see and critic. It took me over three years to leave my full-time job and join the culinary school. I had been reading food blogs for years before I could write my first blog post. My years spent being afraid of rejection had given birth to a new demon, self-rejection. Even before other people can reject my ideas, I was on it!
My blog has helped me break this vicious cycle! I have learned to organize my thoughts, give every post my best, and then put it out there. We all have to overcome our inner demons to be the person we are capable of being. My journey of overcoming the fear of rejection has brought me to a recipe competition today! The Chalkboard Magazine, one of my favorite reads, was organizing a competition for original recipes using citrus. I am excited to report that I have been chosen as one of the top five finalists! If you like my recipe, please go to The Chalkboard Mag and vote for it! Thank you in advance! (This poll is closed now. Feel free to send me some positive cyber energy in lieu of the vote!)
What monsters are you slaying today? Can I be by your side in your battle?
Orange Marmalade Hand Pies
Cook time:
I love cooking with citrus! Want to take a simple dish to a whole new level? Use citrus creatively and voila! I especially love citrus in my morning breakfast – something about the fresh citrus fragrance and the tart taste wakes me up and takes me to a happy place!
I wanted to use the whole orange, including the pith and the peel, in my dish. Did you know that the peel has almost four times as much fiber as the fruit flesh inside? The peel also has medicinal properties and is commonly used as an anticancer, anti-inflammatory and cholesterol lowering remedy in traditional Ayurveda. The pith also is loaded with Vitamin-C and is a good source of pectin, a soluble dietary fiber with numerous health benefits.
I have prepared a breakfast pie with orange marmalade stuffing. I love loading up on superfoods in my breakfast. It energizes me and gets my day started with a bang! I have basically taken all of the things I like to eat in my breakfast and put it in a compact hand pie, that travels well. I have used Goji berries, Chia seeds, Hemp seeds, Flaxseed, Almonds, Walnuts and Raisins in the pie. For the busy folks on the go who have little time for breakfast, this is a no-excuse-to-skip-breakfast pie!
Recipe:
makes 8-10 (4-inch pies)
4 thin-skinned organic oranges
1 cup of fresh orange juice
1/4 cup goji berries
1 tsp salt
1 tsp cardamom powder
1 tsp grated fresh ginger
1/4 cup honey/agave/maple syrup (or more – as per your taste)
1 tbsp chia seeds
1 tbsp flaxseed
2 tbsp hemp seeds
1/2 cup chopped nuts – almonds/walnuts
1/4 cup raisins
Slice oranges in thin circles, discard the seeds and quarter each circle. Put the orange slices in a big saucepan with goji berries. Add 1 cup of water. Bring mixture to boil, reduce the heat and cover the pan. Let it simmer for 45 minutes until orange skin gets soft. Keep an eye on your pot as you might need to add some extra water and cook for a longer time – depending on the thickness of the orange skin.
Now add orange juice, salt, cardamom powder, fresh ginger, chia seeds and honey. Give it a good mix, cook for another 15 minutes until the mixture thickens up with a marmalade-like consistency. Let the mixture cool. Prepare the filling by adding flaxseed, hemp seeds, chopped nuts and raisins into the orange marmalade mixture. Mix it well.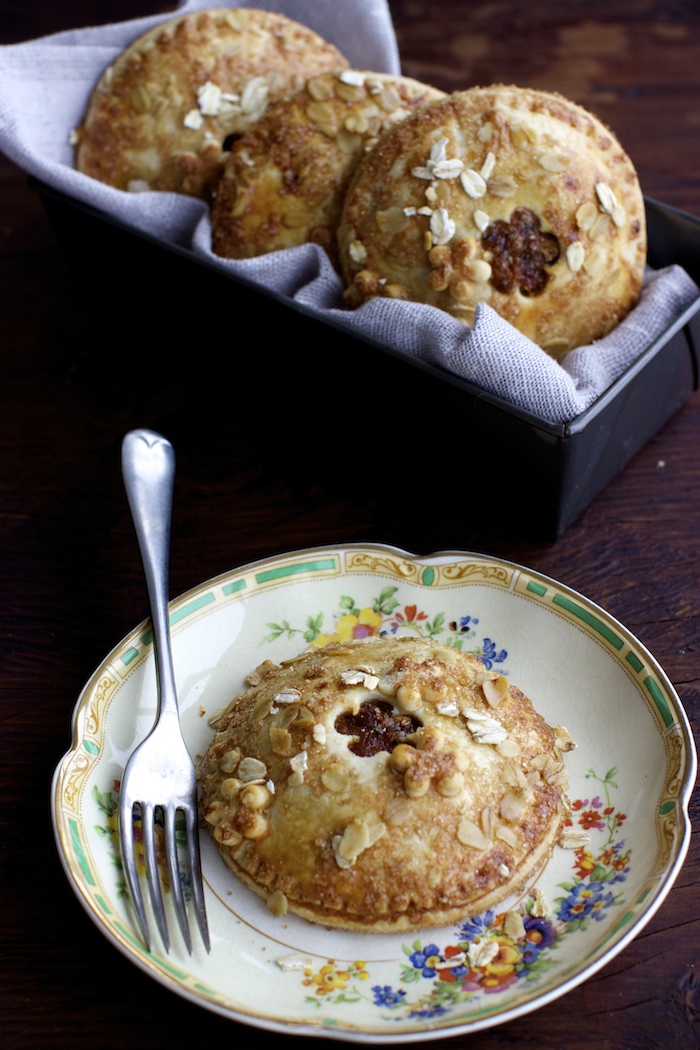 Pie dough:
2 cups all purpose flour
3/4 cup chilled unsalted butter – cut into small pieces
1 tsp salt
1/4 cup ice water
egg wash – 1 egg beaten + 2 tbsp water(optional)
For healthier version of pie dough use following recipe:
2 cups of whole wheat flour
1/3 cup coconut oil (cool enough to be solid)
1 tsp of salt
1/2 cup ice cold water
Preheat the oven 400°F.
Pulse flour and salt in food processor. Add butter gradually and pulse until the mixture resembled to a coarse meal. Now add ice cold water gradually until the dough just comes together. Take out the dough, knead it lightly and wrap tightly in a plastic wrap. Put the dough in the fridge for an hour.
After an hour, knead the dough one more time, and divide the dough in two halves. Roll each half out on a lightly floured surface into about 1/8 inch thick circular shape. Using a cookie cutter or edge of a glass cut out 4 inch circles. Place about 1 to 2 tbsp of filling in center of the circle, brush the edge of the circle with water, and put the other circular dough disk on top. Press edges using a fork to seal.
Brush the hand pies with egg wash. Sprinkle brown sugar and oat flakes on top. Bake until brown on top and bottom, about 25-30 minutes. Let cool before serving.