"Some people live a lifetime in a minute. What are you doing NOW?" – Col. Frank Slade, Scent of a Woman.
Anup is an old soul in a young body. His choice of movies, music and food make me think that he is in his fifties. One of his all-time favorite movies is "Scent of a Woman", starring Al Pacino. He plays a blind, retired army colonel. I love this movie as well, but Anup has probably seen it about hundred times, and he still has to watch it if it's on TV. If you haven't seen this movie, please do – you are in for a treat! If you have seen the movie, you know that it takes an old soul to watch it so many times and still enjoy it!
There is a scene in the movie where the blind colonel asks a young woman to tango with him. The girl is nervous about dancing with a blind person with other diners around. She also isn't sure about her skills in tango. The colonel reassures her:
"There are no mistakes in the tango, darling, not like life. It's simple. That's what makes the tango so great. If you make a mistake, get all tangled up, just tango on."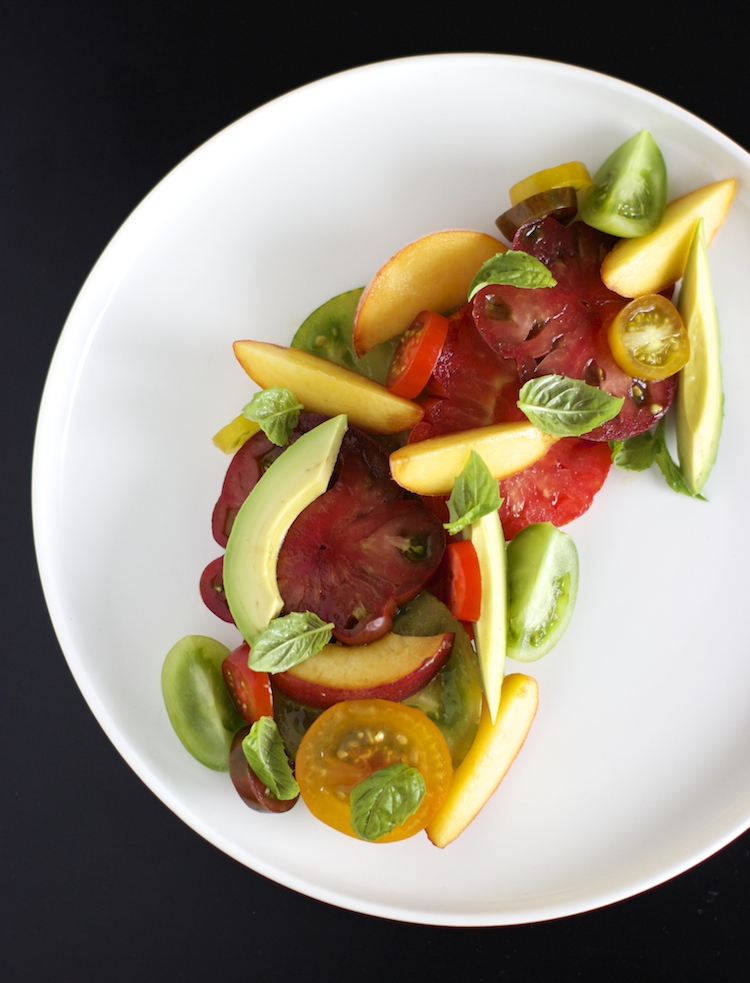 This is how I feel about making salads! I don't think you can go wrong with them, especially if you have good fresh produce. The other day, I was going to make a salad with fresh arugula, baby kale, tomato and peaches. When I started making the salad, I realized that I was out of greens and I had to make do with only the tomatoes and peaches. When I was done with the salad, Anup and I were amazed at how simple yet tasty the salad turned out to be. It was so good, we decided to share it on the blog!
Summer Peach and Tomato Salad
Cook time:
Recipe
serves 2
4 heirloom tomatoes
2 peaches
1 avocado
handful of fresh basil leaves
olive oil & lemon juice for drizzle
sea salt
Cut peaches, tomatoes and avocado in to slices. Cut the basil into thin strips (chiffonade). Arrange salad in to plate and drizzle with olive oil, lemon juice and sea salt.