Anup and I always end every year in style! We celebrate our marriage anniversary on Christmas Eve (13th this time!) followed by the Christmas Day celebrations with friends and family. My sister's birthday is on December 26th, and then there is New Year's Eve! Because I preach natural foods on my blog, I stick with 100% natural Tequila shots that night! So after this last hurrah, the first week of January makes me feel like the vacation is over and it is time to go back to school. January brings with it the plethora of pressure to create the "New You". The television ads reminding you of the need to detox, eating healthy and shedding those extra pounds you might have gained over the holidays start at the stroke of midnight on December 31st.
What are my New Year's resolutions, the receptionist at the gym asked me? After repeatedly struggling with New Year's resolutions, I have made it a point to give myself a ramp to get back in my healthier habits. If I have a whole new year to work with, why punish myself for a little bit of fun I had with friends and family?! There was nothing wrong with the old me, so I am just going back to my awesome self!
So instead of jumping from cookies and pies to kale and celery, I try to cook my favorite comfort foods with healthier ingredients. Another tip to jump start healthier eating is to have healthy food readily available. So when hunger strikes, you can quickly put something together instead of running to the cookie jar. This week, my go-to healthy combination has been quinoa and lentils. I can pre-cook and store the quinoa and lentils in large quantities and use them as needed. This combination reminds me of my old favorite comfort food khichuri, a one pot meal that is traditionally made with white rice and yellow lentils.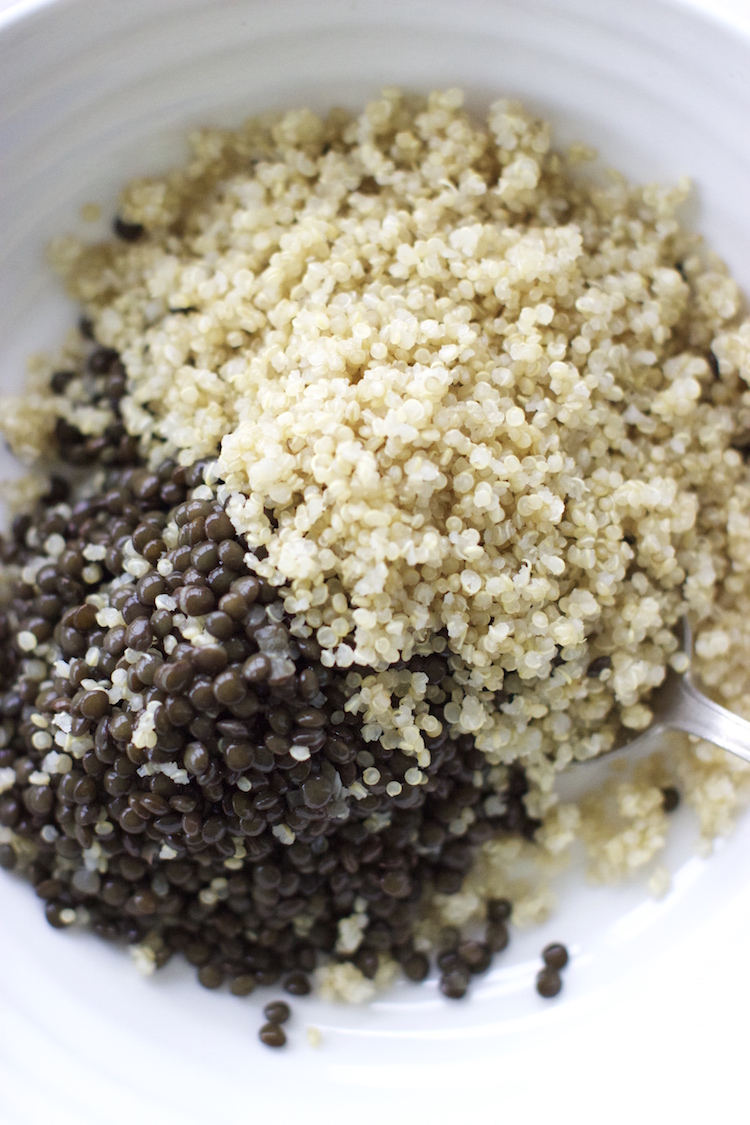 My mom would temper the leftover khichuri with cumin seeds and ghee and give it to us as breakfast the next morning, and I tell you, it tasted divine! I remember how my little sister and I used to fight over the crust at the bottom of the pot. I tried tempering my quinoa and lentils the same way my mom used to temper her khichuri and it transported me back to my little kitchen in India where I sat on the floor cross-legged and savoured every morsel of the hot khichuri! I have used broccolini and edamame but you can use your choice of seasonal vegetables, chop them small so they all cook evenly in one go. So whether you are the type who gets excited about the New You, or the type that thinks they are perfect and there is no room for improvement (like me!), here is a dish that is a match with every personality type. Happy 2015 everyone!
Quinoa and Lentil Bowl
Cook time:
serves 2
Recipe
1 cup quinoa – cooked
1 cup lentils – cooked
1/2 cup edamame
1 bunch broccolini – chopped , including stems
* You can use your choice of seasonal vegetables
1 clove of garlic – sliced
1 tbsp coconut oil/ghee
2 tsp cumin seeds
1 tsp paprika/chilli flakes
salt and pepper
1/4 cup almonds – chopped
juice of lemon
Heat the ghee/coconut oil in a saucepan. Add garlic, cumin, chilli flakes and cook for 10-15 seconds until fragrant. Add edamame and broccolini with a couple of teaspoons of water, put the lid on, and cook for 5 mins until vegetables are tender but still have a bite. Add cooked quinoa and lentils, mix well. Season with salt and pepper and cook for another 5 minutes uncovered. Remove from heat and add lime juice and almonds. Mix well and serve warm.
To cook quinoa:
1 cup raw quinoa (1 cup dry quinoa = 3 to 3-1/2 cups cooked)
1 1/2 cup water
1 tsp salt
Rinse quinoa in a strainer under running cold water. In a large pot, bring water to a boil. Add the quinoa and salt, mix well. Cover with tight fitting lid, reduce the heat to very low and allow to simmer until all the liquid gets absorbed, about 15 minutes. Remove from the heat and allow to sit for 5 minutes, covered with lid. Fluff the quinoa with a fork and set it aside to cool completely.
To cook lentils:
1 cup dry lentils (1 cup dry lentils = 2 to 2-1/2 cups cooked)
3 cups water
Rinse and drain the lentils. Place lentils in a saucepan and cover with water. Bring to boil, lower the heat and simmer for 30 minutes. Check to make sure lentils are cooked. Drain the excess water and set it aside to cool completely.