I don't know if we each have a destiny, or if we're all just floating around accidental-like on a breeze. But I think maybe it's both. Maybe both are happening at the same time.
– Forrest Gump
When my path crossed with Anup's 20 years ago at a high school in India, I was floating around like a feather in the wind. I was a carefree teenager who didn't know what love was. And yet, love was waiting around the corner for me; my destiny was finding me. Some might scoff at me calling Anup my destiny, but I am glad that I was crazy enough to jump in with both feet in the ocean of love that has swept me away and taken me places I had never dreamed of!
What is it to be in love? Where do "I" end and "We" begin? The lines have blurred over the last 20 years. I remember getting all dolled up for Anup, trying to look my best every time he came over to see me while we were dating each other. Now, gym clothes and yoga pants make up most of my wardrobe. While we used to meticulously plan our Saturday evening dates in the past, now we spend more time discussing our workout routines.
As the years are passing by, our love for each other shows up in the mundane, everyday things we do for each other. I am not a morning person, so he makes tea every morning. I try to watch Breaking Bad series with him for the third time, as he repeats after Heisenberg, "Say my name. Say it". I love how this relationship has allowed me to grow as an individual, while also having enough overlap of things that matter to both of us.
No marriage or union is perfect, and we have had our ups and downs. If my marriage was a dessert, it would be a dark chocolate truffle – bitter but decadent! All I hope for from my marriage is to be able to stay connected, as we float around as two individuals seeking our own separate answers at the same time. Hope you are finding your own meaningful connections this Valentine's Day. I wanted to make something which both Anup and I love, you can call it a Welentine special. It is a two ingredient, chocolate and coconut milk truffle with orange zest. Why? Because chocolate and orange are a match made in culinary heaven. Hope you enjoy it!
| | |
| --- | --- |
| | |
Chocolate Truffles
Cook time:
Recipe
(makes 10-12 square truffles)
300 grams dark chocolate – chopped
1/2 cup coconut milk
1 tsp orange zest
pinch of salt
cocoa powder for dusting
Place the coconut milk, orange zest and pinch of salt in a small saucepan over medium heat. Bring it to a boil once and remove it from the heat. Now add dark chocolate and stir until the mixture is smooth. Pour into a parchment paper covered small baking sheet. Even the top with a rubber spatula. Put the pan in the fridge for an hour to set. Once the chocolate truffle is set, cut into desired size squares. After every cut, clean the knife with a damp towel or wash your knife with hot water and dry with a clean towel to get clean cuts.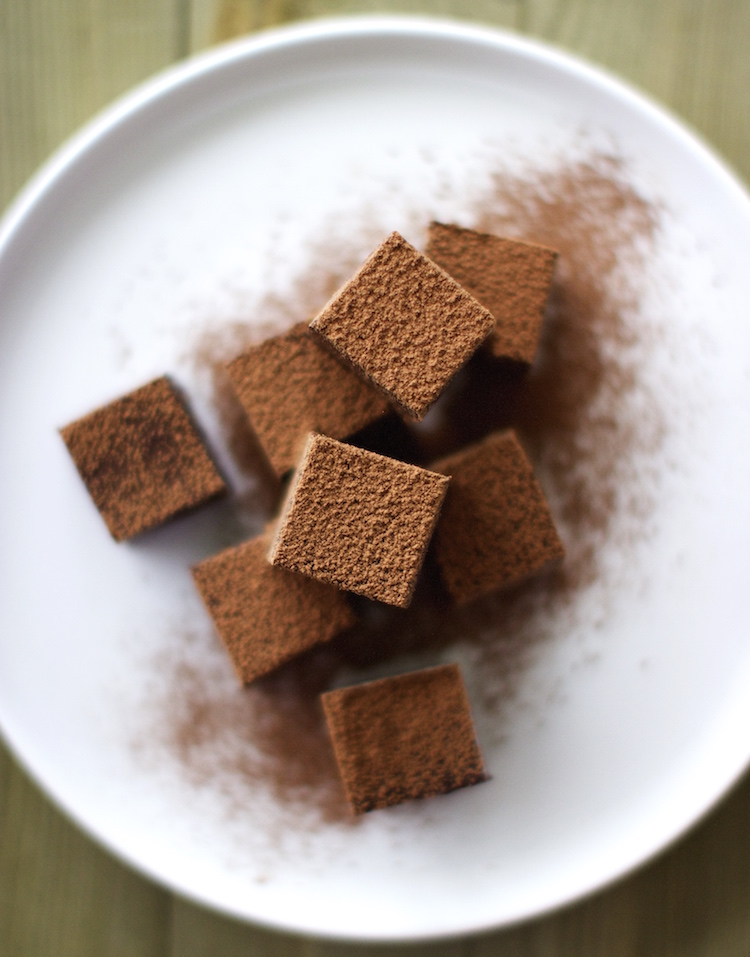 Dust with cocoa and serve. You can also coat your truffle with crushed nuts like almonds, pistachios, or walnuts. You can store the truffle in an air tight container for up to 7 days.