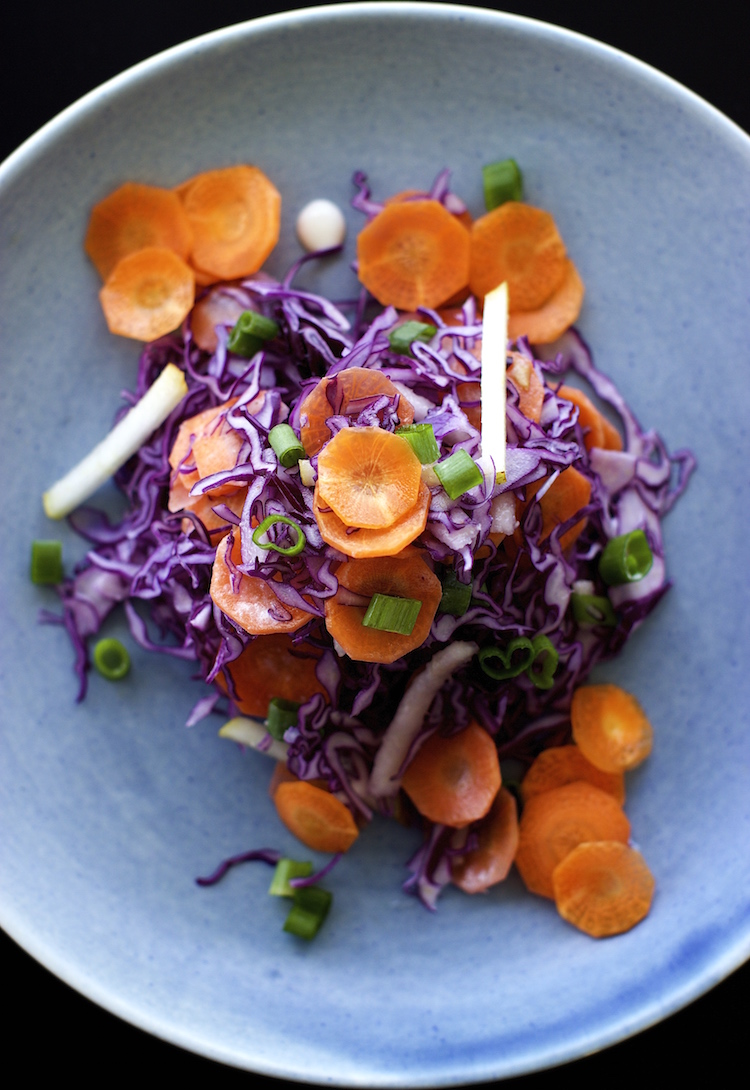 Eat Real Food. This is the best advice I have received in my 15 year journey towards a healthier me. It has taken me years to know what real food is, and I admit it, I am still learning and discovering new things every day. The industrialization of food, along with the media sending a new fad diet our way every couple of months has made it so complicated to know what "real food" is! Let me give you an example, I was at the store buying eggs and instead of a quick in and out, I felt as if someone had asked me to solve a complex puzzle – Brown or white? Medium, large, extra large or maybe jumbo? With omega-3? Pasteurized, all-natural vegetarian or Organic? Cage-free, free-range?
Do you ever wonder what all these choices do to our brains? How do we make decisions in this modern world? Even people who are conscious about eating healthy can easily get lost in this maze. My theory (and don't hold my feet to the fire!) is, in order to simplify our food choices, we pick a "category" of food that we believe is good for us – Vegetarian, Gluten-free, Low Carb, Non Fat so on and so forth. The problem with this approach, in my opinion, is that such categorization is an oversimplification of what is and isn't good for us. Onion rings fried in Canola oil are Vegan and Vegetarian, so does that make them good for me? I know plenty of vegetarian Indian dishes that are loaded with empty calories with no nutrients. Gulab Jamuns, anyone?
Since no one diet has ever worked for me, I try to buy and prepare foods the way "nature intended it to be". There are two things I pay attention to – ingredients and cooking method. The ingredients have to be as close to their "natural" state as possible and the cooking has to maintain the natural nutrients in those ingredients.
I have come up with my own two step rule while buying groceries:
Step 1: Avoid packaged foods. I try not to buy anything that comes in a box, can or wrapper.
Step 2: If I do buy packaged foods, I read the ingredients and check if I would be able to make the same food in my home kitchen. High fructose corn syrup? Don't have that in my kitchen. Partially hydrogenated? Can't do that in my kitchen.
Homemade mayonnaise is essentially an emulsification of egg yolks, oil and lemon juice – 3 ingredients. A jar of most store bought Mayonnaise on the other hand has over 20 ingredients including Modified Food Starch, Maltodextrin, Lactic Acid, Potassium Sorbate, Calcium Disodium EDTA, Phosphoric Acid, Natural Flavors (another name for MSG), Beta Carotene, Color(s). Would you even call that a mayonnaise? What do all those chemicals do our hormones, digestive systems, and moods? I have prepared a coconut milk mayonnaise which is healthier and tastier than any mayonnaise you can buy from the store.
A coleslaw, shredded cabbage and creamy mayonnaise is a classic combination. I have added carrots for some extra crunch and pear for sweetness. This refreshing coleslaw is light and will pair well with any main dish. Use it as a taco filler or as a crunchy salad, it is sure to win over even the pickiest eaters. I hope you pass on that jar of Mayonnaise at the store next time!
| | |
| --- | --- |
| | |
Coleslaw with Coconut Milk Mayonnaise
Cook time: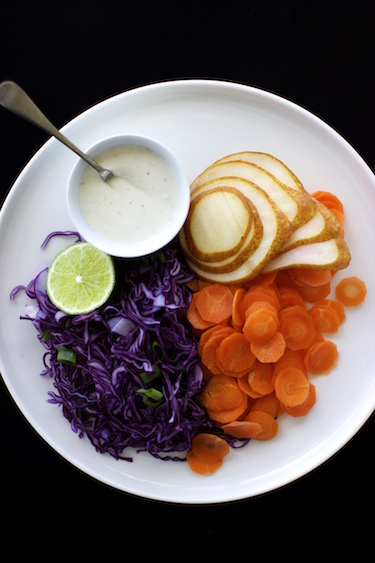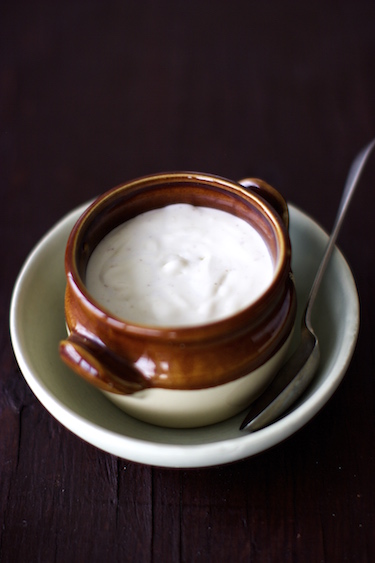 Coconut Milk Mayonnaise
1/2 cup coconut cream
2 tbsp olive oil
1 tbsp lemon juice
1 tsp dijon mustard
1 tsp honey/agave – optional
salt & pepper
Refrigerate coconut milk for at least 4 hours or overnight to separate coconut cream from the water. Carefully scoop out coconut cream solids from the top. Put coconut cream, lemon juice, dijon mustard and honey in a food processor and blend until smooth. While the food processor is running, drip olive oil one tbsp at a time. Add more oil if the consistency is too runny. When the mayonnaise is the consistency that you would like, add salt and pepper to taste. You can store mayonnaise in the fridge for up to 5 days.