When I decided to make a change in my life by making healthier choices, I had to unlearn so many of my old habits. One of the hardest things to do was to eat more. Yes, more. Back when I was heavier, skipping meals was something I gave myself props for. I would start my day with a large cup of Starbucks coffee with two shots of espresso, and that would set me up till about 4 pm. I wouldn't get hungry and I used to be so happy about that! Dinner was my largest meal, and because I felt so good about skipping meals earlier in the day, generally I indulged myself with comfort foods at restaurants.
As I started to make a positive change in my eating habits, I learned about the importance of multiple small and healthy meals throughout the day – breakfast, pre-lunch snack, lunch, evening snack, dinner and then some almonds or walnuts before I went to bed. I learned that getting hungry was a good thing because it was my metabolism at work. My body was digesting the food I ate instead of storing it as fat.

I didn't want to just be on a diet for a couple of months and find a way back to square one, I wanted to learn to be healthy for the rest of my life. I realized that meal planning was critical if I wanted to eat 6-7 meals a day! The key to eating healthy throughout the day is to keep healthy foods readily available. Trust me, when it was 6 pm and I had just came back from work, if the only thing available was a twinkie, that twinkie was going down! So I learned to make some healthy snacks that would satisfy my cravings.
As the holiday season is upon us, I am reminded of my past struggle in finding that balance between eating healthy and gorging on sweets. It is possible to balance these two, it just requires a little bit of advance planning and some creative recipes! One of my favorite recipes is quinoa and almond flour cookies with chai spiced almond butter.
Almond butter is high in omega 3s and low in saturated fats. You can also find the unsweetened kind at the store, so you don't have to worry about empty calories. The warm chai spices take the creamy almond butter to the next level, perfect for a cold day! Quinoa flour is high in protein and low in carbs compared to other refined flours or even whole wheat flour. Quinoa has almost twice as many fibers as other grains and is loaded with iron and lysine. Lysine is essential for tissue growth and repair, so if you do weight training at the gym, these cookies are for you!
These cookies will make a perfect gift for the holidays, or consider them as your gift to yourself, and pass on those white flour or sugar cookies! Enjoy these cookies with your loved ones, without feeling guilty!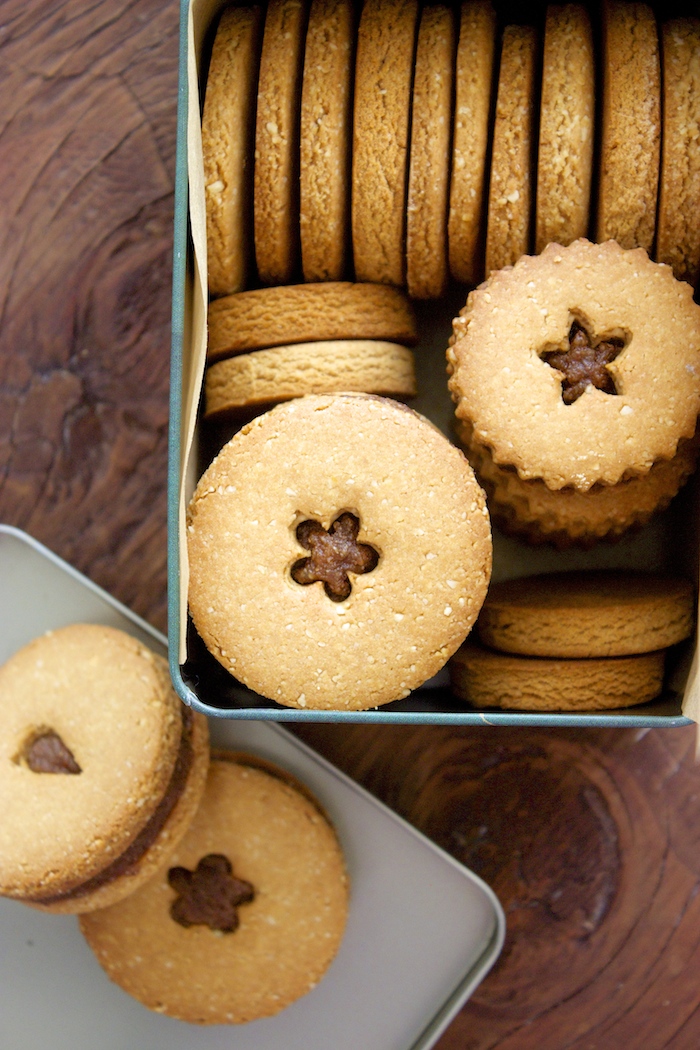 Healthy Cookies – Quinoa and Almond Flour Cookies with Chai Spiced Almond Butter
Cook time:
Recipe
(makes 24 – 2 inches cookies)
1 cup quinoa flour
1 1/2 cup almond flour
1/2 cup honey
2 tbsp ghee or coconut oil at room temperature
1 tsp baking powder
1/4 tsp salt
Heat oven to 300°F.
Put quinoa flour, almond flour, baking powder and salt in a food processor and mix well. Add honey and ghee, process until crumbly dough forms. I suggest that instead of adding all of the 1/2 cup honey at once you add the honey slowly, making sure the dough is crumbly. Depending on the viscosity of the brand of honey you use, you might not have to use 1/2 cup of honey. The key is to make sure your dough is crumbly, so you can cut cookies out of the dough. Shape the dough in a ball and refrigerate for 15 minutes.
Lay parchment paper on the kitchen counter, put the dough in the middle and cover with another parchment paper on the top. Gently roll the dough in 1/4 inch thickness. Using a cookie cutter make 2 inches circles and place them on parchment paper lined baking sheet. Repeat until you have about 20 to 24 cookies.
Bake cookies for 10 to 15 minutes until golden brown. Let cookies cool completely. Store in air-tight container.
Chai-Spice Almond Butter
3/4 cup unsweetened creamy almond butter
4 tbsp honey
6 cardamom pods
4 cloves
1/4 tsp nutmeg
1/4 tsp cinnamon powder
pinch of salt
Grind cardamom, cloves, nutmeg and cinnamon in spice grinder. Put almond butter and honey in a small sauce pan on very low heat and mix well. Add spice mix and salt. Let it cool at room temperature. To make cookie sandwich, spread chai spiced almond butter on one cookie with a butter knife. Press with another cookie. Store the cookies in a refrigerator.