I consider myself a flexitarian – I mainly eat vegetarian food with some poultry and meats. My diet has evolved over the years as I have learned more about nutrition, and have grown older! Lately, I have been a fan of raw foods – smoothies, salads, and even raw desserts. The basic premise of eating raw is that it retains most of the nutrients in the food. Our bodies can digest raw foods much more easily compared to cooked foods. I like to throw in a few raw-foods-only days every month which helps me cleanse my system. Raw dishes are also easy to put together, so on the days I am eating raw I have more time to do the things I love – like blogging!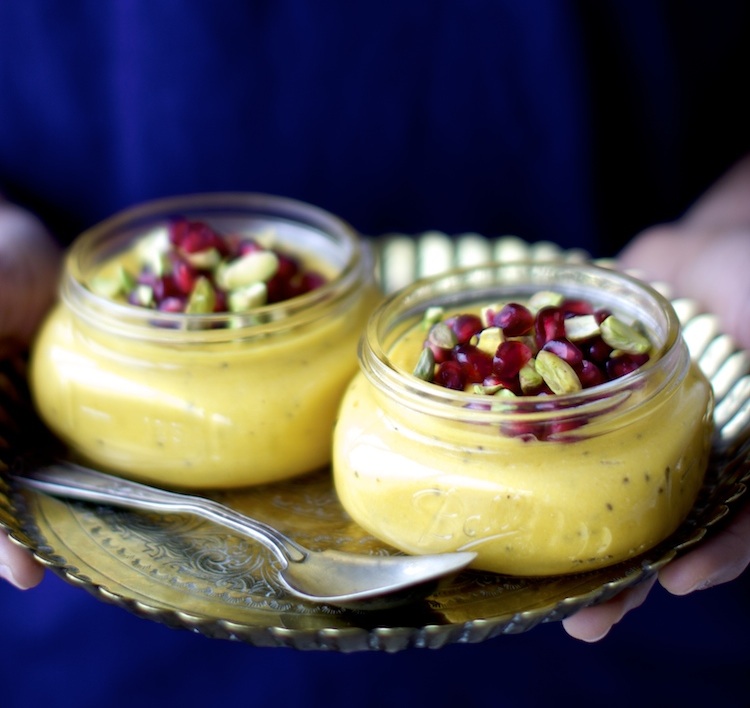 I have seen some of my friends start sweating at the thought of making desserts for their guests. Serving desserts can be especially daunting if you are entertaining a large group of people. I love making raw desserts that can be prepared easily, mousse being one of my favorites! You can also prepare the mousse in advance allowing you more time to enjoy the evening with your guests!
If you have made the traditional chocolate mousse before, I think you will really enjoy this variation of Papaya Mousse. I have added chia seeds to the mousse to add some texture. Chia seeds are rich in omega-3s and packed with fiber. Papaya is low in calories and is cholesterol-free while being a rich source of phytonutrients, minerals, and vitamins. This Vitamin-C rich fruit has a good amount of soluble dietary fiber that helps to have normal bowel movements. So feel free to serve this dessert after a heavy dinner, your guests will thank you for your thoughtfulness the next morning!
| | |
| --- | --- |
| | |
Vegan Dessert – Papaya Mousse
Cook time:
Recipe:
Serves 4
2 small ripe papayas – peeled and sliced, seeds removed
15 cashew nuts – soaked in hot water for 15 minutes or soaked overnight & drained
1 tbsp chia seeds
4 dates – pitted
1/4 tsp ground cardamom
pinch of salt
Put papaya, cashew nuts, chia seeds, dates, cardamom powder and salt into the food processor or blender, blend till the mixture has a smooth creamy consistency. You can add a couple of teaspoons of water or nut milk, if necessary. Pour the mousse into service bowls and refrigerate until chilled or serve at room temperature. Serve with pomegranate seeds and pistachio nuts or your choice of toppings.