There was a movie released a couple of years ago – The Grey. A plane-carrying team of oil workers crashes in Alaska in the middle of nowhere. Some days, I feel like I am in that movie because "The Grey" is how I would describe Vancouver in these winter days!
For us Canadians in the Northern Hemisphere, the winter solstice – the shortest day of the year, is this Saturday, December 21st. It has been snowing in Vancouver for the past week and it has been getting darker sooner each day. Some days, we don't even see the Sun at all! There are two things that keep me upbeat during the winter days – green tea with lemon and warm hearty soups!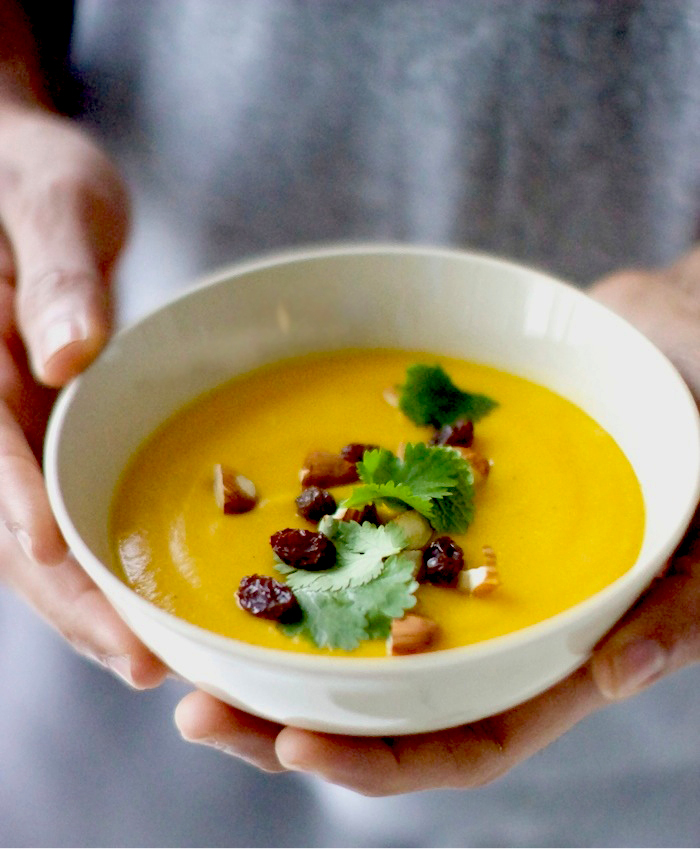 While the cold winter days scream meat and potatoes to most, there are healthier choices that are equally hearty and easier to make, such as vegetable soups. There are simple variations you can use to make the soups more filling – like adding lentils to your vegetable soups! Lentils are rich in protein and thicken the soup to make it creamier. For this recipe, I have combined butternut squash with yellow moong lentil. Butternut squash is slightly sweet in taste and provides an earthiness to the soup.
Use lemon juice generously in this soup. This soup makes up for the lack of sunshine in winter and is perfect for a cold day!
| | |
| --- | --- |
| | |
Butternut Squash Soup with Yellow Moong Lentils
Cook time:
Recipe
1 butternut squash – peeled & cubed
1 cup yellow split moong lentils
3 cups water
1 medium onion
4 cloves garlic
1 tbsp grated ginger
1 tbsp ghee/coconut oil
1/2 tsp chilli flakes
1/2 tsp cumin seeds
1/2 tsp coriander seeds
1/2 tsp black pepper
1/2 tsp turmeric
1 tbsp salt
freshly squeezed lemon juice
Put chilli flakes, cumin seeds, coriander seeds, black pepper in a spice grinder. Grind and set spice mix aside.
Heat ghee in a pot, add onion, garlic, ginger and sauté until fragrant. Add spice mix and cook for another minute. Now add rinsed yellow moong lentils and cubed butternut squash, add water and salt. Cover the pot and simmer for 30-45 minutes on medium heat until lentil and squash are soft.
Once the mixture is cool enough to handle, purée the soup in a blender. Add the lemon juice, taste and adjust the spice. Serve the soup in a bowl. Garnish with toasted almonds, cilantro leaves and raisins.