Sweets are the currency of celebrations in India. We have a custom of sending sweets to our loved ones whenever there is any good news. When a child is born we distribute peda, a sweet made out of condensed milk. All the guests at weddings receive a box of sweets as a gift. Our festivals invariably involve cooking, eating, and distributing sweets and other delicacies.
It is also common in India for neighbors to share their food and recipes. Our neighbors would send out samplers to us when they tried a new recipe or made a special dish. The next day, my mom would fill their empty plate with something she had made that day. We kids got to deliver these treats back and forth and we kept the tradition going with all our enthusiasm.

I was at the mall the other day checking out a new lens for my camera. As Christmas is less than two weeks away, shopping season is in full swing at the mall. I saw a number of people with their shopping lists – undoubtedly trying hard to find that perfect gift for their loved ones. Maybe it's the Indian in me, but I feel that nothing makes a better gift than some homemade treats! What better way to show your love and care than to put your time and effort into cooking something?!
| | |
| --- | --- |
| | |
Homemade brittle has a special place in my heart. I used to help my mom make peanut brittle using jaggery. Brittle can be made with your favorite nuts or seeds – peanuts, almonds, cashews, sesame seeds, or even flax seeds. Jaggery is an unrefined form of sugar and is a more complex carbohydrate than plain sugar. Unlike sugar, which gets absorbed in your body quickly, jaggery is absorbed gradually and the energy from it is released over an extended period of time. This basically means that there won't be a sugar-high and a crash to follow if you eat jaggery instead of refined sugar.
Jaggery is rich in minerals, mainly iron with traces of other mineral salts. In India, a small piece of jaggery is commonly eaten after a heavy meal as it helps with digestion. Jaggery activates the digestive enzymes and itself changes to acetic acid in the stomach. This speeds up digestion and reduces the strain on the digestive tract.
Here is a recipe for a simple Jaggery Brittle! Use your favorite nuts or seeds, you can't really go wrong with brittle. Brittle also makes a great gift, so it might save you a trip to the mall!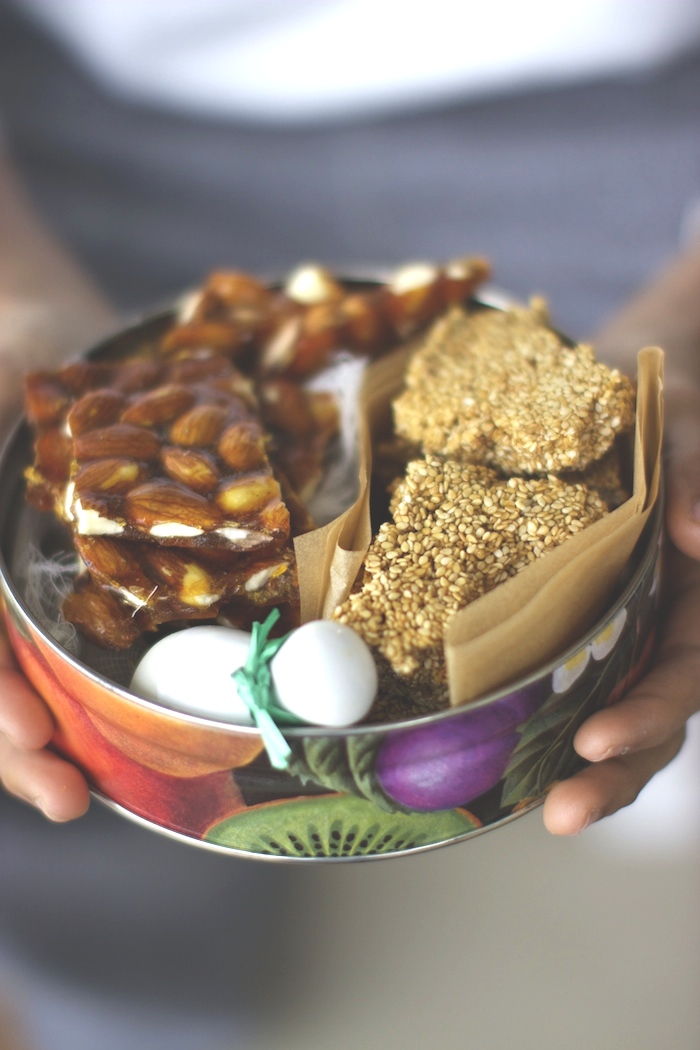 Almond or Peanut Brittle made with Jaggery
Cook time:
Recipe:
2 cup jaggery, chopped in small pieces
2 cups almonds or sesame seeds
1 tsp cardamom powder
pinch of saffron threads
1 tbsp of ghee/coconut oil
In a pan, toast nuts or seeds on medium heat. Remove from heat and set aside to cool down.
In a saucepan heat ghee and jaggery on very low heat, until they melt and start bubbling. Add cardamom powder and saffron threads. Don't stir the mixture but swirl the pan for even cooking and caramelizing. Insert thermometer at this point and cook until it reads 155°C/310°F, or till hard crack stage.
Spread the parchment paper on a baking tray. Now take the jaggery mixture off the heat and quickly add toasted nuts and mix till nuts are coated well. Spread the mixture on a baking tray and flatten it with well oiled rolling pin or spatula for desired thickness of brittle.
Let the brittle cool completely. Break it into desire size pieces and store it in airtight container.