India has changed a lot in the last 12-15 years that I have been out of the country. Back when I was living there, we had no cell phones, most families had no cars, and made do with a lot less compared to now. For young kids, fashion generally meant permutations and combinations of the two pairs of jeans and 3 t-shirts they owned. I remember my dad had two pairs of shoes – sports shoes and formal shoes. Formal shoes were leather shoes he wore at work or at social gatherings, and sports shoes were utility shoes for day-to-day use. My mom never wore makeup, the only day she put on lipstick was at my wedding.
When I arrived in California in 2001, the first thing I noticed was how well dressed everyone was! Women almost always wore makeup and jewelry, and men were not far behind with their expensive watches and spiky hair! If there is one thing immigrants want to do, it is to fit in! We wanted to be like the people around us, and that meant more and more trips to the mall. As our social and professional circles expanded, we discovered the holy grail of fashion – matching your clothes with your accessories. It was no longer enough to own a couple of nice pieces because things needed to match the rest of the outfit! Do these earrings go well with this watch? Do these shoes match this dress? These were questions we never heard our parents ask each other, but yet, here we were.
After we moved to Dallas and as Anup's business started doing better, we could afford to wear designer clothes. Prada, Gucci, Rolex, Cartier – the names we had never heard in India were suddenly near and dear to our hearts. The luxuries became necessities pretty fast. It was no longer acceptable to dress well for special occasions, it was a daily routine. We were not alone in this, everyone around us was doing it too.

When we moved from Dallas to Florida, we took all our prized possessions with us. We started hoarding more and more of the stuff we were buying – to the point that having our individual walk-in closets was not enough. I was hoarding clothes I hadn't worn in years – but honey, this is Gucci! Suddenly the stuff that was supposed to make us happy was weighing us down. Slowly but surely, we realized that most of the things we owned were superfluous and didn't add any real value to our day-to-day lives. It was in Florida that we started living a healthier lifestyle by doing more physical activities and eating simpler meals. I like to think that somehow that process initiated a cleansing of our minds, which in turn triggered the cleansing of our priorities and wardrobes.
| | |
| --- | --- |
| | |
When Anup's business required us to move to Vancouver, we had two choices – ship all our stuff to Vancouver and fly in, or make a 3500-mile road trip from Miami to Vancouver. By this time, we both had realized that this road trip and our move to Vancouver was our chance to hit the reset button. So thankfully, we picked the road trip experience over the opportunity to keep all our things. We agreed on taking only what we can fit in one car. I still remember the day when we went through our wardrobes and headed to the salvation army store to donate our stuff – we had to make three trips!
After letting go of our prized possessions in Florida, we have consciously avoided acquiring more stuff. We still indulge ourselves by spending on new experiences rather than owning things. I spend more on fitness – yoga, tennis and swim lessons, gym memberships – rather than owning more designer clothing. It's a truly liberating experience to own very little and experience more of what this world has to offer!
When you are in your five-dollar flip-flops, it just makes you hungry for a simple and healthy salad! Here is a recipe for a beluga lentils salad. Beluga lentils are one of the most protein and fiber-rich foods – 1 cup of lentils has 16 grams of fiber and 18 grams of protein! They have a crunchy texture, perfect as a replacement of the crunchy greens in your salad. The creamy eggplant relish gives the salad a level of rich meatiness. Serve this salad warm, with some greek yogurt on the side. This salad can easily be your main meal! Buon appetite!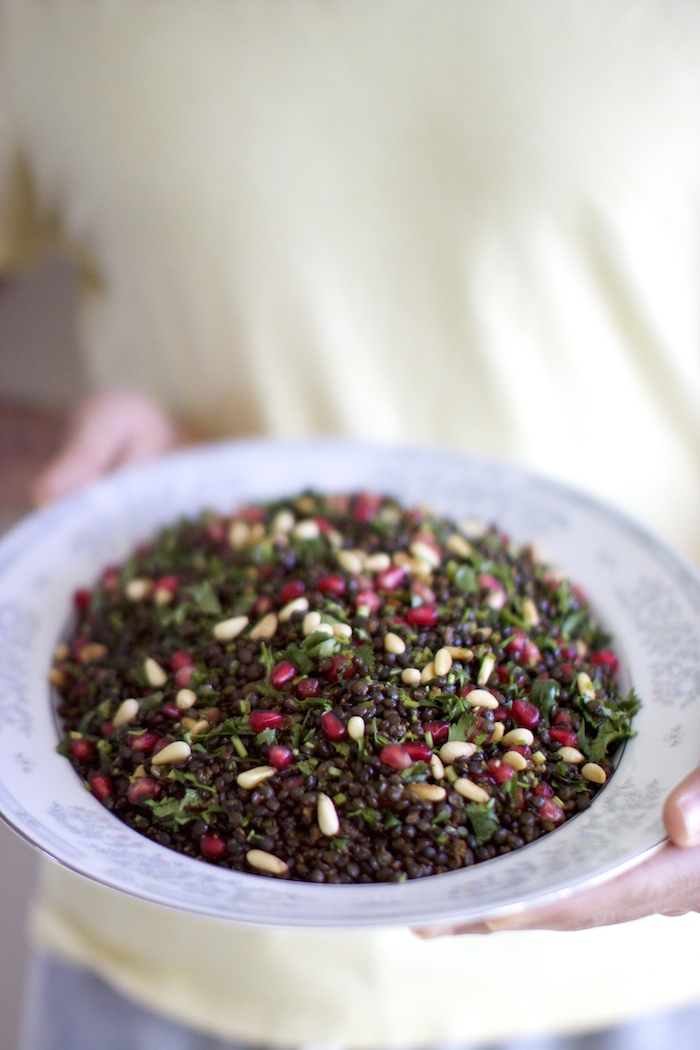 Lentil Salad – Beluga Lentils with Eggplant Relish
Cook time:
Recipe
serves 4
2 cups dry beluga lentils (1 cup dry lentils = 2 to 2-1/2 cups cooked)
6 cups water
5 cloves
1 tbsp salt
Rinse and drain the lentils. Place lentils in a saucepan and cover with water. Add salt and cloves. Bring to boil, lower the heat and simmer for 30 minutes. Check to make sure lentils are cooked. Drain the excess water and set it aside.
2 tbsp of olive oil
1 tbsp cumin powder
1 tbsp coriander powder
1 tbs red pepper flakes
1 tbs smoked paprika
1 tbs salt
1 tbs black pepper
1 juice of lime
1/2 cup cilantro – chopped
1/2 cup pomegranate seeds
1/4 cup toasted pine nuts
Heat the olive oil in a saucepan. Add cumin, coriander, pepper flakes, paprika, salt and pepper. Cook for 10-15 seconds until fragrant. Add cooked beluga lentils and mix well. Cook for another 5 minutes. Remove from heat and add lime juice, cilantro, pomegranate seeds and toasted pine nuts. Mix well and serve warm with eggplant relish and greek yogurt.
Eggplant Relish
2 large eggplants (1 large eggplant makes about half cup of relish)
1 tsp of grated lemon zest or chopped peel of 1 preserved lemon
1/4 cup herbs – cilantro and mint – chopped
1 tbsp of olive oil
Salt and pepper
1 tbsp lemon juice
pine nuts and pomegranate seeds to garnish.
Score the eggplants at few spots with a knife, about 1 inch deep. Lay them on a baking sheet, broil for about an hour. Turn the eggplants around every 15 minutes to cook evenly. Cook until the flesh is soft and skin is crispy and slightly burned. Remove from oven and let cool completely. Once cool enough to handle, peel the skin and put eggplant flesh in a colander for 15 minutes to drain extra water.
Put eggplant flesh, lemon zest, olive oil, lemon juice, salt and pepper in a food processor. Push the button for a couple of spins. Mix the relish with herbs and garnish with pomegranate seeds and pine nuts.