I started my culinary school program in the winter of 2012, along with 15 others chef wannabes. We spent one month learning one specific skill set – from knife skills, butchery, baking to classical sauces – and then moved on to the next block. There are chefs who have dedicated their entire lives exploring just one of the skills on this list. So trying to even learn the basics of so many different aspects of the culinary world was just mind-numbing.
When my sister visited us here in Vancouver, I was nearing the end of my training. Lopa and her husband Nikhil spent about a month with us, and I was so excited to cook all the different dishes I had learned at the culinary school. Lopa and Nikhil are strict vegetarians, so many of the ingredients I wanted to cook with were automatically a no-go. And all they wanted to eat was some comfort food we used to eat back in India, wanting me to finish cooking in 20 minutes so we could all sit together and talk. One such comfort food that is common in most Indian homes is Khichadi, one of Lopa's favorites.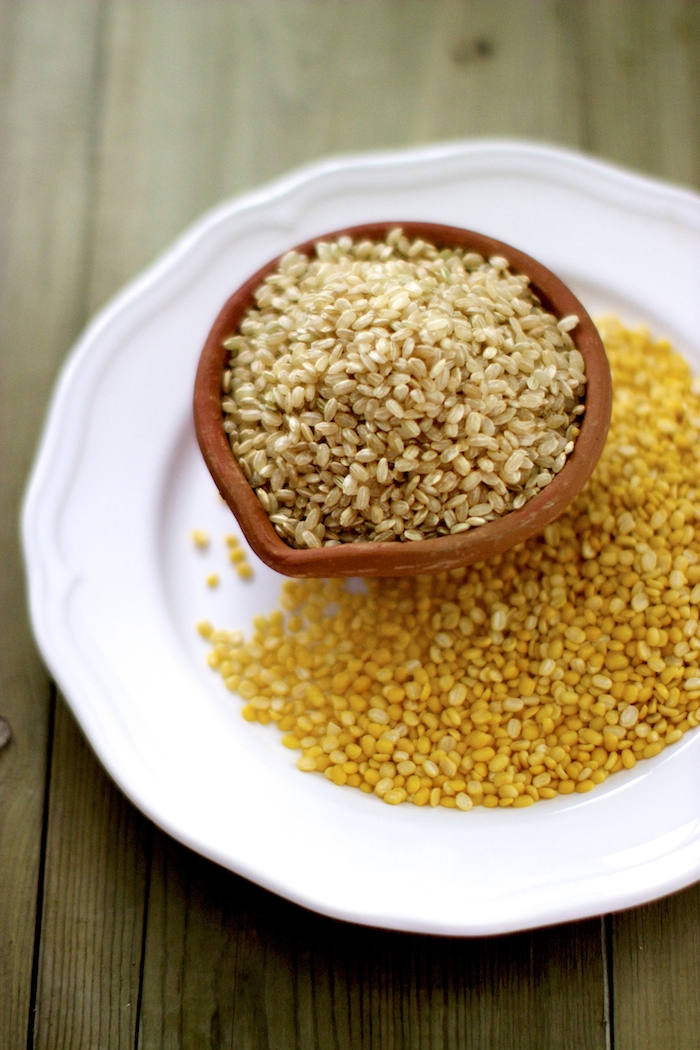 Rice is a staple food in so many countries and cultures, whether it is the Paella in Spain, Khichadi in India, or Risotto in Italy – rice is an ingredient in some amazing comfort foods. Being the enthusiastic chef that I was, I didn't just want to make a plain khichadi. So I improvised and cooked khichadi using the techniques used in cooking the traditional Risotto. The traditional risotto is made with arborio rice which is high in starch content which makes the risotto creamy. The traditional risotto is cooked with butter, white wine and topped with Parmesan cheese.
To make my risotto healthier, I have used brown rice and replaced the wine flavor with fennel. Since brown rice is not as high in starch content as arborio rice, I have used lentils to make this risotto creamy. Lentils cook faster than brown rice, so they are almost dissolved in the end risotto, providing a creamy texture to the risotto. I was amazed by the results I got – the khichari/risotto turned out really creamy without using any heavy cream or cheese. Fennel provided a nice licorice flavor and sweetness to the risotto. I topped this risotto with cilantro which gave it a contrasting green color and fresh aromas! This brown rice risotto pairs perfectly with wild mushrooms. Hope you enjoy it!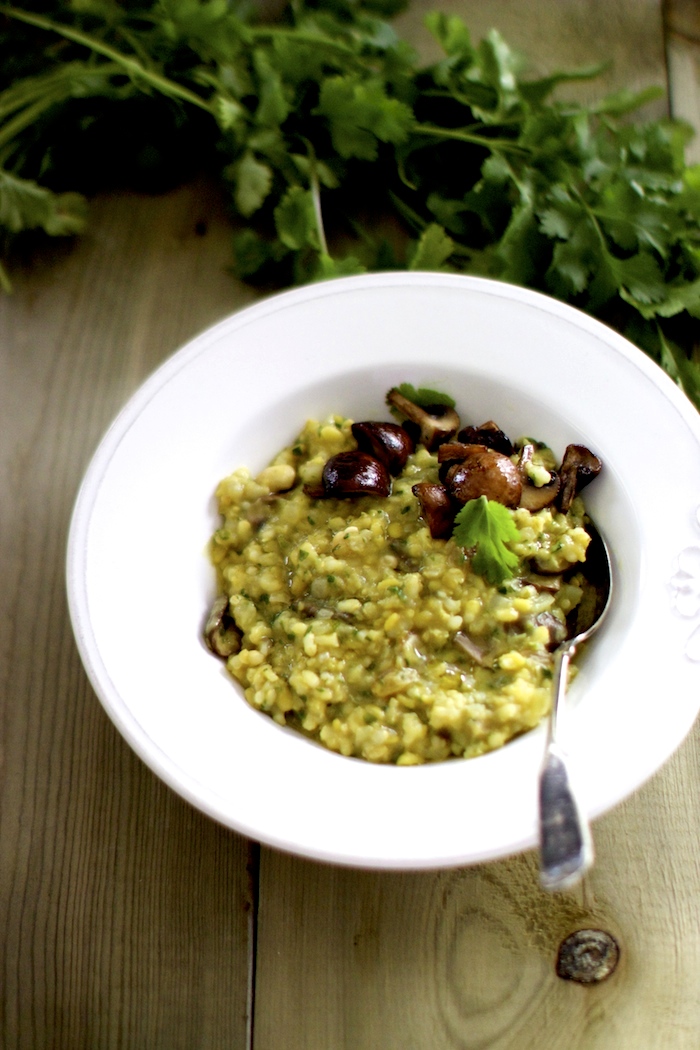 Mushroom Risotto – Brown Rice Risotto with Wild Mushrooms
Cook time:
recipe:
serves 4-6
1 cup short grain brown rice
1/2 cup yellow moong lentils
4 cups water/vegetable stock
1 tbsp olive oil
1 small onion – peeled & chopped
1 bulb of fennel – chopped
3 cloves of garlic – chopped
1 tsp turmeric
1 tbsp salt
5 oz wild mushrooms, cleaned and sliced
1 tbsp olive oil
salt and pepper
1 lemon
1/2 cup toasted nuts – almonds, cashews
1/2 cup golden raisins
1 cup cilantro, chopped
Bring stock to simmer in a big pot.
Heat the olive oil in a large shallow pan, add chopped onion, fennel, garlic. Cook on low heat for about 15 minutes until the vegetables get soft. Add the rice and stir until well coated with vegetable mixture and slightly translucent. Do not rush this step, let rice sautée until translucent otherwise your rice will turn mushy when it cooks through.
Now add a cup of simmering stock, lentils, salt and turmeric and stir well. Once most of the liquid is absorbed in rice, add more stock and repeat until rice is cooked al dente. This will take around 25-30 minutes. (You don't need to stir the rice too much in the beginning, stir really well towards the end for a creamy consistency.)
While the rice is still cooking, preheat the oven at 375°F. . Heat olive oil in a large ovenproof heavy bottom pan. Add the mushrooms without overcrowding them and let them cook on high heat for 4-5 minutes until they start caramelizing. Season with salt and pepper. Place the pan in preheated oven and roast for 7-8 minutes until the mushrooms have cooked through.
At this point, the risotto should be cooked. Check seasoning, add toasted nuts, golden raisins and cilantro. Add half of the mushrooms and lemon juice, mix well. Add some more mushrooms and herbs on top and serve.