May be it is just Vancouver, but I feel like everyone around me is turning into a foodie! Vancouver has always been a foodie town, but lately, I find people here are super conscious about where they buy their produce, what they cook and what restaurants they frequent. Being a food blogger is like being a drug dealer in a town of addicts. May be that's not the best example, but you get the idea – it is good to be a food blogger in Vancouver!
When I am not cooking or eating, I like to research and read up about ingredients I can use in my recipes. I recently came across a super food I had never cooked with before – Amaranth seeds. The more I read about this ingredient, the more excited I have become to include it more in my daily diet. The benefits of using Amaranth as a substitute of wheat or other grains are enormous. To start off, Amaranth contains more protein than any other gluten-free grain, and contains less carbohydrates compared to grains like wheat. One cup of raw amaranth contains 28.1 grams of protein, that's equivalent of a chicken breast! The proteins in Amaranth are also easily digestible compared to other grain based proteins. Amaranth is rich in calcium, magnesium, iron and fiber. I know that's a long list, so the only question was, why hadn't I cooked with this little beauty before?!
| | |
| --- | --- |
| | |
Since I had never cooked with Amaranth, I decided to create a simple recipe to try out this ingredient. Here is my recipe for Amaranth Crackers, a gluten free snack that is full of protein and fiber. Some whole grain crackers have the texture of a cardboard, but not this one! I was surprised at how crumbly and crunchy the crackers turned out! I wanted to make a dip to serve with these healthy crackers, I made a cauliflower dip with goat cheese. The creamy dip pairs nicely with the crunchy crackers. So whether you are an NBA, NFL or NHL fan, these crackers and dip will get you ready for game time! Go Canucks!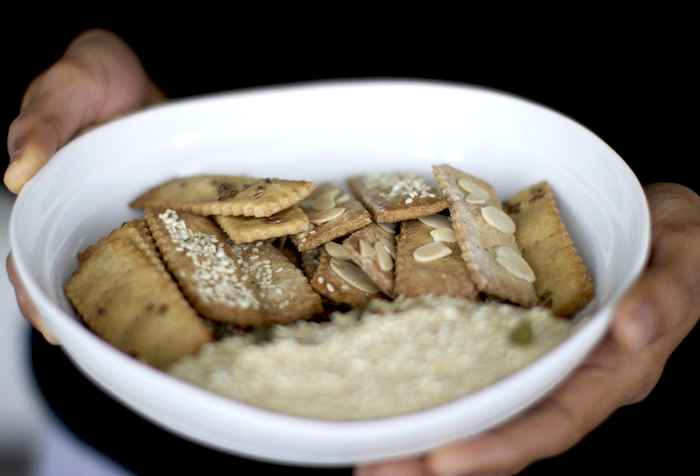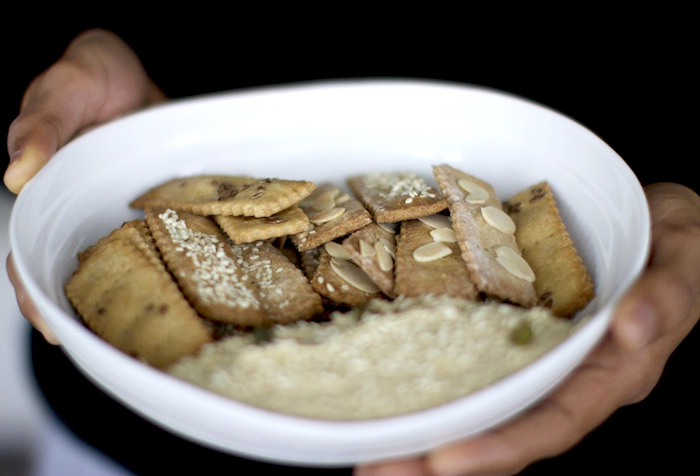 Gluten Free Snack – Healthy Amaranth Flour Crackers
Cook time:
recipe:
makes 30-35 crackers (size approx 3″x1″)
2 cup amaranth flour
2 tbsp olive oil
2 tbsp honey (optional)
1 tsp baking powder
1 tsp salt
1/3 cup water
Heat oven to 350°F.
Mix amaranth flour, baking powder and salt. Rub olive oil and honey to flour mixture. Put mixture in food processor and add water gradually, form dough. Dough shouldn't be too dry or too sticky – you might need more or less water depending on flour.
Lay parchment paper on the kitchen counter, put the dough in the middle and cover with another sheet of parchment paper on the top. Gently roll the dough to desire thickness. Cut the crackers using cookie cutter or pizza cutter. Place the crackers on parchment paper lined baking sheet without over crowding. Prick with the fork couple of times on each cracker. Brush the crackers with water and sprinkle with desired toppings like sesame seeds, sliced almonds, shredded coconut, flax seeds, caraway seeds etc.
Bake crackers for 15-20 minutes until golden brown around edges. Let them cool completely. Store in air-tight container.
Roasted Cauliflower Dip
1 head of cauliflower – washed , cut in florets
1 small onion – peeled and sliced
4 cloves of garlic
1 tbsp olive oil
1/4 cup goat cheese
1 tbsp capers
1 preserved meyer lemon or juice of 1 lemon
1 tsp cinnamon powder
salt & pepper
Heat oven to 350°F.
Mix cauliflower florets, onion, garlic and olive oil on parchment paper lined baking sheet. Generously season with salt and pepper. Place baking sheet in oven and roast for 30 minutes until all the vegetables get caramelized slightly.
Remove from oven, put the vegetables in food processor with goat cheese, capers, lemon juice and cinnamon powder. Blend until you get smooth and thick consistency. If the dip is too thick you can add little water or olive oil. Taste for seasoning.