I don't think there is any dispute about which is the best part of a muffin – it's the muffin top! You can tell a lot about a person based on how they eat their muffin. The calm and heedful carefully detach the top of the muffin and put it aside to savor later. They want to end their muffin eating experience on a high note; these are the people who believe in delayed gratification. The impulsive, on the other hand, lack the patience and take a big bite out of the muffin top! A muffin can also be used to test the bond of a relationship, just ask a couple to share a muffin. You certainly hope to see two happy people beaming with joy a few moments later, but do cross your fingers!
| | |
| --- | --- |
| | |

In Indian homes, an oven is not a common appliance. In fact, most of the people I know in India still don't have an oven. Needless to say that baking is not a common skill. The first of my muffin eating takes me all the way back to when I was ten. I was a very patient muffin eater, but it had little to do with me and a lot more to do with my family's lack of resources. The part of town we lived in had one bakery, and they made fresh muffins every Saturday. Throughout the week, the bakery only sold Indian sweets like Peda and Jalebi, but Saturday was muffin day! I would generally start smelling those muffins by Wednesday, talk about patience!
My mom would give me 1 Rupee, about 2 cents, on Saturday morning for my muffin. I would tuck away my rupee in a hidden compartment in my school bag. I used to be like the dog who hid away his bone in the backyard, going back to check up on it every 15 minutes. Saturdays were half days at the school, so my sister and I would ride our bicycles to the bakery on our way back home. By the time we got our hands on our muffins, we weren't sure if we wanted to eat them or put them on a pedestal! We would park our bicycles, sit on a large rock next to the dirt road, and get ready to savor every minute of our muffin eating. For the next couple of minutes, we would both maintain silence out of respect for the muffins.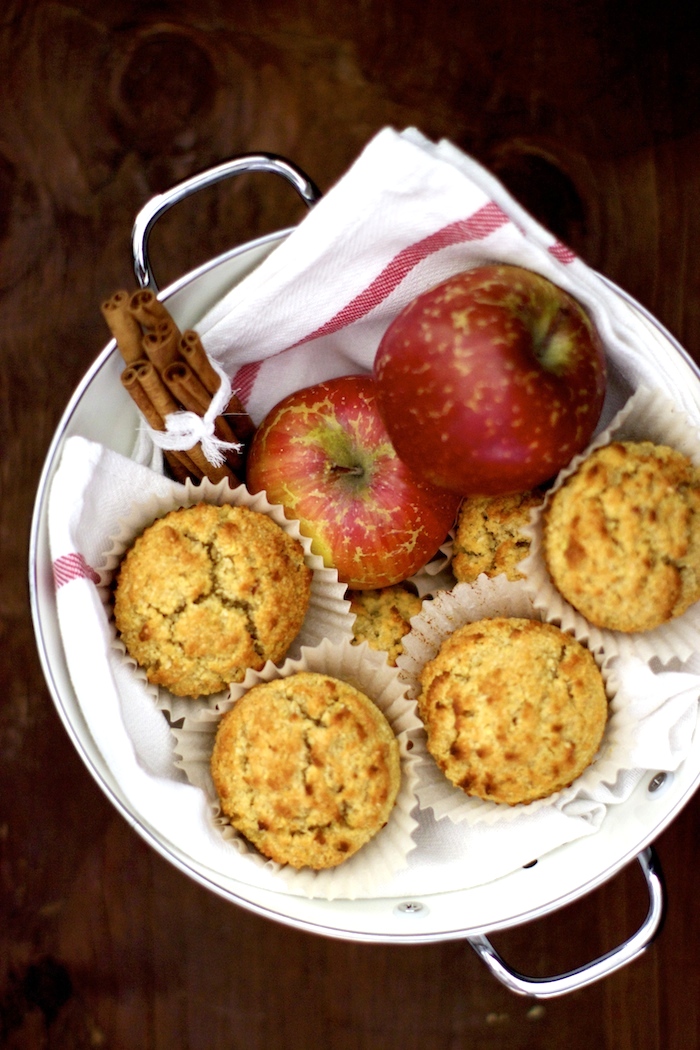 Muffins are one of my favorite things to bake. The possibilities of what you can do with your muffins are truly endless. You can be creative with the flour, the flavors, and the topping. I have baked gluten free muffins using almond flour. The combination of apple and cinnamon just screams winter to me! This is a healthy, gluten-free snack that is easy to bake! Here is to you, little sis!
| | |
| --- | --- |
| | |
Gluten Free Muffins – Apple and Cinnamon Muffins
Cook time:
Recipe:
makes 8 muffins.
2 cups almond flour
1/4 tsp salt
1 tsp cinnamon powder
1/2 tsp cardamom powder
1 tsp baking powder
2 eggs
1/4 cup honey
1/4 cup ghee/coconut oil
1/2 cup walnuts – chopped
1/2 cup grated apple/2 small apples
Preheat oven to 350°F. Line the muffin pan with paper liners.
In a large bowl, mix almond flour, salt, baking powder, cardamom and cinnamon. In another bowl whisk together eggs, honey and ghee. Pour wet ingredients into dry ingredients and mix well. Add grated apples and walnuts, fold gently until combined.
Divide the batter in muffin cups. Smooth out the top to the cups with a wet spoon. Bake for 20-25 minutes, until muffins are golden brown and a toothpick comes out clean. Let them cool on a wire rack.