I still remember how excited I was on my first day at the culinary school. Me and 19 others just like me were wearing our new white coats, white hats, with the new knife sets we had just bought on our shoulders. Surely, we were all subconsciously feeling like the contestants on Top Chef, ready to amaze everyone else with our skills!
So our instructor walked in the kitchen, gave us all a smile, and asked us a question: How many players are there on a football team? A couple of enthusiastic students answered in unison: 11 players on each team, Chef!
Instructor continued: So out of the 22 players on the football field, how many handle the ball at any given time? One player, Chef!
So what do the other 21 players on the field do?
Students, mumbling: They tackle. Defend. Run and make plays.
Instrutor: Exactly! Before you can handle the ball, you need to train yourself and earn a spot on the team. You need to get in shape, build the stamina, acquire the skills to execute plays, so when finally the ball comes to you – you know what the hell to do! I know you are all excited to start cooking, but first you are going to learn how to hold a knife!
You could literally feel the air being sucked out of the room. You mean we are not grilling a filet mignon? No foie gras? No fancy plating?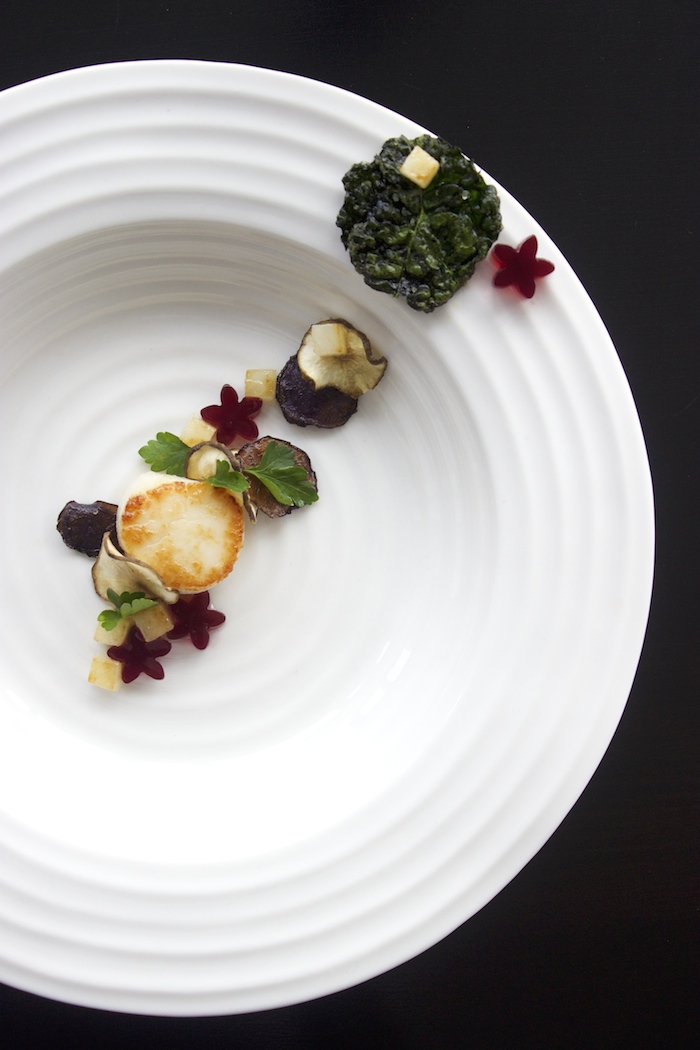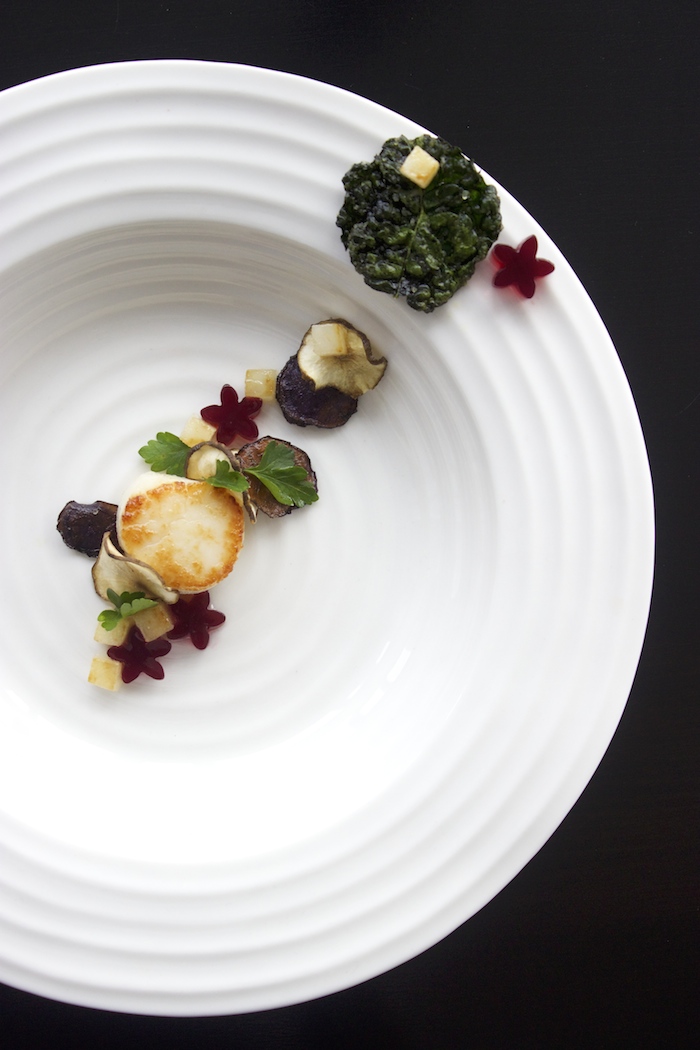 Looking back, that was the biggest lesson I have learned till date about conducting myself in the kitchen. The lesson was – big things are made up of small things. Focus on the small things, and the big things will take care of themselves. Before we could be the bad-ass chefs we all wanted to be, we needed to learn the basics of not only cooking, but the basics of systematic execution. We would be learning knife skills, basic sauces, butchery – all the building blocks of fine dining. But we also had to learn about cleanliness, communication with our team, and staying focused in the kitchen.
This same applies to creating a beautiful dish – focus on executing the small building blocks correctly. Pick the freshest ingredients, make sure the flavor profiles work nicely with each other and use the right techniques to cook each individual element of the dish. Garnish the dish with something that compliments the dish without taking the focus away from the main ingredient of the dish. If the smaller blocks are executed well, the final dish is bound to come out well!
Today I have made a simple sunchoke soup with pears! This is an earthy soup, served with a perfectly cooked scallop. I wanted to use pomegranate with this soup to add some color and acidity to balance the sweetness from the pears. I have made pomegranate gel which enhances the presentation of the dish! I have garnished with sunchoke, blue potato & kale chips which also add some texture to the soup. I hope you enjoy!
Sunchoke Soup
Cook time:
Recipe
Serves 4-6
2 pounds sunchokes
2 ripe pears – peeled and chopped in big chunks
1 white onion – thinly sliced
2 tbsp olive oil/coconut oil
3 cloves of garlic
4 cups vegetable stock/water
1 tbsp salt
1 tsp freshly ground white pepper
1 tbsp lemon juice
Scrub the sunchokes in running water. Peel, dice to big chunks and put them in cold water.
Heat oil in a big pot, add onions and garlic, sauté until translucent. Now, drain the sunchokes from the water and add to the pot along with pears. Add vegetable stock, bring to boil and lower the heat, simmer for 45 minutes until sunchokes are soft. Remove from heat, season with salt and pepper. Once the mixture is cool enough to handle, purée in blender. Add lemon juice, taste for seasoning.
Arrange desired garnish in the bowl and pour warm soup in the bowl gently.
Sunchoke & Purple Potato Chips:
Preheat the oven to 350°F.
Slice root vegetables thinly on mandolin. Place them on a parchment paper covered baking sheet without over crowding. Bake for about 15-20 minutes until edges get slightly brown and crispy. Once done, sprinkle with sea salt.
Pomegranate gel:
1 cup pomegranate juice
1 tbsp agar agar flakes
Add agar-agar flakes to pomegranate juice, bring to boil. Reduce heat and simmer until dissolved, about 5 minutes. Pour the mixture in tray, allow it to cool down at room temperature. Put the tray in fridge until mixture gets firm, about 30 minutes. Cut into shapes.
Cooking Scallops:
Pat dry scallops and season with salt and pepper. Heat a heavy-bottomed skillet over high heat. Add a little olive oil to the pan, place the scallops in the pan without over crowding them. Let them cook for about 1-2 minutes without disturbing. Turn carefully with tongs and cook other side for 1-2 minutes. Remove from the heat. The scallops should have a golden crust on each side while still being translucent in the center. Serve immediately.