It's a lazy Sunday afternoon in Vancouver. I survive cloudy days like today with gallons of green tea with lemon! I went to the gym early today and had a good workout with my hubby. What does your Sunday look like? Sundays can reveal a lot of things about a person or family. The religious are seen at the church while the laid backs sleep in, the foodies are at their favorite restaurants while the gym is packed with the health conscious.

Back in India, my family had a Sunday routine we all looked forward to. After the morning tea, my dad would spare an hour or so cleaning up his scooter. He was meticulous about maintaining all his equipment and Sundays were perfect for this favorite activity of his. Once I was old enough to ride a small bicycle, I was taught to clean it on Sundays with my dad. He would put my bicycle upside down next to his scooter, and give me my own cloth so I could get to work right next to him! My mom could be seen cleaning the front yard of the house; invariably getting carried away and cleaning the neighbor's space too! My dad would joke about how we should ask for payment from our neighbors for mom's cleaning services.
| | |
| --- | --- |
| | |
My mom used to collect the cream of milk in a container, from the milk she bought every day. She would make fresh ghee every Sunday using the cream from the previous week. She would also make fresh whole wheat flour for the week ahead. While my grandmother used a manual hand mill to make wheat flour back in her day, my mom had upgraded to an electric mill. Some of the young kids today might think that flour is cultivated somewhere by elves that work long hours in a factory because they have never seen how it's made from whole grains! It is surprising how we have all gotten so used to buying boxed and packaged foods, while not too long ago, it was just as routine to make things from scratch.
| | |
| --- | --- |
| | |
I wanted to use my whole grain, barley, in a light and healthy salad today. Many health experts agree that good overall health begins in the colon. Without sufficient dietary fiber in the daily diet, we run the risk of a number of different diseases – ranging from hemorrhoids to colon cancer. Barley is a low-glycemic grain and is high in both insoluble and soluble fiber. Insoluble fiber promotes a healthy digestive tract and reduces the risk of cancers affecting it. Soluble fiber helps the body metabolize fats, cholesterol and carbohydrates, and lowers blood cholesterol levels. Hulled barley, in which the outer hull (the bran) is left intact, is the most nutritious form of barley. This type of barley is richer in fiber and contains more fiber and nutrients than other forms, such as pearl barley.
The barley pairs nicely with the earthiness of the roasted beets. I have made a creamy dressing with avocado, pistachios and cilantro. The lime juice in the dressing cuts through the sweetness of roasted beets. Hope you enjoy this salad with your favorite people!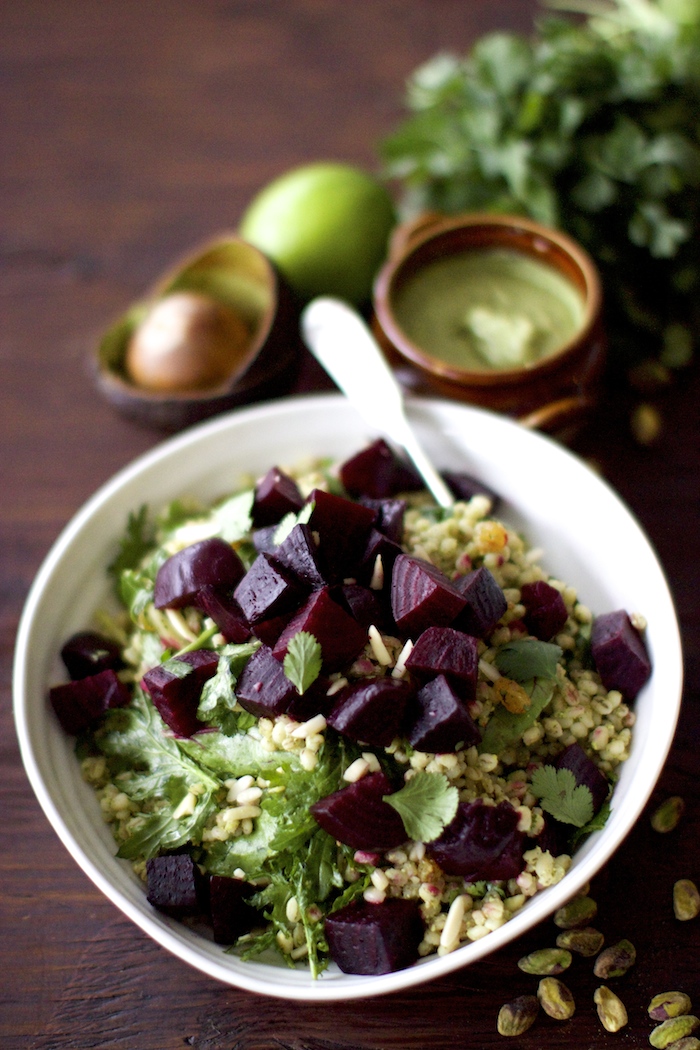 Roasted Beet Salad with Barley
Cook time:
serves 4
1 cup raw hulled barley
3 cup water or broth
1 tsp salt
4 medium sized beets
1/4 cup raisins
1/4 cup almond – toasted
1 cup greens – beet greens/kale/spinach – chopped
Preheat oven to 375°F.
Rinse barley well. Measure 3 cups of water in a saucepan, add barley and salt, bring to boil. Reduce down and simmer until tender, about an hour. Remove from the heat. Drain the extra water and fluff with a fork. You can get your beets ready while the barley is cooking.
Scrub and wash the beets. Wrap the beets in foil and place in a baking sheet. Bake until very soft, about 45 minutes. You should be able to easily pierce the beet with a sharp knife. Remove from the oven, let cool completely. Peel the skin off, slice the beets in desired shapes.
In a big bowl, add cooked barley, raisins, almonds and greens. Pour 1/2 cup of green dressing on top and mix well. Taste for seasoning. Top the salad with beets and enjoy!
Green dressing
1/4 cup pistachio – shelled
1 cup cilantro leaves – chopped
1 ripe avocado – pitted and peeled
1 clove of garlic
3 tbsp olive oil
Juice of 2 lemons
salt & pepper
Put all ingredients in a food processor and blend until smooth. You might need to add a couple of tbsp of water or lemon juice to get the desired consistency. Season with salt and pepper.