"Two halves do not make a whole when it comes to a healthy relationship: it takes two wholes." – Patricia Fry, author.
While this quote was meant for an intimate relationship, I think it applies to all relationships – friends, siblings and parents. My relationship with my parents has evolved into something beautiful as I have matured. It wasn't always the case. I was a typical teenager – a little rebellious, demanding and full of strong opinions about anything and everything. I was always a daddy's girl, so my mom, Vishakha, bore the brunt of my teenage years.
| | |
| --- | --- |
| | |
My parents are opposites of each other in many ways. For one, my dad dislikes change. He is one of those people who have a zen-like calmness to them, he is always at peace with his surroundings. My dad used the same scooter for over 20 years. When he finally agreed to upgrade to a car and sold the scooter, he was teary-eyed. When we bought a computer and had access to the Internet for the first time, my dad avoided it like he avoided Anup when he started coming to visit me at my home. No wonder I couldn't muster the courage to tell him I liked the guy!
My mom, on the other hand, embraces change. Even now, if my parents have to send an email or have to log in to Skype to chat with us, it is always my mom figuring things out! My sister and I had learned early on that if we wanted anything that was out of the norm, we had to first approach mom. If we could sell her into it, then she would get my dad on board. When I wanted to get my eyebrows done for the first time, when my sister wanted to cut her hair short, when I was in love with a Christian boy and wanted to get married – it was my mom who made it happen!
My blog has brought me closer to my mom. She is a regular reader here, and she has even bought a new dictionary so she can better understand what I write about! Her hunger for life and her willingness to learn new things at her age makes me want to be a better woman. Will I be as open and willing when I am older? I can only hope so!
My mom worked as a librarian, and she had to cook lunch for the whole family before heading out to work. She was a big fan of one pot meals that she could put together in a hurry. Here is a simple recipe for a one pot vegetable stew inspired by her cooking. Stews are the easiest and simplest way to eat your vegetables! You can use your favorite beans or lentils in this recipe. Enjoy it on a cold winter day with a slice of rustic bread!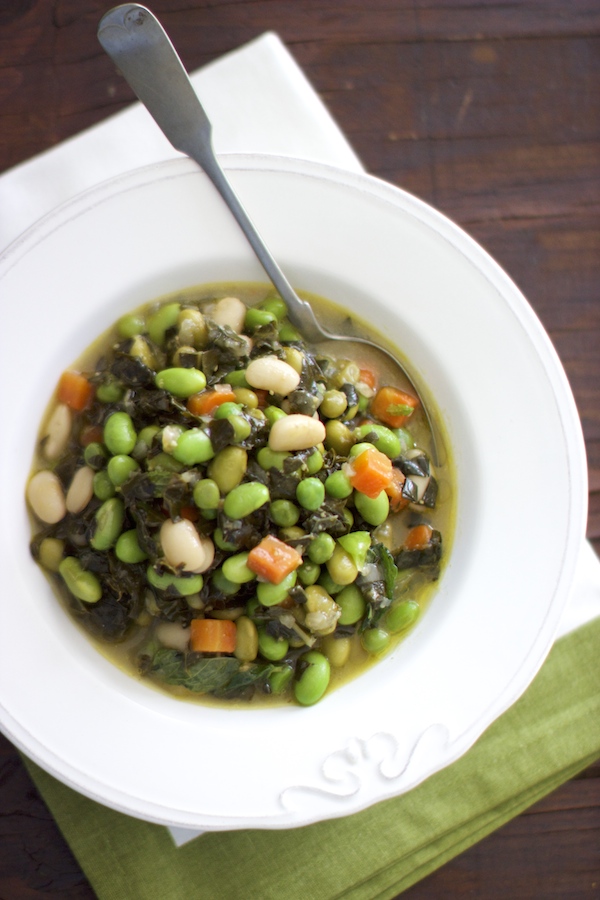 Vegetable Stew
Cook time:
Recipe
serves 4
3 tbsp Olive oil/ghee/coconut oil
1 large red onion – chopped
1 carrot – chopped
1 fennel bulb – chopped
3 cloves garlic
1 tsp cumin powder
1 tsp chilli powder
1/2 tsp cardamom powder
1 cinnamon stick
1 cup cannellini beans (or your choice of any beans/lentils, cook as directed on package)
1/2 cup peas
1/2 cup edamame beans
1 1/2 cup vegetable stock/water
3 cups of kale/chard/spinach – chopped
Juice of 2 lemons
salt and pepper
handful of chopped mint/cilantro for garnish
grated parmesan cheese – optional
Soak the cannellini beans in water overnight. Drain and rinse, put them in a large pan. Cover with cold water, bring to a boil. Lower the heat and simmer slowly with the lid half on for 1 to 1 1/2 hours, until tender and soft. Add more water to pan if necessary.
Heat ghee in a big pot. Add chopped red onion, carrots, fennel, garlic to the pot. Sweat the vegetables very slowly on low heat until soft about 15 – 20 minutes. Add cumin, chilli, cardamom and cinnamon stick and cook until fragrant. Add cooked beans, peas, edamame beans and vegetable stock, bring to boil. Simmer on low heat for 15 minutes until peas and edamame are soft.
Stir in the chopped kale, simmer for 5 minutes. Season with salt and pepper. Garnish with chopped mint and lemon juice before serving. Grate some parmesan cheese to add richness to the stew.