I was at the supermarket earlier today and I noticed these attention-grabbing magazines next to the checkout line. One look at the covers of these magazines, and you know why we are struggling to be a healthier society:
"Drink this extract and lose belly fat, while you sleep!"
"10 superfoods to lose 14 pounds in two weeks!"
"8 reasons why you don't have six-pack abs!"
"10 minute workouts to look your best, guaranteed!"
"Look sexy this summer, just follow our 6 step plan!"
In all this noise of quick fixes, the focus on long-term healthy habits is completely lost. Why is it important to lose 10 pounds in 2 weeks, would it be better if you took more time to create better habits? What will happen once you have lost those 10 pounds, will you be healthier? Stronger? Happier? I was myself trying to discover the next "miracle pill" that would fix all my health problems not too long ago. None of these quick fixes worked for me, and worse yet, they made me feel like there was something wrong with me!
I understand that "Eat healthy homemade meals, be active and feel great!" is not really a magazine selling headline, but we as readers need to be aware of the reality, even if that reality is not sensational! I was able to get fit and healthier by eating simple homemade meals and being active – be it more activities outdoors or working out at the gym. Being healthy is not an event, it's not something you do over a two-week period.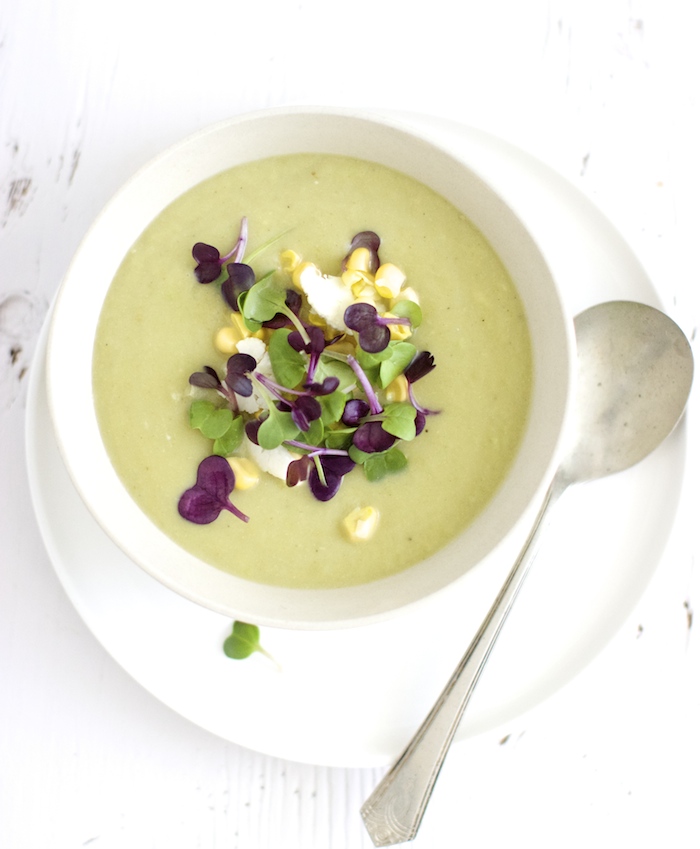 The soup I have prepared today is as simple as the simple path I took towards the healthier me! You can add your own twist to this cauliflower soup and take it to the next level. You can add avocado to add some healthy fats to the soup. Add some raw corn for sweetness or millet to make this soup into a meal. This cauliflower soup with garlic scapes is like a blank canvas for you to paint on! Did you know that cauliflower has over 9 grams of fiber in every 100 calories? Cauliflower is high in antioxidants and it supports the body's detox system. Garlic strengthens the body's immune system and helps to fight coughs and congestion. In the flu season, garlic is a must-have food to ward off colds and flu.
Cauliflower Soup with Garlic Scapes
Cook time:
Recipe
2 tbsp olive oil/coconut oil
1 small white onion – chopped
1 medium size cauliflower – roughly chopped
1 pound garlic scapes (about 24) – roughly chopped
4 cups vegetable stock/water
juice of 1 lemon
1 tsp cumin powder
salt and pepper to taste
Heat olive oil in a big pot. Add chopped onion and sweat on low heat until soft. Add garlic scapes and cumin powder, sauté for 2-3 minutes. Add vegetable stock and cauliflower florets, bring to boil. Simmer on low heat for 30 minutes until vegetables get soft. Remove from heat. Once the mixture is cool enough to handle, purée in a blender. Season with salt, pepper and lemon juice. I have used avocados, cooked millet, raw corn and sprouts for garnish.