I have been trying to jump-start my workout and healthy eating habits after my break in Toronto. The first couple of days were the hardest. I felt like the ice creams and cakes I ate on my vacation were literally padded to my legs making it hard for me to move! I am finally over that hump and doing regular weight training at the gym. I like to end my weight training sessions with a high-intensity cardio routine; 8-10 minutes of that last hurrah that jacks up your heart rate and gets you sweating hard.
I was recently reading an interview with Mark Harari, a personal trainer. In the interview, he talked about his secret weapon, a routine he calls "The 666 Devil Run". You basically run on a 6 miles/hour speed, on a 6.0 incline, for 6 minutes. In the interview, he says that he has lost a lot of friends because of this workout. I am always up for a challenge so I had to add this little devil to my next workout!
So after an especially tiring weight training session at the gym, before heading home, I jumped on the treadmill all gung-ho for my run. I try to run a 5k every week, so I didn't think much of a 6-minute run; boy was I in for a surprise! All the emotions that we all feel while overcoming an obstacle were all condensed in a 6-minute patch – starting from the 1st minute of "Yep, I am going to nail this", to the 3rd minute of "This would have been a lot easier at the beginning of the workout", the 5th minute of "I got nothing to prove to anyone. What am I, a professional athlete?", to the last minute of "Don't quit now. You will hate yourself if you do!" Well, I made it! I am happy to report that the Devil Run does get easier if you keep at it, just like life!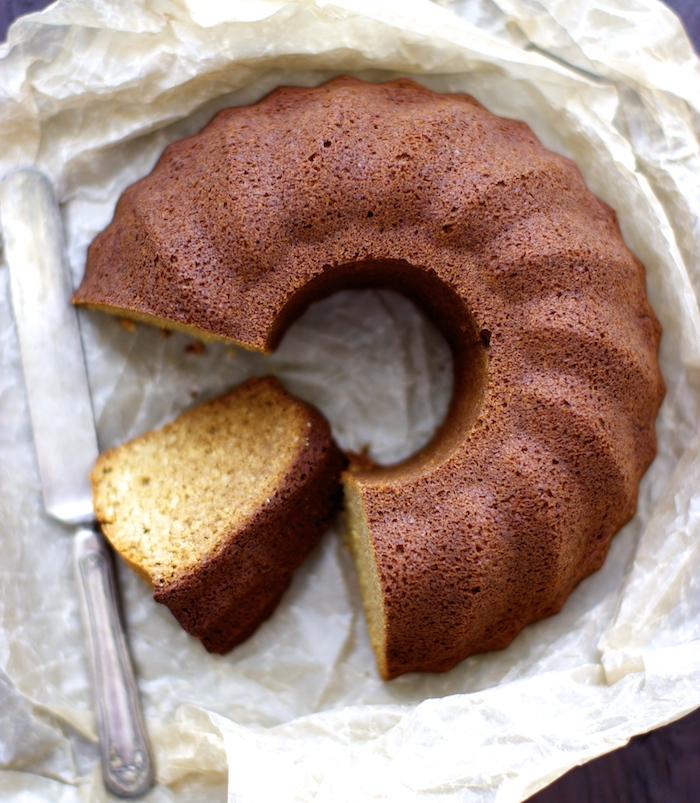 The cake I have baked today is kinda like the Devil Run – it's bittersweet, but it's good for you! The cake is made with quinoa and almond flour, making it gluten-free. I prefer my cakes not too sweet, and the slight bitterness of quinoa flour works perfectly with this cake! Quinoa flour is also protein rich and adds a light, airy texture to your cake. Did you know that Quinoa is a "complete protein", meaning that Quinoa has all the nine amino acids that make up all of the protein needs of human beings? Talk about a superfood! I hope you enjoy this protein-rich, all-natural cake with your loved ones!
Quinoa and Almond Flour Cake
Cook time:
Recipe
2 cups almond flour
1 cup quinoa flour
3 large eggs
3/4 cup honey
1/2 cup ghee or coconut oil at room temperature – extra for greasing
1 tbsp cardamom powder
2 tsp baking powder
pinch of salt
Heat oven to 320°F degrees. Grease the cake pan with ghee and set it aside.
Mix all the dry ingredients – almond flour, quinoa flour, baking powder, cardamom powder and salt. Put eggs, honey and ghee in a bowl and mix well. Now add the dry ingredient mix to this bowl. Mix well and make a smooth batter.
Put the batter in the greased pan and bake for 30-45 minutes until the top is golden brown. Insert a toothpick in the middle of the cake and make sure it comes out clean. Let it cool for at least 30 minutes before removing it from the pan.