Growing up in India, cooking using the produce available during the season wasn't something trendy, it was the only way to eat. Sabjiwalas would load the fresh produce from the farms on their carts and go around the neighborhood. Each Sabjiwala even had a unique shout to call out his clients, letting people know what he was selling that day. "Dungri, Batata ane Bhinda Lai Lo", buy my potatoes, onions, and okra today! My mom would buy the produce for the next couple of meals, and haggle over whether she can have the cilantro and chilies for free! Those sabjiwalas were like our family members. If mom didn't buy anything from the guy for a couple of days, he would knock on the door and ask why. If someone in the family had flu or fever, the next day he would bring fresh turmeric especially for us.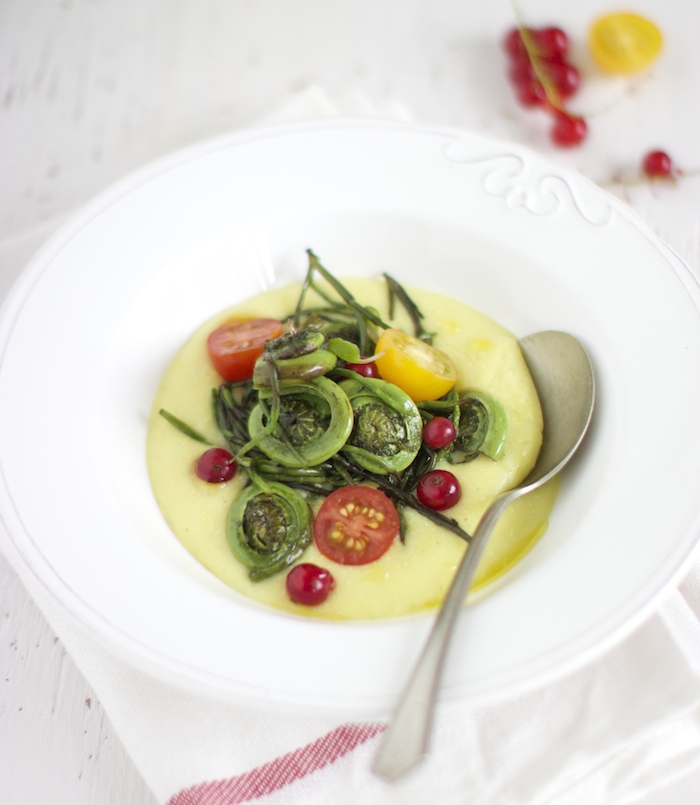 Eating seasonal made sure we had to try what was available in the season. Eating different things on daily basis developed our palettes to accept varying tastes and also made sure we got the different nutrients in the different types of produce. I find that the old ways of cooking and eating are making a comeback! More and more people are getting conscious about where their food comes from. Even the restaurants have caught on with the trend, and here in Vancouver, we have a few restaurants focusing on farm to plate dining. These restaurants closely work with the local farmers and butchers, creating a sustainable ecosystem.
| | |
| --- | --- |
| | |
Foraging, or finding your ingredients out in the wild, is also big in British Columbia. We are surrounded by mountains and wilderness and there is plenty to forage in the summer! In my last visit to the market, I met Stephanie, who was selling foraged Fiddlehead ferns and Samphire, also known as Sea Asparagus. I had seen these two ingredients before, but had never dared to cook with them. Both these ingredients have a nice crunch so I paired them with creamy millet polenta. Millet polenta is so tasty, it's hard to believe it is actually good for you! Fiddlehead is high in Vitamin A and fiber. Samphire has a natural saltiness to it and all you need to do is sauté them in some olive oil. They can be used to add a bit of texture and saltiness to any soups or salads.
Where do you find your fresh produce? Any fun stories you have about something new you have tried recently? I would love to know!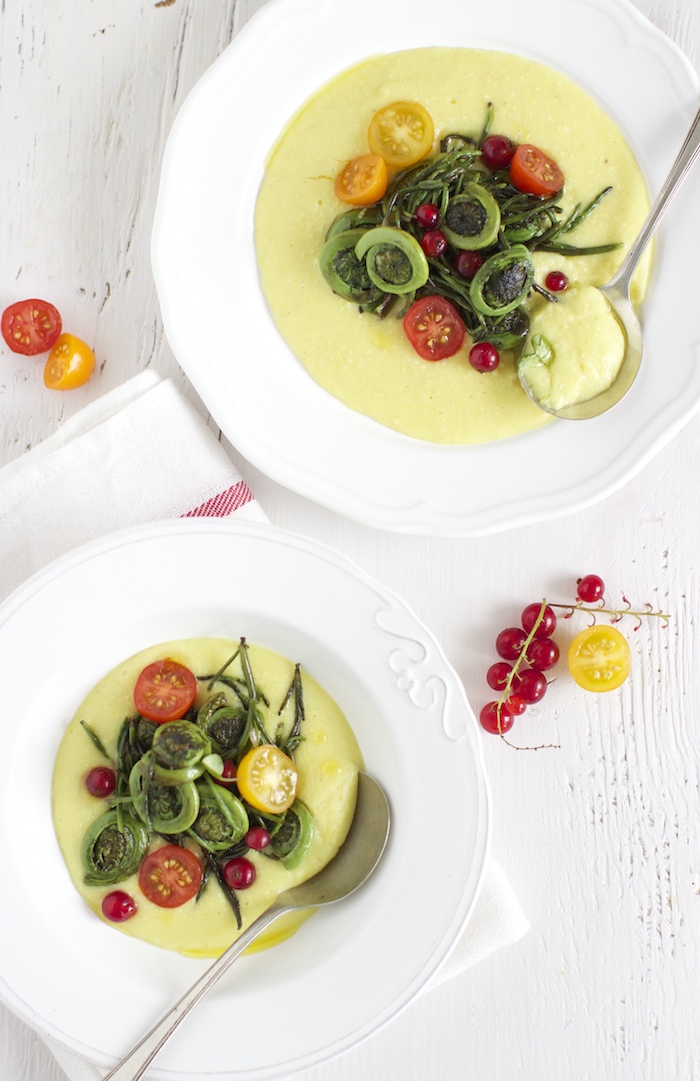 Millet Polenta with Fiddlehead and Samphire
Cook time:
Recipe
serves 6
1 cup raw millet
3 cups water
1 tsp salt
1 tsp cumin powder – optional
1 tsp turmeric – optional
1/2 tsp pepper
2 tbsp olive oil
Heat a large saucepan on low heat. Toast the raw millet for 5 minutes until it's fragrant and starts making a popping sound. Heat 3 cups of water in the saucepan and season with salt, pepper, cumin powder and turmeric. Add toasted millet, give a good stir. Turn the heat to high and bring to a boil. Lower the heat, cover the pot and simmer for about 30 minutes until all the liquid gets absorbed. Remove from heat and let sit for 10 minutes.
Once the millet is cool enough to handle, put in a food processor with 2 tbsp of olive oil. Slowly add hot water, 1/4 cup at a time, and blend until you get a smooth and thick, Polenta-like consistency. Taste for seasoning. Keep it warm.
1 cup fiddle head
1 cup samphire
2 cloves of garlic
1 tbsp olive oil
1/2 cup cherry tomatoes
1/2 tsp pepper
lemon juice
Heat olive oil in a saucepan. Add garlic and fiddlehead and cook on high heat for 4-5 minutes until tender. Now add samphire and cherry tomatoes, mix them well and cook for another 1-2 minutes. Take the saucepan off the heat and drizzle lemon juice on top. Season with black pepper and serve with millet polenta.