Westerners who haven't traveled to countries like India don't realize how organized and systematic the western world is. When was the last time one of us turned on a switch and the fan or the light didn't turn on? That happens a few times a week in India. You will not find more hand fans and industrial size candles in any other household. We used to get water for about an hour every day and the whole family was on a mission to save up as much water as we could. And on some days, you won't get water for even that hour. You even knew an alternate route to get to your home in case the stray street dogs were being too aggressive for no apparent reason.

All that uncertainty in the everyday life makes Indians a cautious bunch. Indians are all about backup plans. There are backups for when the doodhwala doesn't bring our daily milk, when the sabjiwala decides to watch the cricket match instead of bringing our fresh produce for the day and a backup plan for when you can not use your food processor because there is no electricity. Since budgeting was a concern while dealing with the uncertainties of daily life in India, all of us learned to plan our options well in advance.
| | |
| --- | --- |
| | |
The same planning extends to the kitchens in India. Since you don't just walk into a superstore and buy things, you learn to make things in your own kitchen. My mom used to buy milk from our local doodhwala, the milkman, every morning. She would boil the milk and save up the cream. That cream would be used to make ghee. I have never seen my mom buy yogurt at a store. She would make more yogurt at home when we ran low on it. How many of us have tried making cheese at home? Just add some lemon juice to lukewarm milk, and voila! Even some of my colleagues at the culinary school were surprised how simple it was to make Paneer, a homemade cottage cheese.
| | |
| --- | --- |
| | |
My mom loved sprouting beans in her kitchen, that was her backup plan for the day when she accidentally slept in and didn't have time to chop veggies! She would always have a couple of different types of beans in the sprouting process. My little sister used to get so excited about the sprouts coming out of the beans, I used to get annoyed at her. She would hover around the beans opening them every few minutes to see if they had grown longer! Sprouted beans are your best friend when you need to put together a healthy, filling, protein-rich meal on short notice. I use sprouts on everything – soups, salads, sandwiches, wraps – you name it. I even add some Indian spices to my sprouts and eat them raw as an evening snack! And talking about uncertainty, sprouts can really come in handy when a guest shows up unannounced at 1 pm expecting lunch!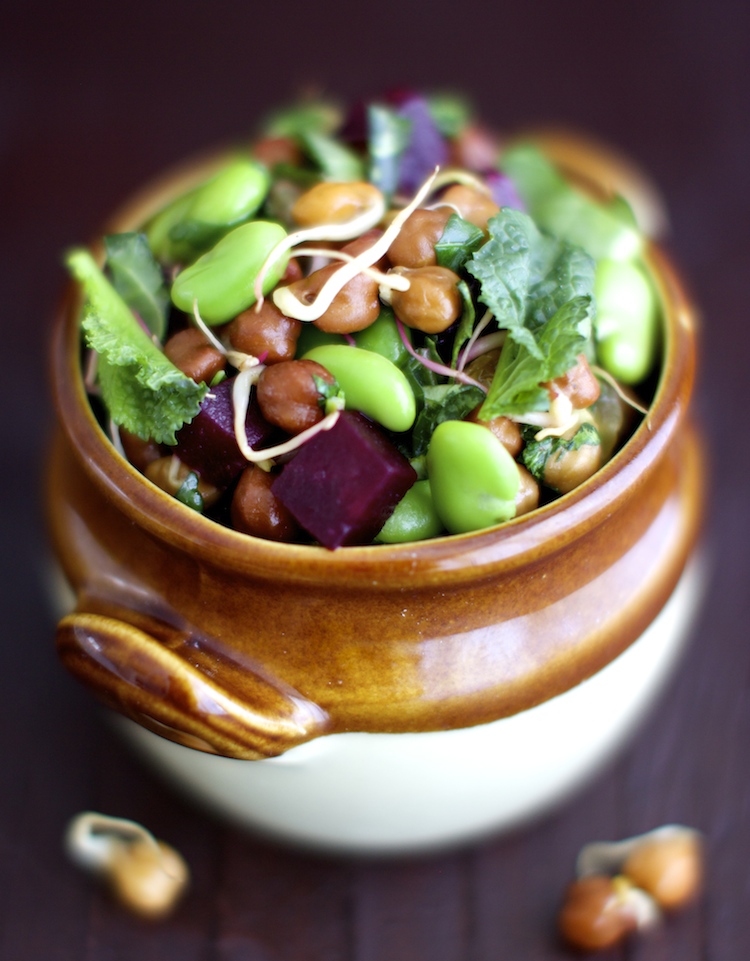 Sprouted Chickpea and Beet Salad
Cook time:
Recipe
Chickpea Sprouts: Thoroughly wash the chickpeas. Soak for 8-10 hours or overnight in a bowl with water. After soaking, rinse them in clean water. Put beans in double folded wet cheesecloth and wrap them loosely. Put it in the colander. Sprinkle some water on the cloth twice a day. Beans should usually sprout in 2-3 days. They are ready when the tails are 1/4 to 1/2 inch long. You can store them in the fridge for up to 3 days.
2 cups sprouted chickpea
1 tbsp olive oil/coconut oil
3 tbsp water
1 cup fava beans/peas
3 beets
1 cup kale/spinach – thinly chopped
1/2 cup golden raisins
1 tsp cumin powder
1 tsp za'atar spice (optional)
salt & pepper
juice of 1 lemon
Scrub and wash the beets. Wrap the beets in foil and place on a baking sheet. Bake until soft, about 45 minutes. You should be able to easily pierce the beet with a sharp knife. Remove from the oven, let cool completely. Peel the skin off, slice the beets in the desired size.
Remove fava beans from their pod. If fava beans are young enough you can eat them uncooked. If they have a tough outer layer then put them in boiling water for 3 – 5 minutes until tender. Remove beans from boiling water. Put them in an ice water bath to stop cooking. Peel away the outer skin of the beans.
Heat olive oil in a pan. Add sprouted chickpea with 3 tbsp water and cover the pot. Cook them for 8-10 minutes, until sprouts get tender and all the water evaporates. Now add fava beans, chopped beets, golden raisins, chopped kale, cumin, za'atar spice, salt and pepper, mix them well and take off from the heat. Add lemon juice. Serve with greek yogurt dressing (optional).
Yogurt Dressing:
1/2 cup greek yogurt
2 tbsp dill chopped
6 leaves of basil chopped
1/4 tsp za'atar spice
Add chopped dill and basil to greek yogurt, mix well. Add za'atar spice and drizzle olive oil on top.