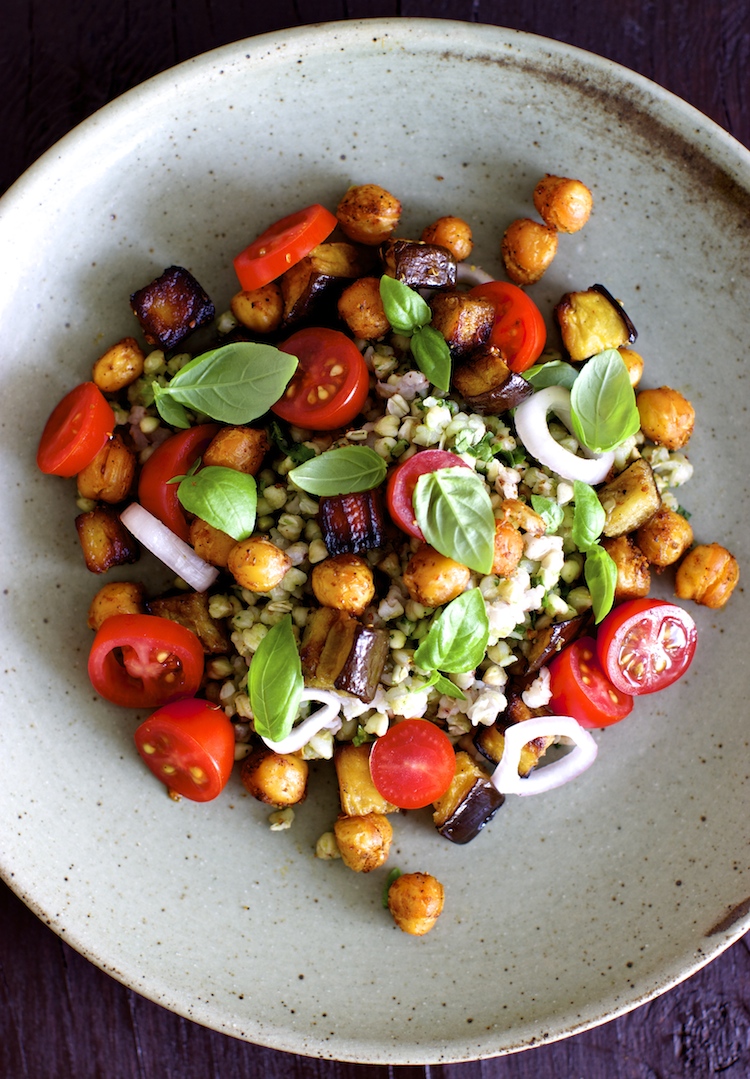 The word salad invokes a lot of old memories – most of them unpleasant. For a country that boasts the lowest meat consumption rate in the world, India surprisingly lacks salads in their meals. In fact, I don't remember ever eating a salad as a meal in India. I think this has something to do with Indian families trying to stretch the meal budgets; making a curry out of the vegetables allowed us to eat other cheaper carbs with that curry. So we would have smaller portions of the vegetable dish, what we called Subzi, and pair it with roti bread or rice. My mom would occasionally slice up an onion or carrots if they were about to go bad, but I wouldn't call that a salad by a long shot. Salads served at the restaurants were similar to my mom's salads, maybe a little nicer arrangement of carrots and onions. I haven't seen a proper salad, like the ones we get here in the western world, on a menu at a restaurant in India.
Once I moved to the US and got on my frozen pizza diet, salad was synonymous with my struggle to include them in my diet. I would invariably buy a box of baby spinach or mixed greens with the intention of making salads at least once a day. I felt great buying the spinach, the problem was that I had to actually eat it in order for it to do me any good. As the bag of spinach sat in my refrigerator slowly wilting, I came up with reasons why I didn't want to eat a salad – I wanted something more filling, I did not have enough time to make a salad, I needed something with salt to feel energized. Even when I actually mustered the courage to make a salad, it had to be drenched in store-bought dressing just so I could push it down my throat. Salad was basically a bag of greens mixed with misery.
| | |
| --- | --- |
| | |
Learning that salad can be filling, fun, tasty and convenient has been a long process! The one thing that got me making more salads was learning how to use grains and seeds in my salads. I love using gluten-free seeds like quinoa, buckwheat, millet or grains like wheat berries, brown rice and barley as the base of a salad. These grain and seed based salads opened up a lot flavor combinations that I didn't think of when a salad was only based on greens coming out of a bag. Today, making a salad is like my playtime. I make sure salads are filling, well seasoned and loaded with superfoods. I also use favorite seasonal ingredients in the salads to vary the flavors.
Today I have used buckwheat as my base for a summer salad. Buckwheat is a protein and fiber-rich seed that is also gluten-free and it ranks low on the glycemic scale compared to rice and wheat. You can add your favorite vegetables, fruits and nuts to make this salad your own. I have used roasted eggplant and chickpeas to make the salad filling. I love the combination of acidity from the seasonal cherry tomatoes and sweetness from the raisins. The cilantro dressing is perfect for a beautiful summer afternoon!
| | |
| --- | --- |
| | |
Buckwheat Salad
Cook time:
Recipe
serves 6-8
to cook buckwheat:
1 cup buckwheat
2 cup of water
1 tsp salt
Toast the raw buckwheat groats on low heat for about 5 minutes or until fragrant. Set aside to cool.
Boil 2 cups of water in a saucepan. Add salt and toasted buckwheat groats, give a good stir. Lower the heat, cover the pot and simmer for about 10-12 minutes. Remove from heat, remove excess water with a strainer and let sit for 10 minutes. Fluff cooked buckwheat with a fork.
Salad ingredients
2 cups chickpeas – cooked
1 large eggplant – cut into small cubes
1 tsp cumin powder
1 tsp chilli powder
1 tsp black pepper
1/2 tsp turmeric powder
3 tbsp olive oil
salt to taste
1/4 cup raisins
2 shallots – sliced
1 cup cherry tomatoes – cut in half
1 bunch of cilantro – leaves and stems chopped separately – save stems to make dressing
Preheat the oven to 350°F. Line the baking sheet with parchment paper. Put eggplant cubes and chickpeas on a baking sheet. Drizzle olive oil. Sprinkle spices and salt. Mix well with your hands. Roast for about 30 minutes until eggplants are soft and edges are golden brown. Remove from oven and let cool.
Put cooked buckwheat, dressing, eggplant and chickpea mixture, cherry tomatoes, cilantro leaves, shallots and raisins in a large bowl. Mix well with your hands. Serve hot or cold.
Dressing
cilantro stems – chopped
juice of 1 lemon
1 tbsp olive oil
1 tbsp honey/agave
salt and pepper
Put all the ingredients in a food processor and blend until smooth. Taste for seasoning.