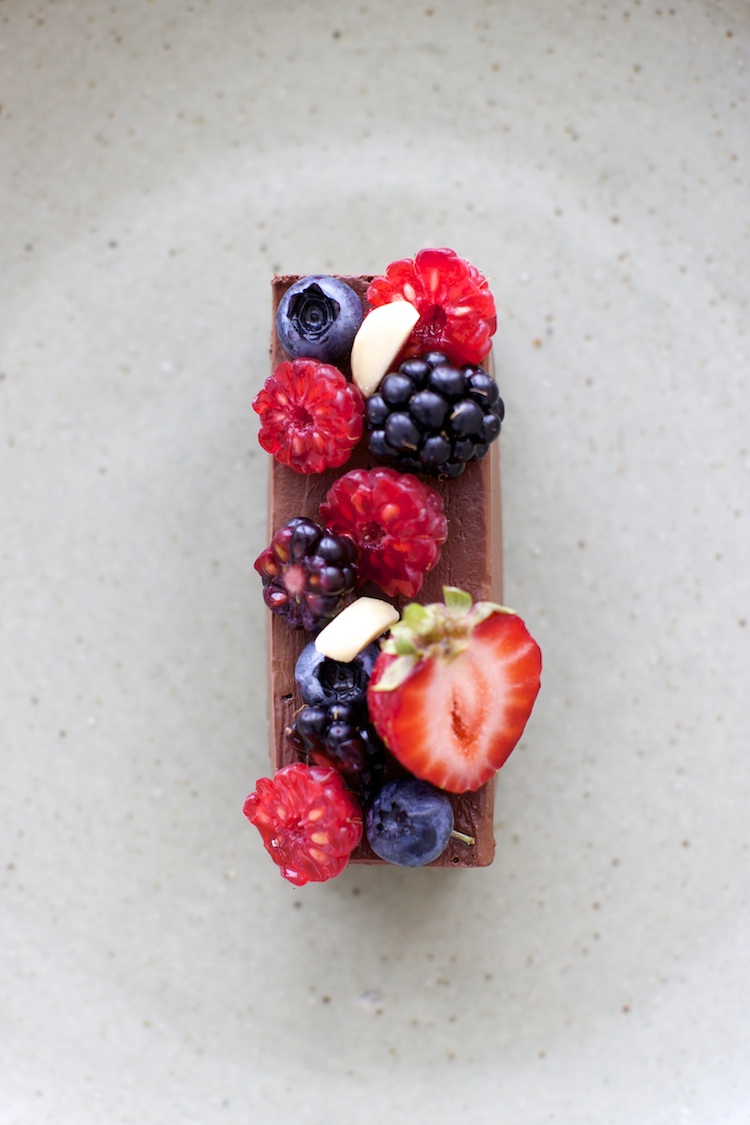 I was reading the statistics about vegetarianism and I wasn't surprised that India had the lowest rate of meat consumption in the world. India is the birthplace of Hinduism, Buddhism, Jainism – the most prominent religions advocating vegetarianism. I grew up in a vegetarian family and didn't eat any meat till I was in my 20s, well after I married Anup. Eating meat was such a foreign concept to us; we didn't even know people who ate meat.

Once every winter, when the weather got cold enough and when the stars were perfectly aligned, my dad would ask my mom to make omelettes at home. Omelette making was a covert operation because god forbid if our equally strict vegetarian neighbors found out what we were up to – all the doors and windows would be shut tight and the eggs would be smuggled in from an out of area store! My grandma who was sure we would burn in hell for eternity would leave the house for a couple of hours and spend the evening at the temple – undoubtedly praying for forgiveness for her family of sinners. The stage was set for gluttony.
We normally didn't even buy bread from a store, so this was our time to indulge; each omelette was individually prepared to the person's liking. Did you want the bread toasted? Ketchup on one bread or both? How about some pickle masala on your omelette? The possibilities seemed endless! One person in the family would be assigned the task of throwing away the eggshells in a dumpster in a dark corner, away from our home. In a way, we had our own designated driver at the end of our omelette binge!
Since we didn't eat eggs regularly, baking was a skill my mom never developed. She wasn't the most adventurous soul in the kitchen either, and birthday celebrations were especially confusing. While the TV showed us how important birthday cakes were in the celebration, we didn't own an oven and buying a cake from the store was never discussed as an option. We had to settle with other Indian sweets; at least we got to pick the sweet we wanted on our birthdays. The foodie in me yearned to overcome all obstacles of cake making one day. Some day! I am celebrating the 1st birthday of my blog today! So I have made a tart that doesn't need an oven, smuggling of eggs and doesn't require your grandma to be at the temple.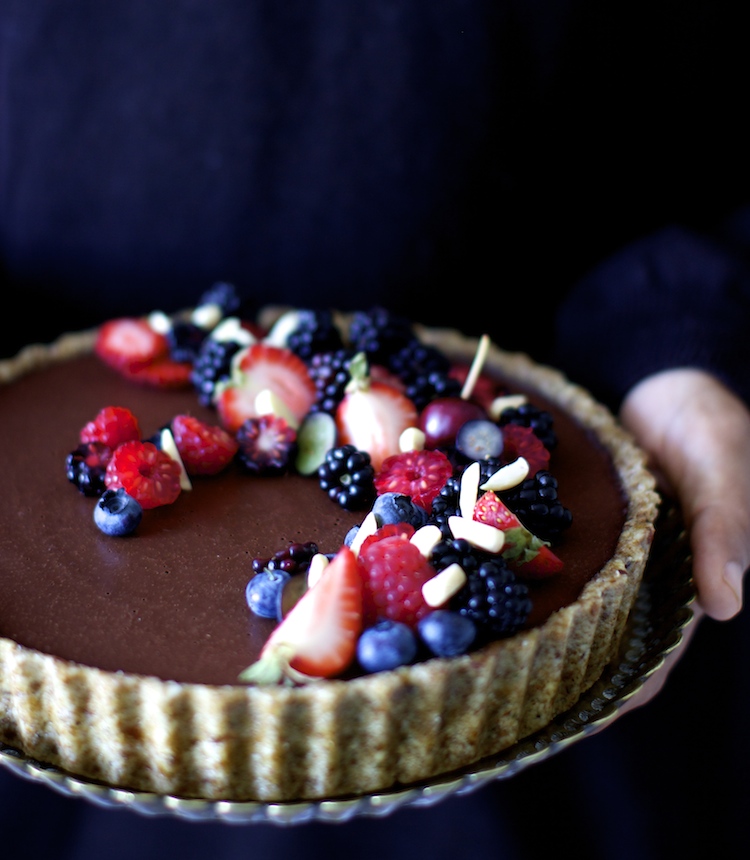 Over the course of the last 12 months, I have made numerous friends through my blog and social media. I have even had a chance to meet some of them in person. I want to take a moment and thank everyone who has read my blog, tried my recipes, and critiqued me! You all have helped me be a better blogger and more importantly, a better person. Thank you!
There are numerous books, recipes, and blogs that have inspired my work on this blog. So when I set out to make something to celebrate the 1st birthday of farm on plate, I wanted to use one of the most popular recipes on the blog as inspiration! I have used the recipe for yogurt cardamom tart to make a vegan, gluten-free, dark chocolate tart today. I have also used the fresh blackberries I picked myself to garnish the tart. Enjoy this tart with your loved ones!
Chocolate Tart
Cook time:
Recipe
(makes a 7 inch tart)
crust
2 cups raw almonds
15 dates – pitted
1/4 cup coconut flakes
1/4 cup hemp seeds
1 1/2 tbsp coconut oil
pinch of salt
Place almonds, dates, coconut flakes, hemp seeds, sea salt and coconut oil in a food processor. Pulse until chopped, to a chunky, sticky mixture. Add a couple of tbsp of cold water if needed. Place mixture in a springform pan, you can also use a regular cake pan covered with saran wrap. Flatten out with your fingers or the back of a spoon.
Filling
6 oz good quality dark chocolate, I have used 70% dark
1 cup coconut milk unsweetened – cold refrigerated
1 tsp vanilla bean paste
Melt chopped chocolate in a double boiler (heatproof bowl set over a saucepan of simmering water). Stir occasionally until chocolate melts. Remove from heat and let cool slightly.
In another bowl, mix vanilla bean paste and coconut milk. Now add the melted chocolate and mix well with a spatula. Use a hand mixer on lower speed and beat the mixture for 3 to 4 minutes. Pour the mixture over the crust and tap the pan gently on the counter to release any air bubbles. Put the pan in the freezer for at least an hour to set. Before serving, take the pan out of the freezer and thaw for 15 minutes. Top the tart with your choice of fresh fruit or berries before serving.