Am I the only one who uses Google's search suggestions as a form of entertainment? You know how when you start typing in Google's search box, their system shows similar searches by other Google users..yep that can be a pretty entertaining feature. For example, I type in "aren't you relieved" and I see a search suggestion "aren't you relieved you're not a golem?" Wait, what? Why would there be people out there searching for that? Or you start typing "sometimes I like to" and the Google search suggestion shows up "sometimes I like to pretend I am a carrot meme". I guess I could be into that, I haven't tried! Well similarly, I know a lot of women out there are searching on how to get their husbands to eat more veggies – I know because Google says so!
Anup comes from a family of carnivores, so I can relate to the women out there asking the Google Gods how on earth can my man learn to eat more veggies. I think Anup's brain magically converts "You want some chicken curry?" into "I love you" because every time I ask him the question, I see a sparkle in his eye that I never see any other time. While Anup and I were dating, he used to live in a boys hostel that served vegetarian food; so his likeness for meat was hidden from me till we got married and I actually got to live with him. Coming from a family of strict vegetarians, I was in for a bit of a shock. Whenever they cooked any meats or poultry, the various animal parts were discussed in detail at the dining table – Would you like a leg piece? Anup loves chicken necks. You have to suck on that bone to get the bone marrow, that's the best part!
Over the last few years, I have adopted a "meat on the side" philosophy in my kitchen. We still eat our poultry, fish, and an occasional meat dish, but I try to make the veggies the star of a meal. Do you struggle feeding veggies to your man? Here is a pointer – tell him something is good for his sex drive, and watch him gorge it down! Asparagus' phallic appearance has something to do with its almost legendary aphrodisiac status, but it's not all a myth. Asparagus is rich in vitamin B6 and folate which can boost arousal. Is he still unconvinced? Tell him the dish has bacon, or what I have done here, "Beecon", made out of beets. These beet chips have the look and texture of actual Bacon, what better way to bait your man? This soup is easy to make and the garnish of beet bacon will have your guests talking about it for days!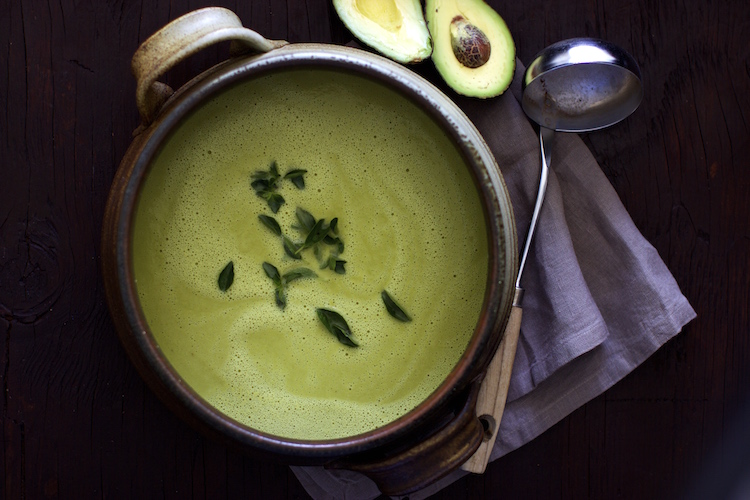 Asparagus and Pea Soup
Cook time:
serve 4 -6
2 tbsp ghee/coconut oil
1 medium onion – diced
4 cloves of garlic – chopped
1 bunch of asparagus – roughly chopped
3 cups of peas – fresh/frozen*
4 cups vegetable stock/water
1/4 cup dill – chopped
1/4 cup mint – chopped
juice of 2 lemons
salt and pepper
Heat ghee in a big pot. Add onions, sweat on low heat until soft. Add garlic, sauté for 2-3 minutes. Add vegetable stock, asparagus and peas, bring to boil. Cover the pot, reduce heat to low, and simmer on low heat for 10 minutes until asparagus get soft and peas are cooked.
Remove from heat. Add chopped dill and mint leaves. Once the mixture is cool enough to handle, purée in the blender in batches, looking for a smooth consistency. Add a little bit of water if the soup is too thick. Season with salt, black pepper, and lemon juice. Garnish with avocado, sautéd asparagus tops, roasted diced beets, or beet bacon. Serve warm.
*If you are using frozen peas, thaw them first. Add peas to the soup once asparagus is soft & cooked. Cover the pot and cook peas for 1-2 minutes, remove from the heat. Follow the directions to purée soup in the blender.
Beet Bacon
2 long cylindrical red beets
salt and pepper
coconut oil/ghee to brush
Preheat the oven to 300°F.
Slice the beets in thin, long strips with a sharp knife or mandolin. Spread the beet slices on a parchment paper lined baking sheet, brush with coconut oil and season with salt and pepper. Cover with another parchment paper and bake for 30 to 45 minutes until crispy, flipping every 15 minutes.