It is much easier for me to be active and healthy in summer than in winter. In the summer the days are long in Vancouver, and I frequent the farmer's market to pick up the freshest local produce and make healthy dishes. When it's sunny outside, it makes me want to go for a run, play tennis or do anything that makes me sweat!
Now that it's winter, the days are getting shorter. It gets dark by 4 pm and it is getting harder to motivate myself to be physically active. Most of my outdoor activities have ceased, so I try to hit the gym at least five times a week.

For me, being healthy is all about being in a positive cycle. If I work out and stay active, it makes me want to eat healthily. In the winter, if I have skipped physical activities for a couple of days, I automatically turn to comfort foods and a glass of wine at the end of the day. This in turn makes me more sluggish the next day. It takes extra motivation to be in a positive cycle in the winter.
So recently I have been extra conscious about making some healthier dishes that would help me stay on track. While the fresh berries and vibrant greens are gone with the summer, there is plenty of healthy produce that grows under the soil which is equally good for you! I love cooking with beets, carrots, sunchokes, and other roots during the winter season.
One of my favorite vegetarian recipes is roasted carrots served with cauliflower couscous. If you are tired of boiling or steaming your cauliflower, this cauliflower couscous is for you! Cauliflower is full of antioxidants and helps detox your system. And didn't your mom tell you to eat your carrots?! Carrots are rich in alkaline elements which purify and revitalize the blood. The potassium in carrots helps balance the high levels of sodium in our bodies.
So here is hoping that this dish will help you start or stay in a positive cycle this week! Enjoy!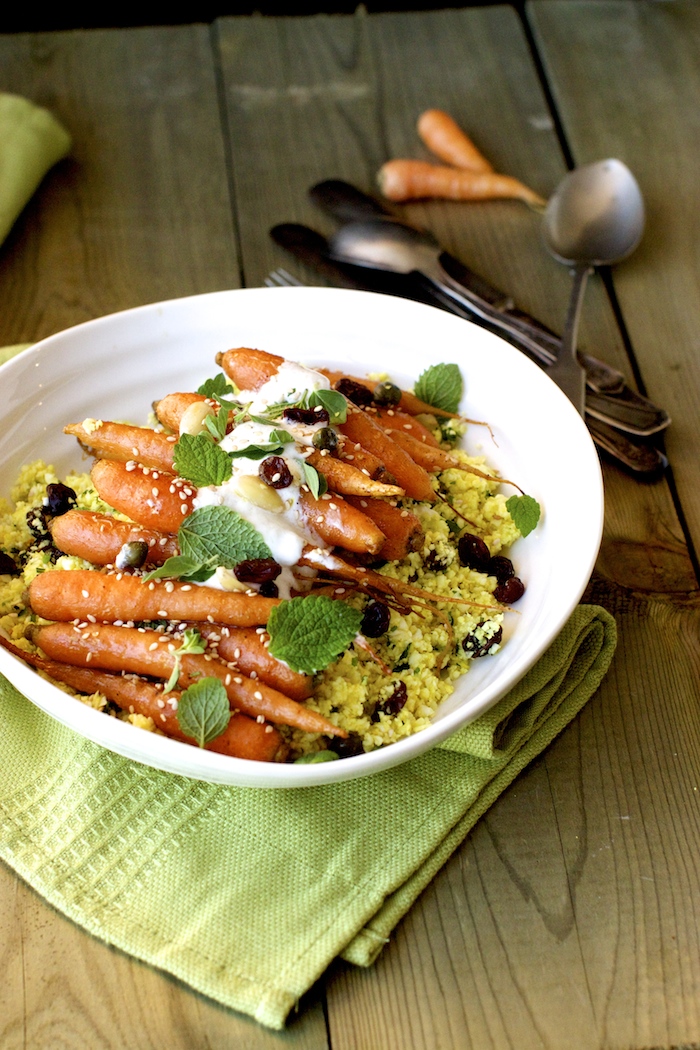 Roasted Carrots with Cauliflower Couscous
Cook time:
Recipe:
serves 4
Roasted Carrots
12-15 small carrots
1 tbsp ghee/coconut oil
1 tbsp honey
1 tsp lemon zest
1 tsp cumin powder
1 tsp paprika
1 tsp cardamom powder
1 tbsp sesame seeds
salt & pepper
Preheat the oven to 350°F. Wash carrots thoroughly, wipe and chop in medium cubes if they are large in size. Make a marinade by combining ghee, honey, lemon zest, salt, pepper, cumin, paprika and cardamom powder. Rub the carrots with marinade and lay them on a baking sheet. Sprinkle sesame seeds on top. Roast them in the oven for 15-20 minutes until the edges get golden brown.
Cauliflower Couscous
1 head of cauliflower
2 tbsp capers
1/2 cup of fresh herbs – mint, cilantro and basil
1/4 cup raisins
1/4 cup almonds
1 tbsp ghee/coconut oil
1/2 tsp turmeric powder
juice of 1 lemon
salt and pepper
Cut the cauliflower in small florets, discard stalks. Place florets in a food processor. Pulse food processor until florets become little grain-like couscous.
Heat ghee in a saucepan on medium heat. Add raisins and let them soak in hot ghee for 1-2 minutes. Add turmeric powder, cook for 10 seconds and add cauliflower couscous to pan. Mix well until all couscous is covered with turmeric color. Remove from the heat and add fresh herbs, capers, almonds, lemons juice, salt and pepper and mix well. Serve warm with roasted carrots and yogurt.