"Dating" is a foreign concept in India. I was looking up the literal meaning of dating and came across this on Wikipedia:
While the term dating has many meanings, the most common refers to a trial period in which two people explore whether to take the relationship further towards a more permanent relationship.
"Trial Period", you say? No wonder then "dating" didn't take off in the land of arranged marriages! There are no trial periods – either you want to marry a girl or you don't. Okay, I know I am being a bit harsh here. The concept of dating has indeed started in the metros in India. But for the most part, even now, a guy and a girl cannot publicly admit their liking for each other. When Anup and I were "dating", we had to hide it from our families till we were ready to be engaged! Our families following different religions – his Christian, and mine Hindu – added to the complexity of the situation. But that's a separate discussion for another blog post someday!
| | |
| --- | --- |
| | |

I think the aversion towards casual displays of affection goes way back in the Indian religious roots considering promiscuity as immoral and sinful. I have never seen my parents hold hands, and kissing in public is out of the question. They don't call each other honey or sweetie or anything that might show to someone that they are into each other. Married 41 years? Doesn't matter. Any activities that can be considered remotely sexual in nature are restricted to the bedroom! This might sound repressive to the people who are used to the public display of affection in the western world. Heck, it's so common here, we have an acronym for it – PDA! I have to give Anup multiple reminders about controlling his PDA when we go to India – I have had to dodge a couple of incoming kisses and it was awkward, to say the least!
There is only one day when everyone gets a free pass to show off their emotions towards someone – Valentine's Day! The boys in schools and colleges are not to miss this once in a year opportunity to express their suppressed feelings towards the girls! Bollywood movies even lay out the code for Valentine's day – white roses to ask for forgiveness, yellow for friendship, and red for love! For those of you cheering for the poor guy to be able to finally steal a kiss with the girl, he has been ogling for a year, hold your horses! The display of affection is limited to flowers and some heart shaped balloons.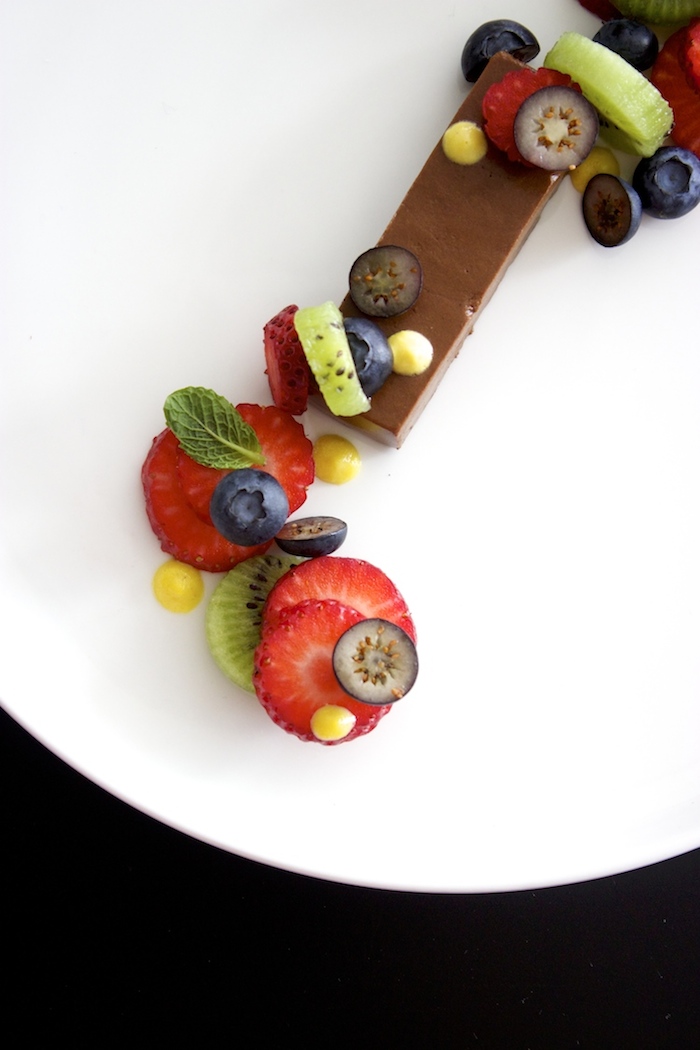 I have been married to my Valentine for 12 years now, and balloons just wouldn't cut it. When you give someone your heart, you want to feed them things that are good for their heart! I decided to cook something healthy that he would enjoy this Valentine's day – a sweet potato and chocolate mousse!
Sweet potato is such a versatile vegetable – I love them roasted, steamed, baked, puréed or grilled. It is loaded with "good carbs" and contains almost twice as much fiber as other types of potatoes. Sweet potato is an excellent source of vitamin A, vitamin C, manganese and copper. Because of the natural sweetness in the sweet potato, I didn't have to use sugar in the mousse. I have used dates for additional sweetness. I have used raw organic cocoa powder which is an amazingly healthy food! As the sugar and milk portion increases in chocolate, the health benefits of the chocolate decreases. Cocoa powder is rich in antioxidants, so you will feel great serving this dessert to that special someone! I hope you and your loved ones enjoy this mousse.
Vegan Dessert – Chocolate Mousse with Sweet Potato
Cook time:
Recipe
serves 2
2 small sweet potatoes (approx 1 cup of baked sweet potato mash)
4 tbsp high quality raw cacao powder – unsweetened
6 soft dates
1/4 cup coconut milk
pinch of salt
Preheat oven to 375°F.
Place sweet potatoes in a baking dish and bake until very soft, about 45 minutes. Let cool completely and peel the skin.
Put sweet potato, cacao powder, coconut milk, dates and salt in the food processor. Blend on a high speed until it becomes a smooth mousse. You might need to adjust coconut milk according to the thickness of the mousse. Pour or pipe the mousse in severing bowls and put in the fridge to chill. Garnish with fresh fruits and nuts, serve!