Ever since I called the western world my home about 14 years ago, my visits back to India start out with me being paraded around like a show pony in front of all my extended family. I am not talking 4-5 homes here, the first 7-10 days are assigned to this ritual. This is to show all my uncles and aunties and 40-some cousins that I am in good health and doing well for myself. Each one of these visits starts out with my parents asking me to put on my nice jewelry and getting all dolled up. The visits generally involve me eating samosas, ice cream, and rich home-made specialties – in no particular order. During one of these visits, I got to visit our ancestral house where four generations of my family members were born. Walking through the door of that house made me feel like the little girl walking through the closet door to discover Narnia!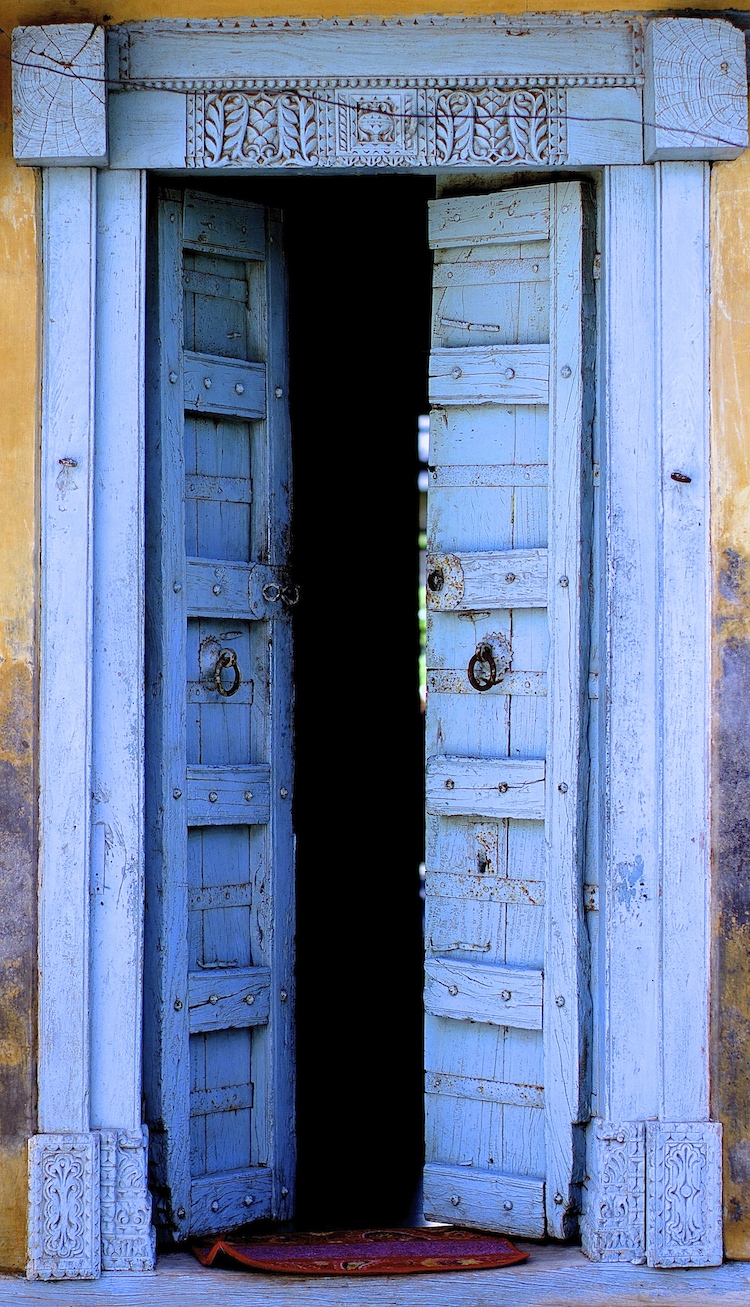 I live a very structured life in Vancouver – oatmeal and tea for breakfast, workout, blog, spend some one on one time with Anup, and basically do the things I want to do. This leaves a lot of room for personal growth and introspection. India takes all that structure away, and throws you in a social environment where what you want is not on the priority list. I thought this time was going to be different but India has again succeeded in overwhelming me so much during my first few days here that I am questioning my rationale behind this trip. And to think that I was out to conquer unpredictable India!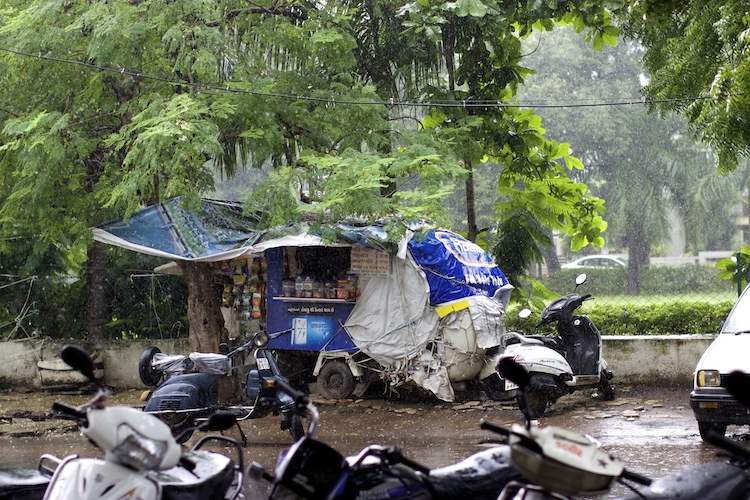 It has been raining incessantly in Vadodara, which has put a dampener on my plans to hit the road backpacking. To my family's dislike, I finally mustered the courage to take a ride out in the town on my scooter. I remember writing essays, back when i was in school about the monsoon season in India – the dancing peacocks, the sweet smell rising from the soil soaking in the rainwater and the hot pakoras being fried in every Indian kitchen. But my little ride outside was nothing like what I used to write in those essays. What I ran into instead was traffic coming at me from all directions on flooded streets and stray animals fighting me for every inch of space.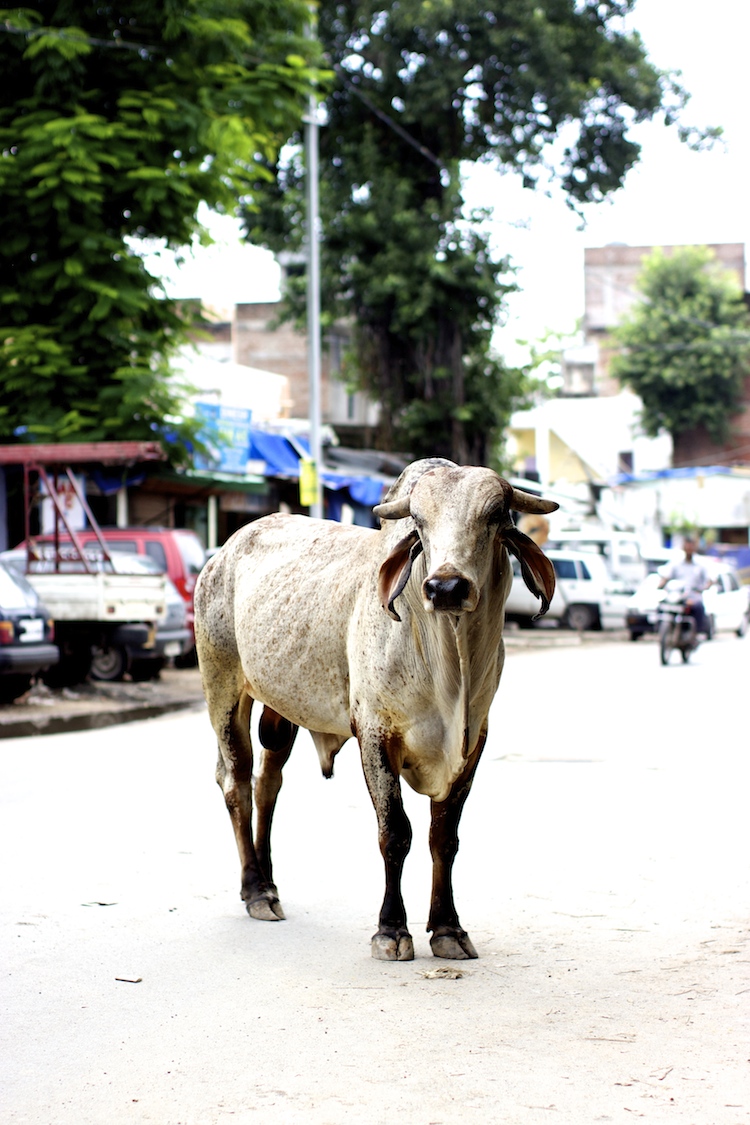 And yet, among all the chaos and adversity of the Indian monsoon season, the reprieve comes in the form of smiling faces. Our sabjiwala, who lives in a small hut close to the river bank had his home flooded and is temporarily living in a make shift shelter on his small farm. He has continued delivering his produce with a smile every day still. I see people rolling up their pants and walking through the flooded streets, actually enjoying the experience!
| | |
| --- | --- |
| | |
And that's when it hits you – in order for you to enjoy the sunny days, you have to learn to enjoy the rainy ones too. And if you want to enjoy your sweet delicacies, you have to enjoy your bitter greens! So today, I have made a salad with Fenugreek leaves. Fenugreek leaves, also called Kasuri Methi, is an herb with a bitter but addictive taste. Its strong aroma and distinctive flavor challenge your taste buds but in a good way! You can easily substitute the fenugreek leaves with the leafy greens of your choice, be it spinach or beet greens.
Fenugreek and Yellow Moong Salad
Cook time:
Recipe:
1/2 cup yellow moong – soaked overnight
2 cups fenugreek leaves/spinach leaves – chopped
1 tbsp ghee/coconut oil
1 small onion – peeled and chopped
3 cloves of garlic – peeled and chopped
1/4 tsp turmeric powder
1 tsp cumin powder
1/2 tsp black pepper
1 small cucumber – cubed
1/2 cup pomegranate seeds
1/4 cup almonds
lemon juice
salt to taste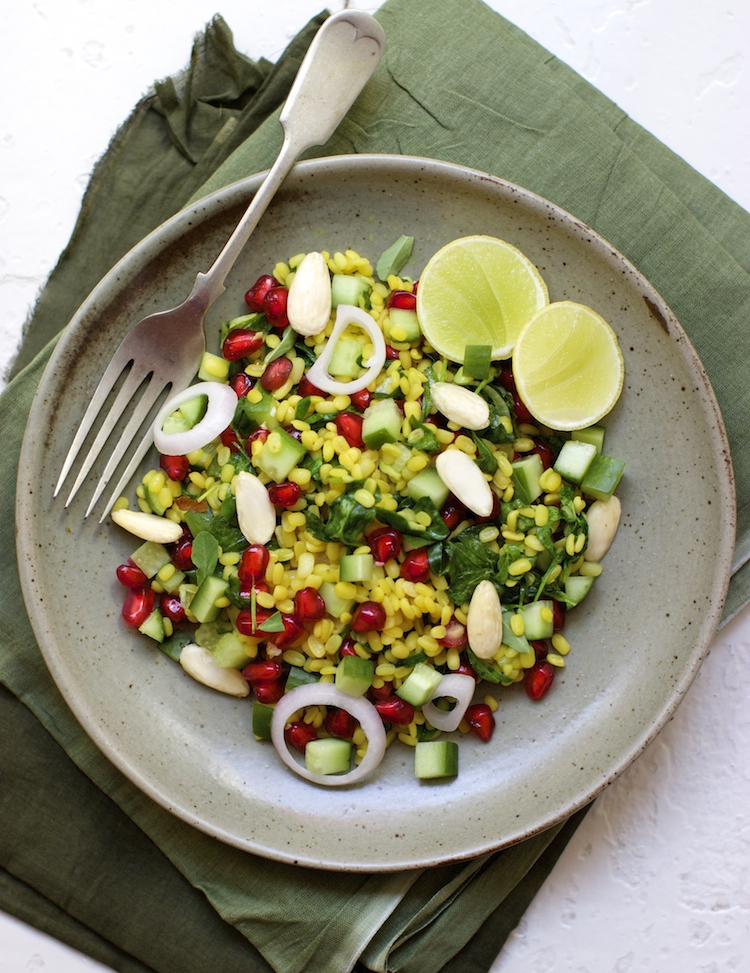 Boil 3 cups of water in a large pot. Add yellow moong and cook for 8-10 minutes until tender but still have a bite to it. Strain the moong in a strainer over the sink and put it aside.
Heat ghee in a large pot. Add chopped onion, sweat them on low heat for about 10 minutes. Add garlic and stir for a minute. Add turmeric powder, cumin powder, yellow moong and fenugreek leaves. Mix them well and cook for 5 minutes until fenugreek leaves get wilted. Take off the heat, season with salt and pepper. Add cucumber, pomegranate seeds, almonds and lemon juice, mix well. Serve warm or cold.