In one of my posts earlier, I wrote about how in India it always smells like something. Now that I am actually here, I am realizing that it's not just your nose that has to work overtime – India puts all your senses in overdrive! Your ears are bombarded with sounds every minute of the day, your mind with fears and joys that you hadn't experienced in a long time and most of all, your eyes are soaking in colors from every direction.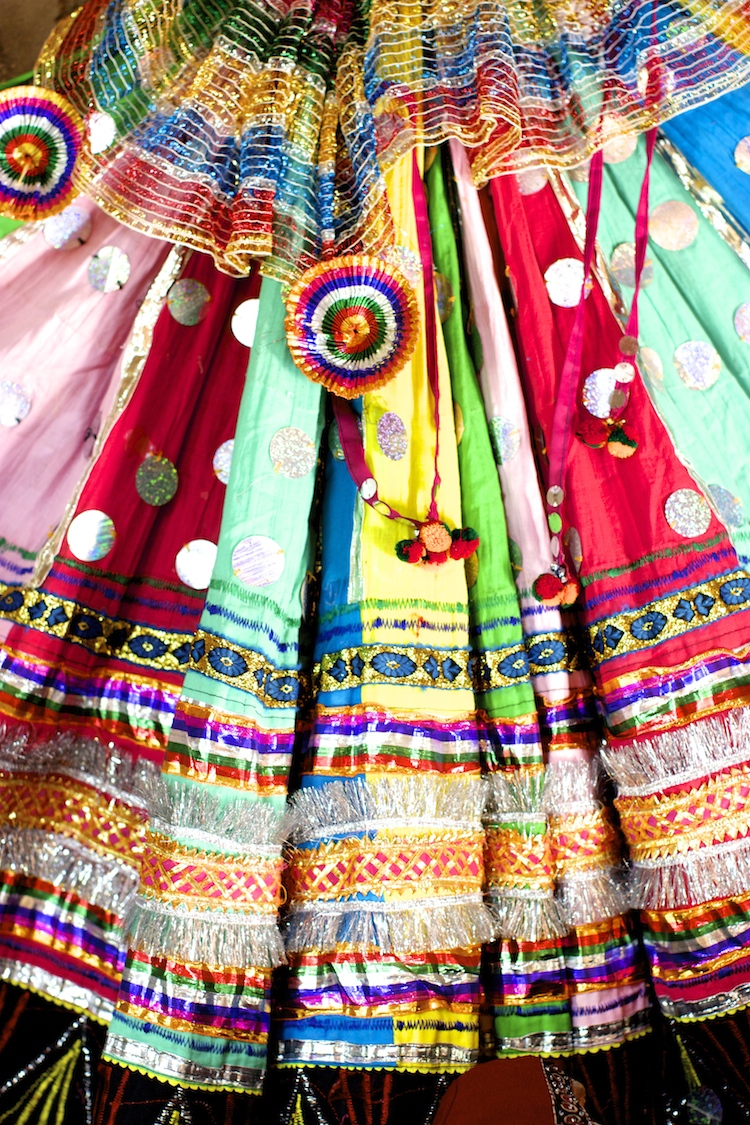 True to my promise, I have been spending a lot of time out in villages. I am not talking about cowboys with GPS systems and iPods here, I am talking about villages where electricity is available a couple of hours a day, and people who don't know what the Internet is. The innocence in people is stowed away in these secluded corners. In one of these villages, I came across this wealthy woman wearing 1 kg of pure silver! As they say, if you've got it, flaunt it!
| | |
| --- | --- |
| | |
Indian villages are all about handmade goods! During my travel to Kutch in western Gujarat, I have come across several families who all work as a team making beautiful, hand crafted products. The arid climate of Kutch has forced the people of this region to find ingenious ways to meet their daily needs by converting available resources into products. Embroidery has become a craft practiced in every household in this region. Other textile and hard materials crafts have been passed on by earlier generations to the new ones giving this land its identity. Watching the artisans hand stitch these beauties in front of my eyes was mesmerizing!
| | |
| --- | --- |
| | |
| | |
| --- | --- |
| | |
I had also written about Jugaad (Hindi: जुगाड़), an improvised arrangement or work-around which has to be used because of lack of resources. Because of the ever-increasing population and lack of resources, Jugaad is a way of life in India. From the milkman who has altered his bike so he can deliver milk to the entire neighbourhood, to the rickshaw which can haul as many people and goods as a small truck, I can see Jugaad everywhere in my travels.
| | |
| --- | --- |
| | |
| | |
| --- | --- |
| | |
As if the colors, smells and sounds were not enough to overwhelm you, there are the 1.2 billion people! I sat down and did some actual number crunching. The USA is about 3.7 million square miles in size, compared to India's 1.2 million, making the USA 3 times bigger than India. India's population is 1.2 billion, 4 times that of the US population of 300 million. This means that India's population density is 12 times higher than the US. Imagine seeing 12 people for every person you see in the store. Now imaging seeing 12 times as many cars on the roads, 12 times more cousins and 12 times more uncles and aunties. Voila, now you know India!
Everyone goes to work early in India and the day invariably starts with a sweet masala chai!
Rediscovering the art of using my own hands. Took a weaving workshop with a local artisan!
Chickpea dough & spices, deep fried to crunchy perfection and served hot with soothing green papaya chutney. Fafda – much loved street food of Gujarat!
Homemade snacks at this third generation snack shop – people were lining up to get his spicy Moong flakes. He said If I take him to Canada, he can take on McDonald's!
He makes a special cardamom tea and sells it at no fixed price. You pay if and what you feel like paying. When I asked, he said his tea stall gives him a reason to get out of the bed every morning!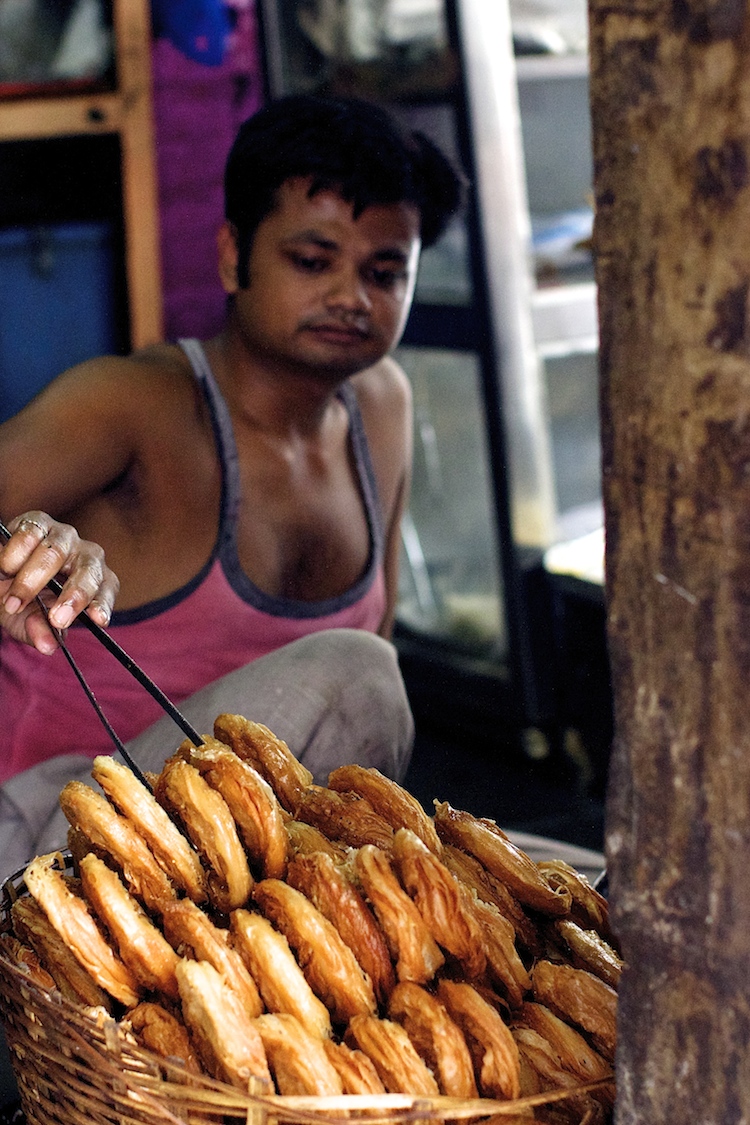 You can't hurry love, and you can't rush puff pastry, either! An Indian sweet maker taking his time, perfecting the art of puff pastries!
Because of all my travels, workshops with local artisans and my never ending social visits to my 40-some cousins, I haven't had much time to cook new recipes. However, all the colors in India have inspired me to share one of the salads I had prepared a few months ago in Vancouver. I know that berry season is over, but awaken your inner Indian, find some Jugaad and make it work!

Cook time:
Red Cabbage Salad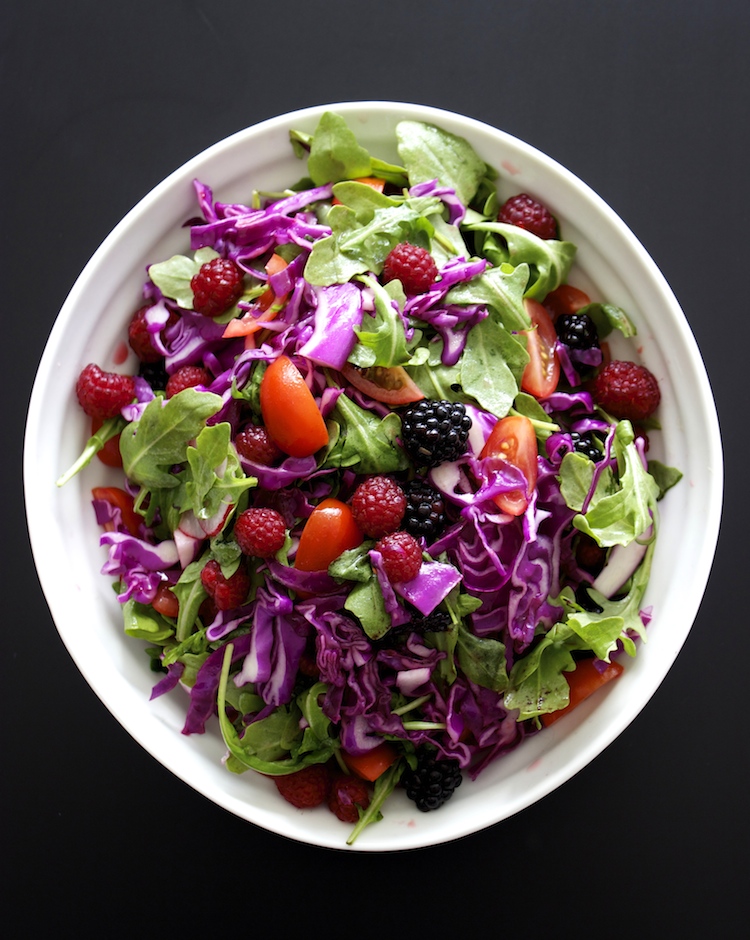 Recipe:
1 small red cabbage – shredded
1 cup of cherry tomatoes – sliced
handful of arugula leaves
1 cup of your choice of berries – raspberries, black berries, strawberries
Vinaigrette:
2 tbsp lemon juice
2 tbsp olive oil
1 tbsp honey/agave
1/4 tsp salt & pepper
Put arugula leaves in a big bowl with red cabbage, tomatoes and berries. Put lemon juice, extra virgin olive oil, honey, salt and pepper in a tight lid bottle. Shake the bottle well to mix. Drizzle it over your salad, mix well. Enjoy!