It is my last week in India and I am so grateful I got to celebrate Diwali and the Hindu New Year with my family. India has changed so much in the past 20 years, sometimes it's hard to believe this is the same country I grew up in! From cell phones to luxury cars, from McDonald's to Subway sandwiches, the western brands are part of the daily lives. The way India has evolved is even more visible during the festival season – long gone are the simple firecrackers my mom used to give us bundled up in her handkerchief. Exotic fireworks are now imported from China. The homemade sweets are replaced by Hershey's and Godiva chocolates.

Change is the only constant in life, and there is nothing wrong with urban India adopting the luxuries of the western world and making them their own. The change has been so drastic and so sudden however that I felt like a foreigner in my own homeland. The Indian kid in me who spent her afternoons running around on the dirt roads of India was a bit nostalgic throughout my stay here, yearning to experience the same small town life that I was accustomed to. I am so glad I had planned to visit the villages and work with the artisans who still keep their ancestral arts alive!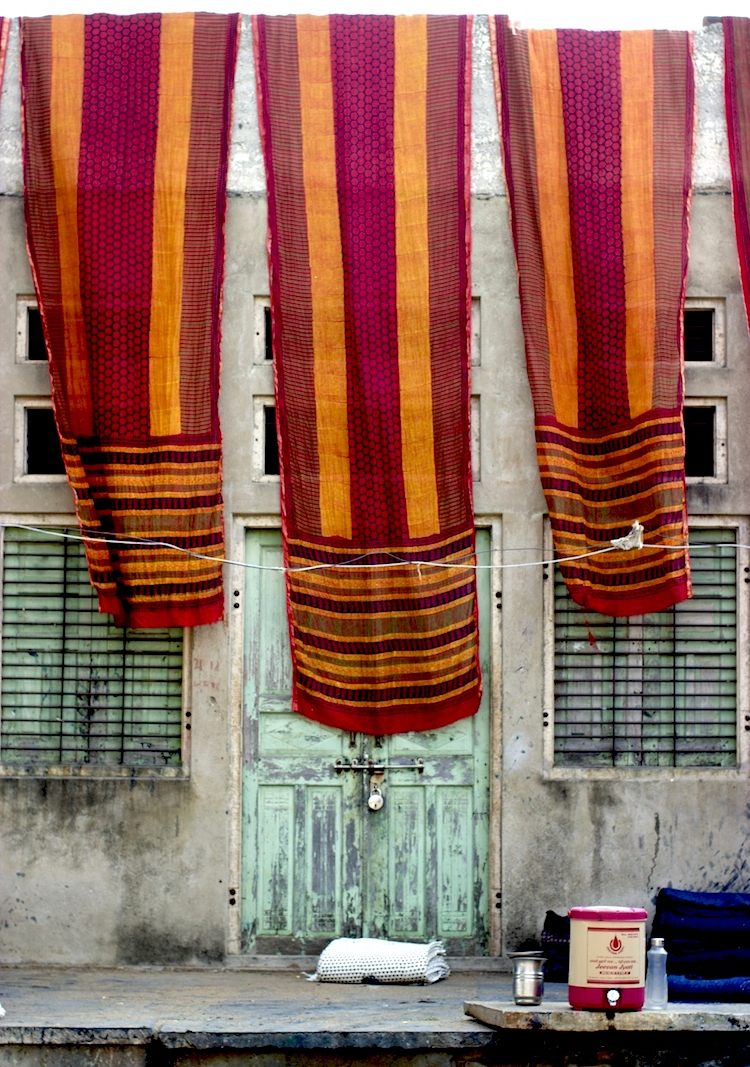 It is in those villages, working with the artisans and their families, that I felt reconnected with my roots. The handicrafts of Gujarat are famous the world over for their elegance and vibrant colors. Many of the artisans are wives of herdsmen and nomads who have learned the arts from the previous generations. When I really took the time to connect with these individuals, I learned that handicrafts and artisanship are part of every household in these villages.
I took some workshops with these local artisans – block printing with all natural vegetable dyes in the town of Bagru Rajasthan, a bandhani workshop in Jaipur, and a leather sewing workshop in Bhuj, Gujarat. I felt like I was using my hands again after years! Something about dipping my hands in colors and getting my clothes stained made me feel alive again! I wanted to share with you all some of the pictures I took during my travels!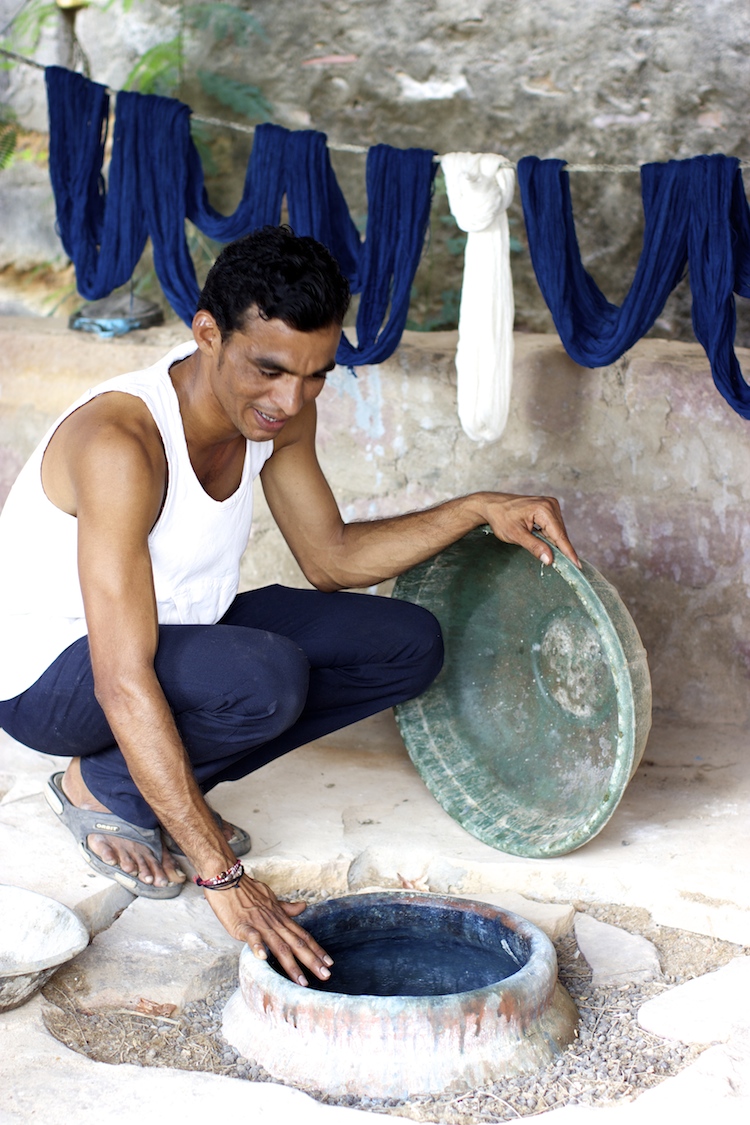 India has had a long love affair with Indigo! A local dye artist showed me his 12 foot deep indigo vat! Indigo is considered to be the color of intuition and it is thought to open the third eye!
Watching the artisan's hand stitch these beautiful sandals in front of my eyes was mesmerizing!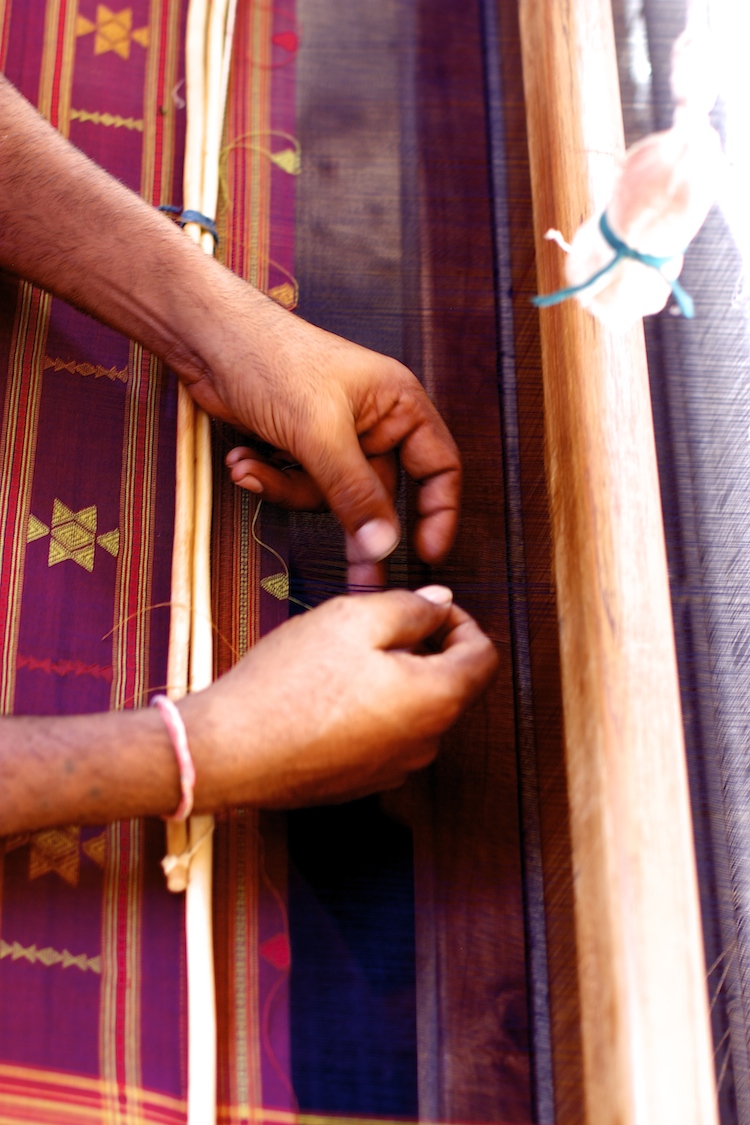 Local artist dyeing his 'bandhani' fabric. The technique involves dyeing a fabric tied tightly at several points, thus producing various patterns. Nothing short of magic!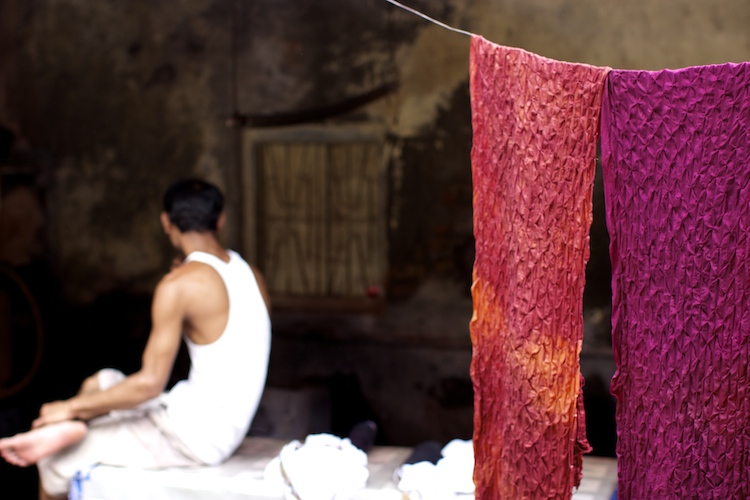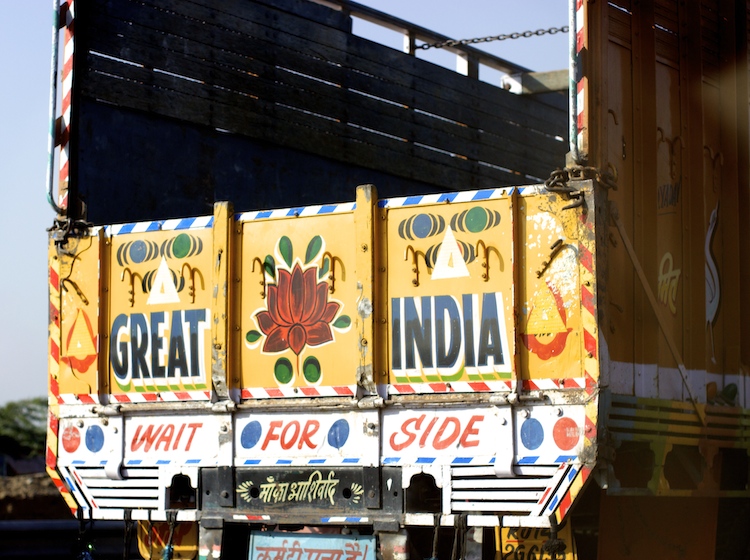 Since I haven't had the time to develop a new recipe in weeks, I am sharing with you my buckwheat salad recipe featured on Chalkboard Magazine a few weeks ago! Hope you enjoy it!
I love cooking with seeds and buckwheat, and this salad is my latest love affair! Buckwheat is a protein and fiber-rich seed that is also gluten-free. Plus it ranks low on the glycemic scale when compared to rice and wheat, which is great for keeping your energy stabilized. This salad was inspired by season's bounty at my local farmers market, where I came across the most beautiful chanterelles, fresh peas and blueberries. This hearty salad is one of my absolute favorite salads!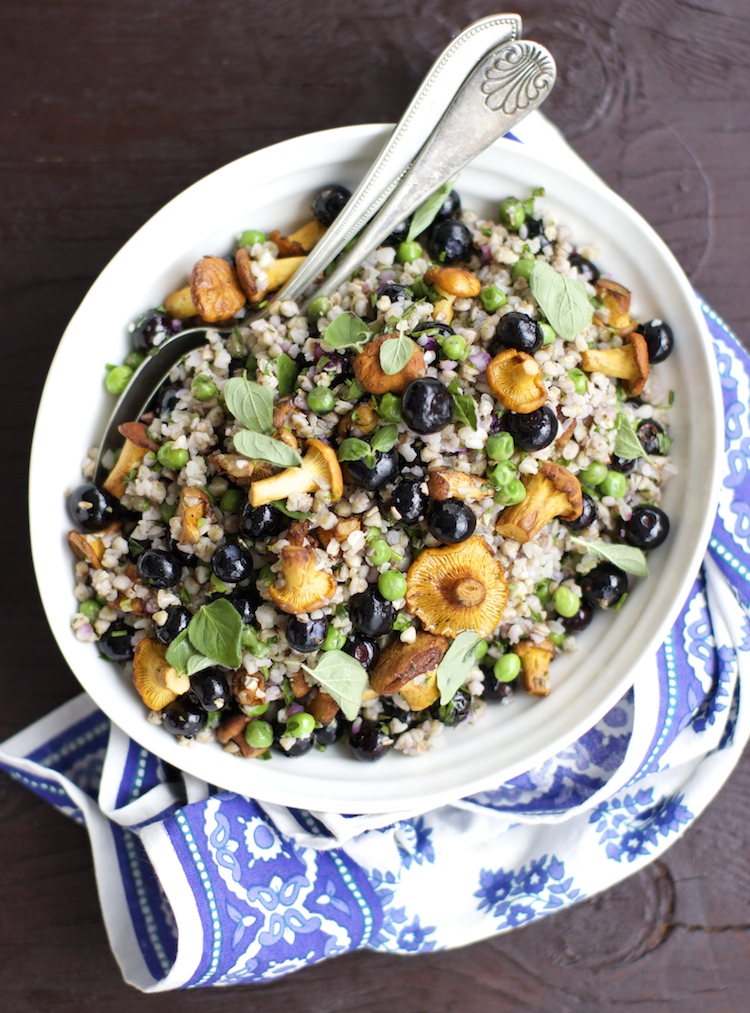 Buckwheat Salad with Chanterelle & Blueberries
Cook time:
Recipe:
1 cup whole raw buckwheat groats
2 cups water
1 tsp sea salt
1 tsp cumin powder – optional
1/2 cup parsley/cilantro finely chopped
juice of 1 lemon
1 tsp olive oil
1 tsp raw honey
1 Tbsp capers
1 cup chanterelles or mushrooms of your choice
1/2 cup fresh spring peas
1/2 cup wild blueberries
sea salt and pepper to taste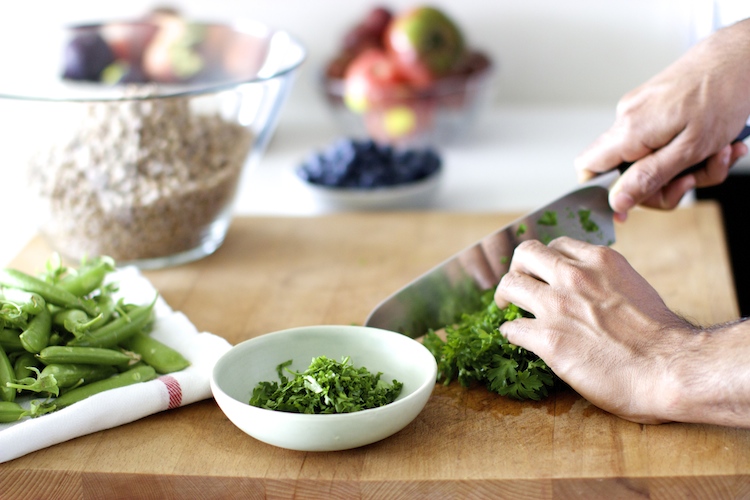 Heat a large saucepan on low heat. Toast the raw buckwheat groats for 5 minutes until fragrant. Set them aside to cool.
Boil 2 cups of water in a saucepan and add salt and cumin powder. Add toasted buckwheat groats, give a good stir. Lower the heat, cover the pot and simmer for about 10-12 minutes. Remove from heat, remove excess water with a strainer and let sit for 10 minutes.
Fluff cooked buckwheat with a fork. Add chopped cilantro, lemon juice, olive oil, honey and capers. Mix well. Season to taste.
Heat olive oil in a large saucepan. Add the mushrooms and let them cook on high heat for 4-5 minutes until they start caramelizing. Season with salt and pepper. To sauté your mushrooms to perfection, make sure the pan you are using is large enough. Mushrooms are high in moisture and in a large pan, this moisture can evaporate easily. You also don't want to wash your mushrooms before cooking because they will soak up the water and dilute the flavors. The best way to clean mushrooms is to use a soft bristle brush to gently remove any soil on them.
Take the saucepan off the heat. Add fresh peas and blueberries and mix them well while the mixture is warm. Top buckwheat salad with mushroom, peas and blueberry mixture. Serve warm or cold.